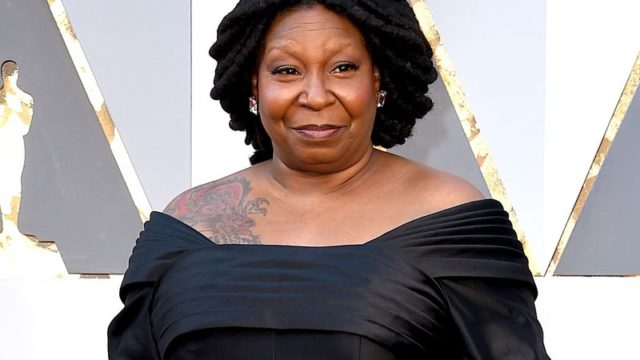 Whoopi Goldberg is an award-winning actress, comedian, talk-show host, a human rights activist, and one of the most recognizable celebrities of the 80s and 90s. Whoopi first gained recognition for her leading role in the 1985 film; The Color Purple. She went on to win an Academy Award for best supporting actress for playing the eccentric psychic in the 90s movie Ghost. Here are other information you probably didn't know about Whoopi Goldberg:
Early Years
Whoopi Goldberg was given the name: Caryn Elaine Johnson following her birth on November 13, 1955, in Chelsea, NY. Whoopi was primarily raised by her mother, Emma Johnson, after her father – Robert James Johnson – who was a clergyman left when she was young. For as far as she can remember, Whoopi claims she always wanted to be an actor. She started developing her acting skills from the time she was the age of 8 at the Hudson Community Center and the Helena Rubinstein Children's Theatre
Throughout her school years, she experienced learning difficulties and was labeled dumb, slow and retarded. Her learning disabilities led her to drop out of high school at age 17 and became addicted to drugs. Fortunately, she was able to clean herself up and in the process got married to the father of her daughter, who was also her drug counselor.
Whoopi only came to realize that her learning disabilities were as a result of a disease known as Dyslexia when she was an adult. Regardless, with the help of her mother and a caring tutor, she was able to develop the skills and confidence to thrive.
Career
Whoopi went through an unlikely and eclectic series of jobs as a bricklayer, bank teller, make-up artist in a morgue before she underwent a formal actress training in New York City. In 1974, Whoopi Goldberg went to San Diego, California to pursue her one love and childhood dream of acting. This was where her skills as a stand-up comedian were developed. Her breakthrough came about after a performance in a one-woman Broadway show where she impressed director Steven Spielberg so much that he cast her for the lead in the film "The Color Purple". This was just the beginning of her journey to stardom.
Whoopi then went on to make many more films including Jumping Jack Flash, Soapdish, The Long Walk Home, Clara's Heat, and of course Ghost which won her an Oscar for Best Supporting Actress.
Today, Whoopi Goldberg, a dropout, is one of the 12 stars in history to have won the quadruple crown of entertainment awards: Grammy, Oscar, Emmy, and Tony. She is also the first woman to receive the prestigious Mark Twain Prize for American Humor.
Whoopi Goldberg's Family: Daughter and Husband
In 1973, Whoopi Goldberg married her drug counselor – Alvin Martin. Together they had one daughter – Andrea before they divorced in 1979. She went on to marry David Claessen from 1986 to 1988 and thereafter, Lyle Trachtenberg from 1994 to 1995.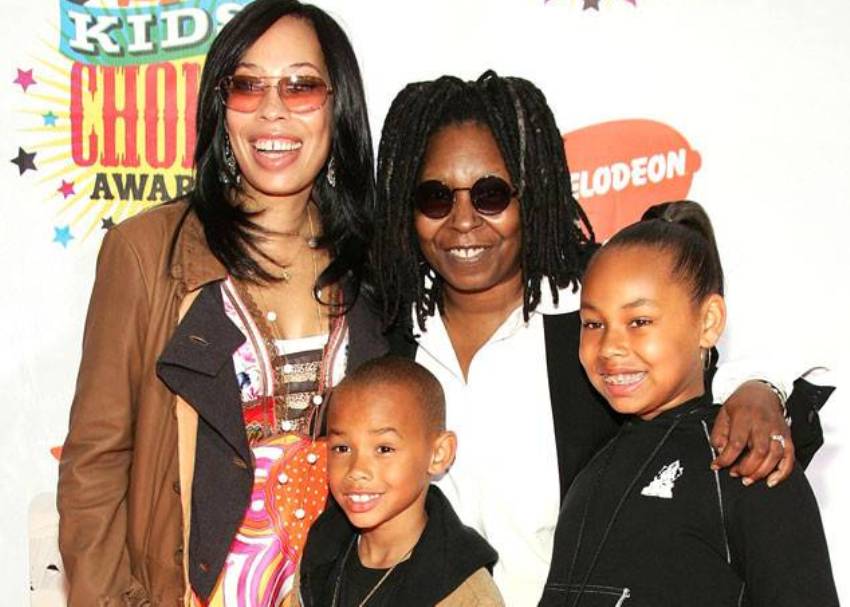 Whoopi Goldberg became a mother soon after she got married for the first time; having given birth to a daughter; Alex Martin on the 9 May 1973.
Is Whoopi Goldberg Gay or Lesbian?
Whoopi once played a lesbian character in "Boys on the Side" and "The Color Purple" confirmed in an interview with PrideSource's Chriss Azzopardi that she is not gay. This was after tackling long-standing rumors about her sexuality. However, she went on to say that she was not bothered by the rumors and there was nothing wrong with being gay. She went further to acknowledge her LGBT (lesbian, gay, bisexual, and transgender) fan base.
Famous Eyebrows
Have you ever noticed that Whoopi Goldberg has no eyebrows? Apparently, Whoopi shaves her eyebrows off. Her reason for shaving them is because she says they become itchy each time they grow back. Having no eyebrows has become her trademark and identity. Some people even say that not having eyebrows could be the reason for her uniqueness and popularity
Tattoo
Whoopi Goldberg just recently revealed her multicolored shoulder tattoo in the 2018 Oscard red carpet. Whoopi's Shoulder tattoo is that of a dragon. Once in an interview for the Home $ Textiles Today, Whoopi said she loved dragons and that to her, a dragon is a protector. Hence, she feels safe sleeping with her dragon tattoo close.
Whoopi Goldberg Trademarks
Whoopi is known for her piercing humor, and her signature dreads. Other distinctive features about Whoopi Goldenberg include;
Whoopi Goldberg's Social Media presence
Today, Whoopi is hugely active on social media. She uses Facebook, Instagram, and Twitter to give her fans updates and posts photos and videos.