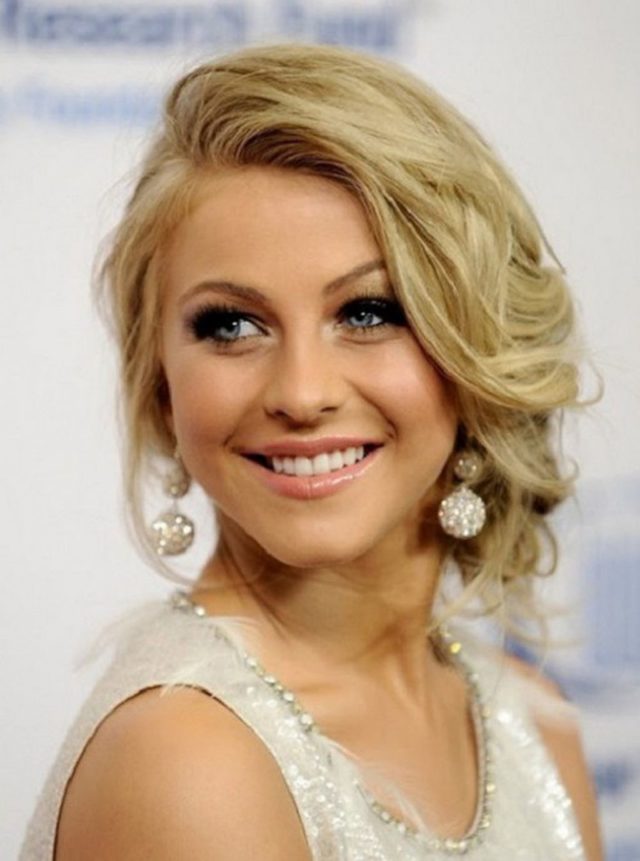 Styling long hair requires patience and a bit of skill. However, with these amazing Updo hairstyles for long hair, you can quickly pull off something formal or chic in a matter of minutes. You can use hair accessories and embellishments to jazz up your look. Here are stunning updos for long hair.
Easy Updo Hairstyles for Long Hair
1. Braids and Loops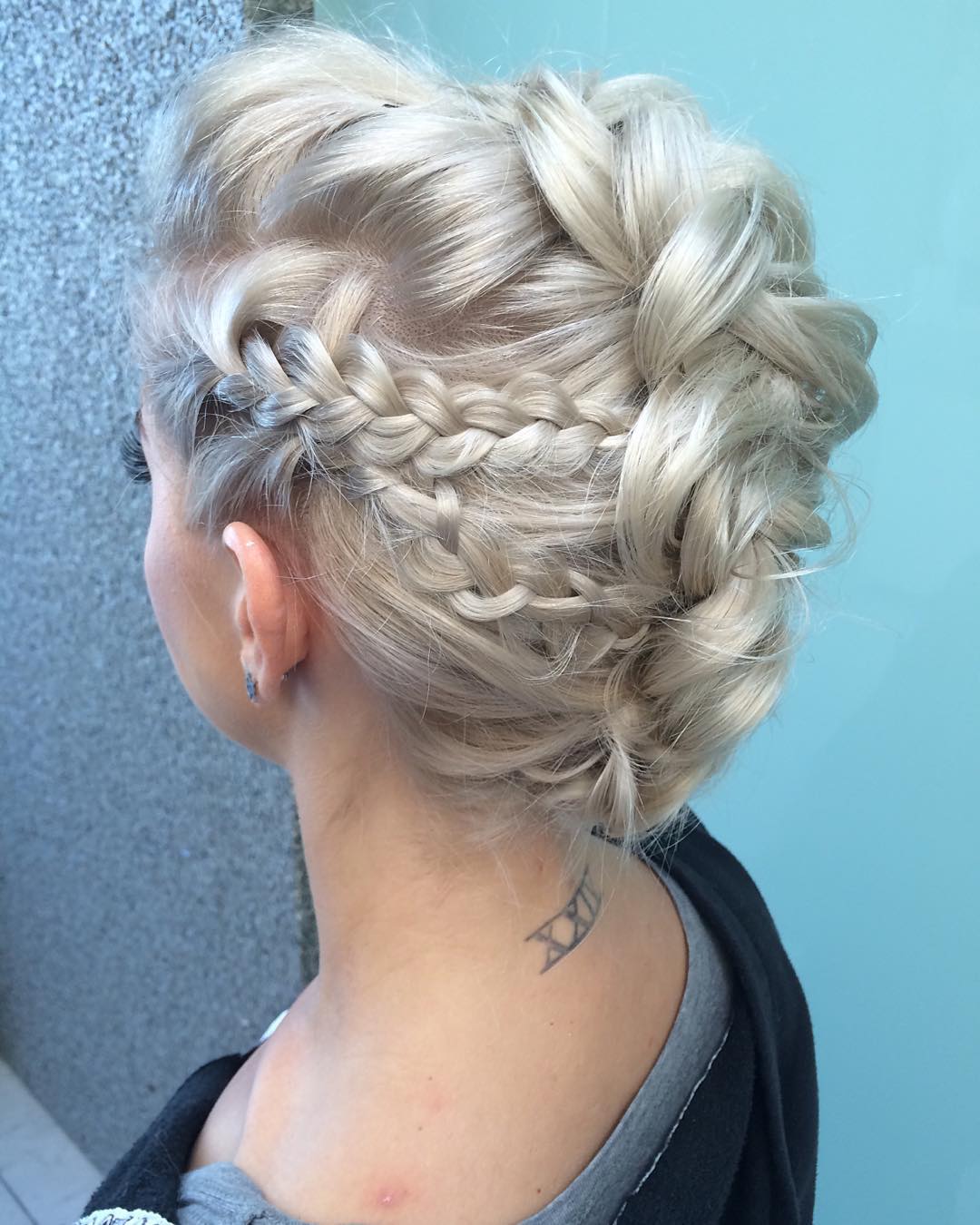 Despite the intricate appearance, this updo is very easy to pull off. It comprises of a combination of stylish braids and thick loops which make the hair look very complex and sophisticated. Although it may seem difficult, it is important to give the style a bit of structure to avoid looking too messy.
2. Messy Bun Updo Hairstyles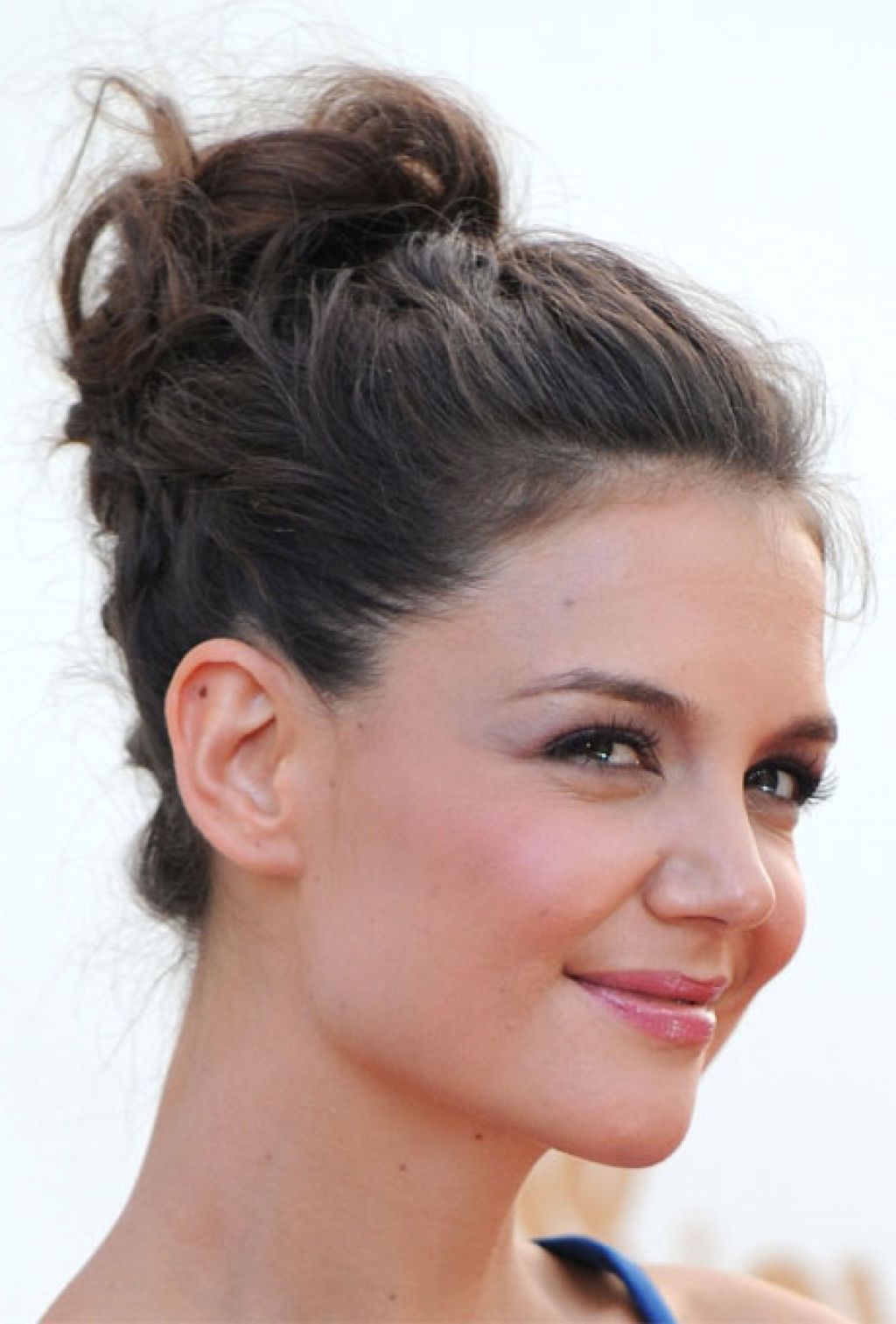 If you really don't have time but still want to look classy, a quick but stylish solution is the messy bun updo. The trick is to leave the hair loose and tousled to create a textured finish. A few tendrils hanging down the sides of the face can give the look a dramatic edge.
3. Medium Pin-Up Updo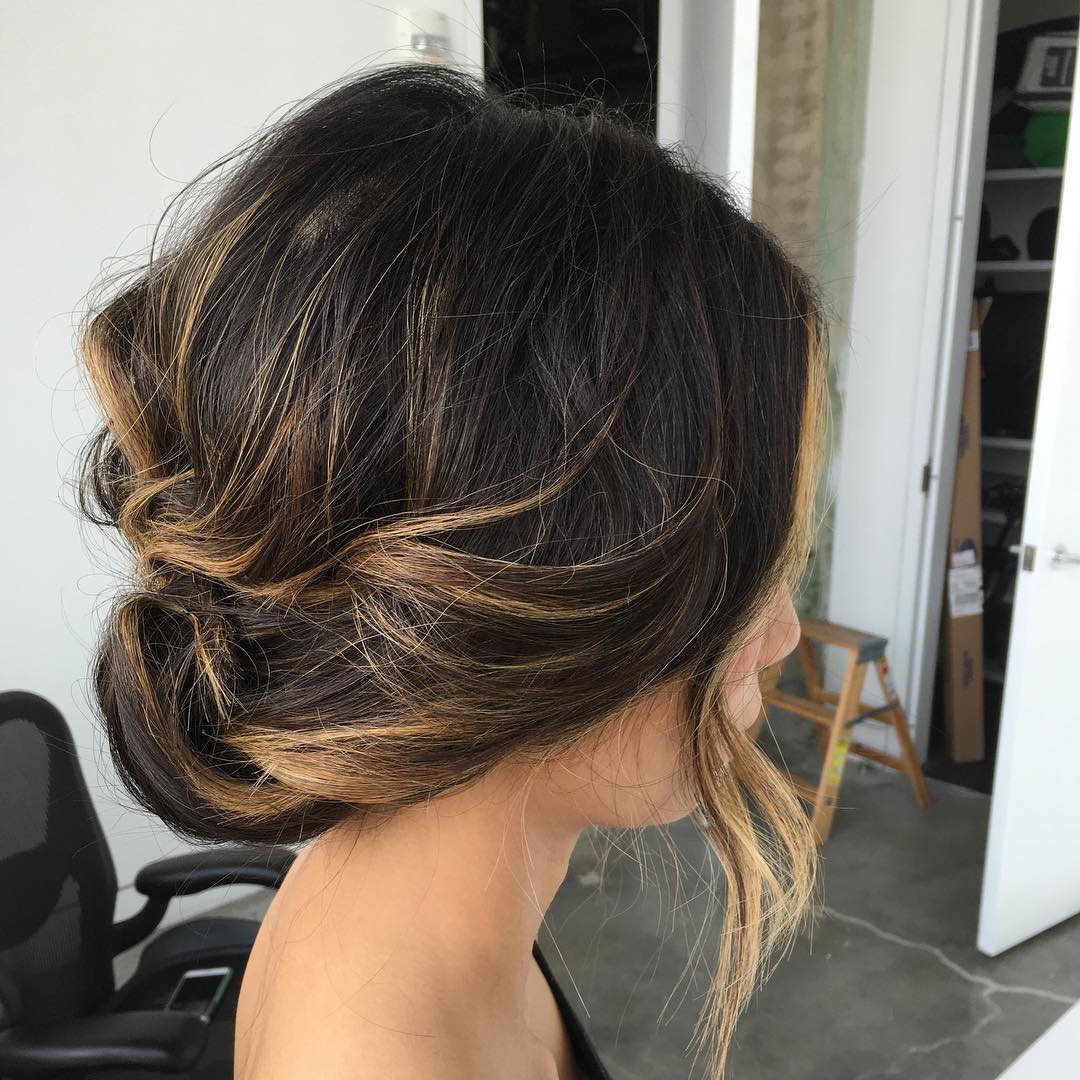 To avoid the severity of a full pin-up updo, try a lower version to give it a casual appeal. As with messy buns, do not wear the look too tight as this gives it a slightly juvenile edge. Drape a few wavy bangs down the temples to soften the look.
4. Ribbon Braid Updo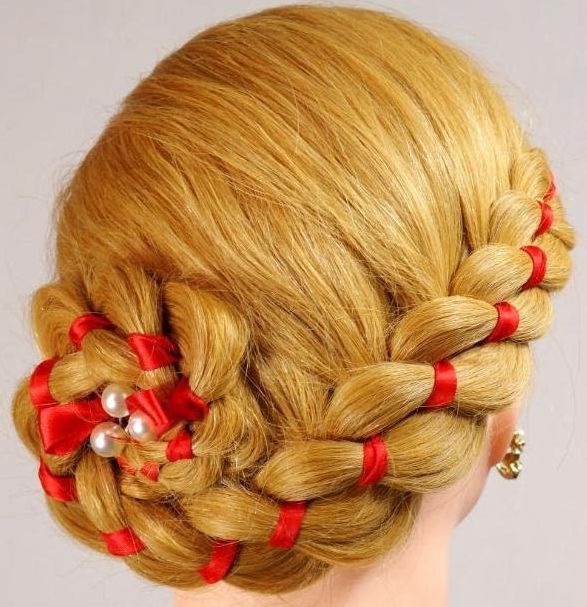 If you have the skill and the material necessary, this is one of the classiest updos you can style your long hair into. The intricate ribbon braid runs asymmetrically on one side of the head and ends in a pretty decorative bouquet bun. Flowery hair accessories give it a festive touch that makes it perfect for special occasions.
5. Twists and a Bun
A bun on its own is too basic and severe. To spice it up, drag a few twists across the sides of the head to give the hair more texture and superb dimension. Unlike braids, twists are easier to pull off and require less concentration and time.
6. Braided Crown Updo Hairstyles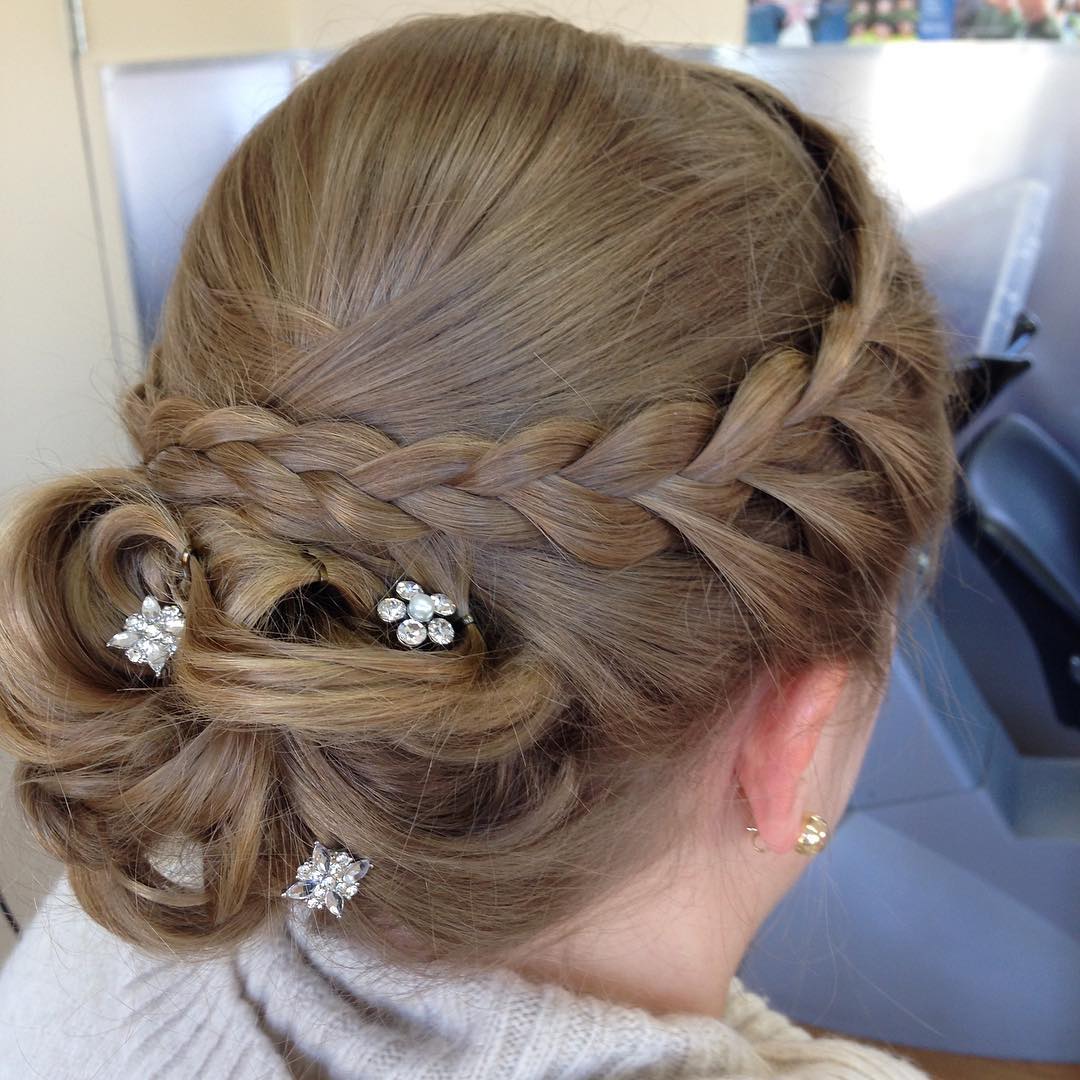 This style is for those who want to do more than just wear their hair in an updo. It features a simple French braid that runs around the head, creating a stylish crown. A looped bun with flowery accents finishes off the glamorous and very elegant updo.
7. Simple Bun Updo Hairstyles
Just because it is simple does not mean it should be boring. If you feel like your bun is too calm, loosening things up is always the way to go. In this scenario, the loose, wavy locks help to give the hair tons of natural texture and a very attractive bedhead finish. The curly tendrils running down the cheeks make the messy look more delicate.
8. The French Roll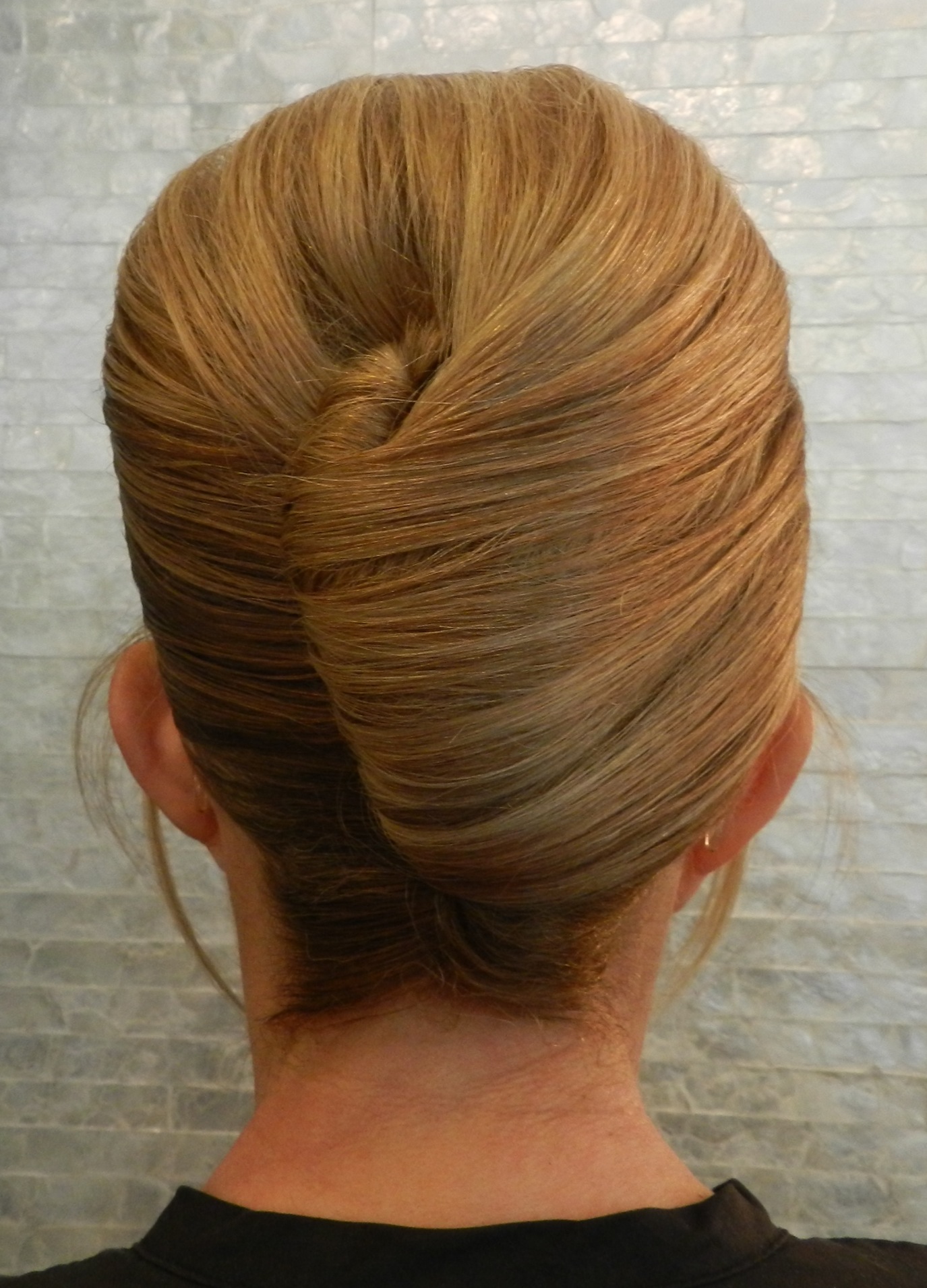 One of the quickest and most chic updos for long hair is the French roll. This classy look is very easy to pull off and it features sultry textures and an attractively messy finish. For formal events, this hairdo is perfect for adding some maturity to your look.
9. Pin-Up Hairstyle with Curls
Pin-ups are easy and classy enough but everything looks better with some soft curls. Depending on your hair length, curls can make your pin-up hairdo look tastefully voluminous while retaining its classy edge. Loosen the look a little by draping some strands of hair down the sides of your face.
10. The Chignon Updo Hairstyles for Long Hair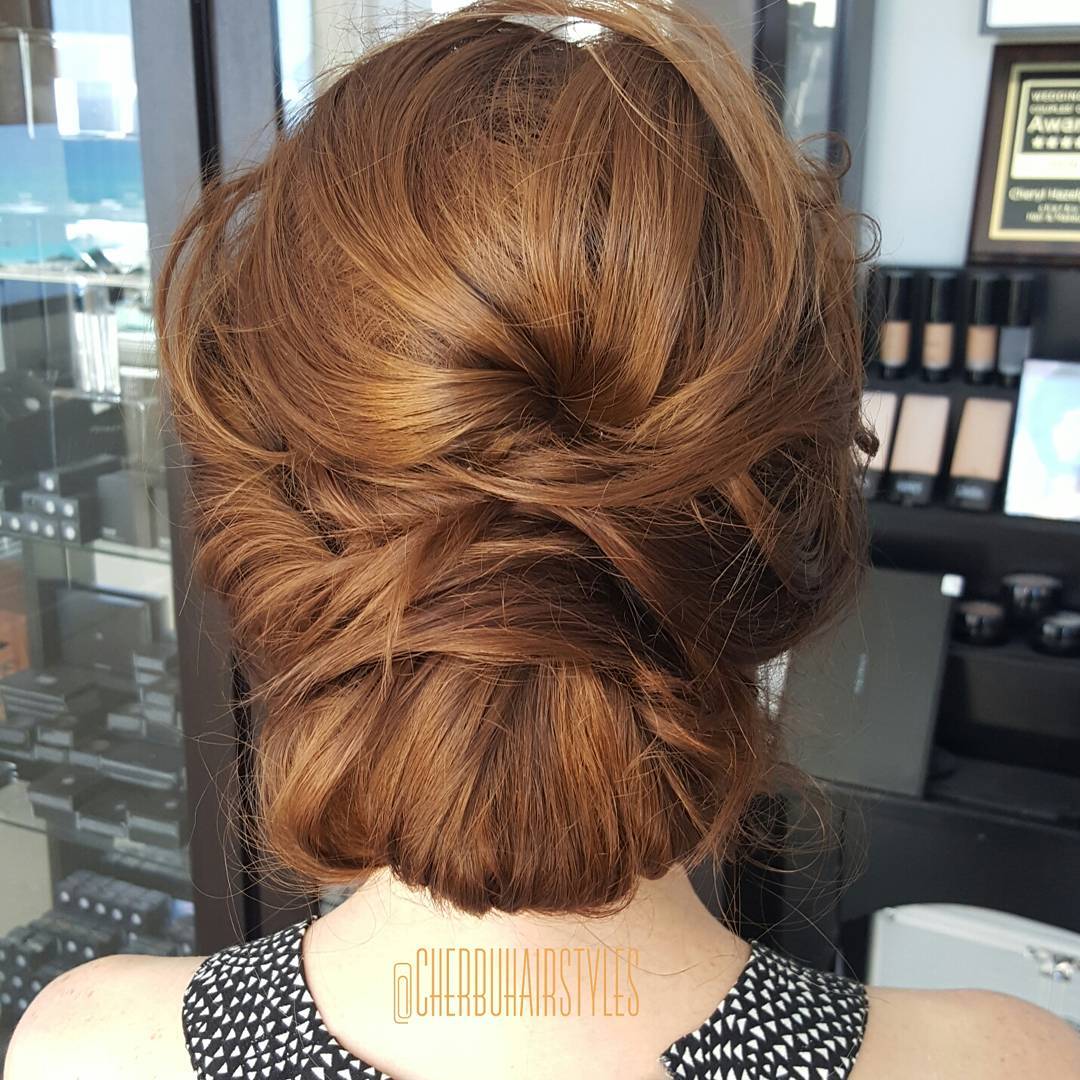 For classy outfits that require a sophisticated hairdo to match, the chignon updo will never fail to deliver. This relatively simple do allows you to twist your hair into a classier version of the bun with loose strands and running loops for added intricacy. Wear it with a stylish hair accessory to make a statement with your dressing.
11. Jeweled Low Bun Updo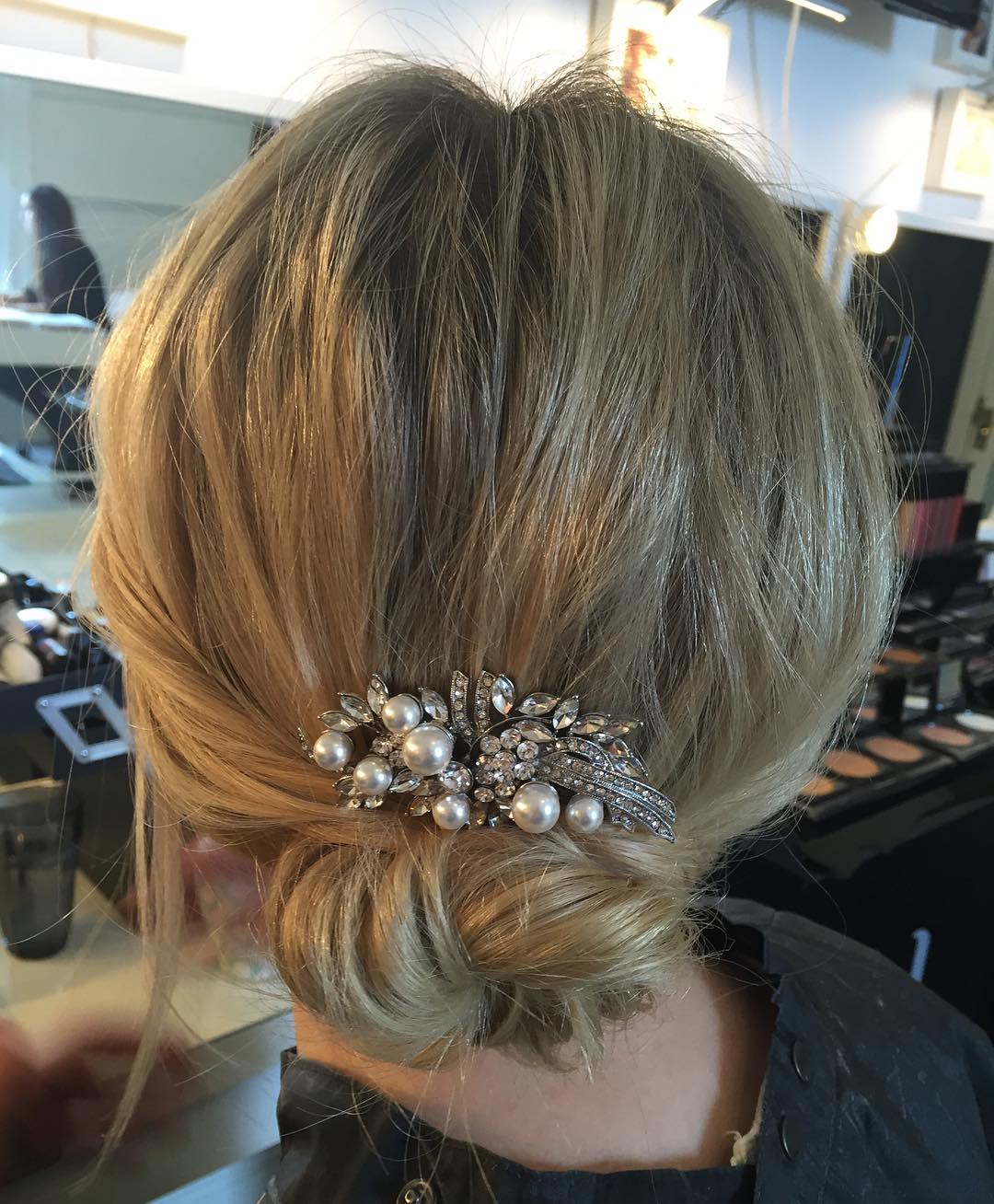 Although ultimately it may look a tad too simple, a low bun is an effortless and very classy look that you can quickly style your long hair into. Spice things up by including some glamorous jewels and throwing in some loops to make the bun exciting.
12. Intricate French Roll Updo
If you have the time (and the skill), you can try a more distinct french roll Updo hairstyle to make your look more elegant. This look entails a looser roll albeit a more attractive one as it uses bobby pins to hold separate sections of hair. Once again, you can let a few strands down to give your face a more delicate frame.
13. Curly Chignon Updo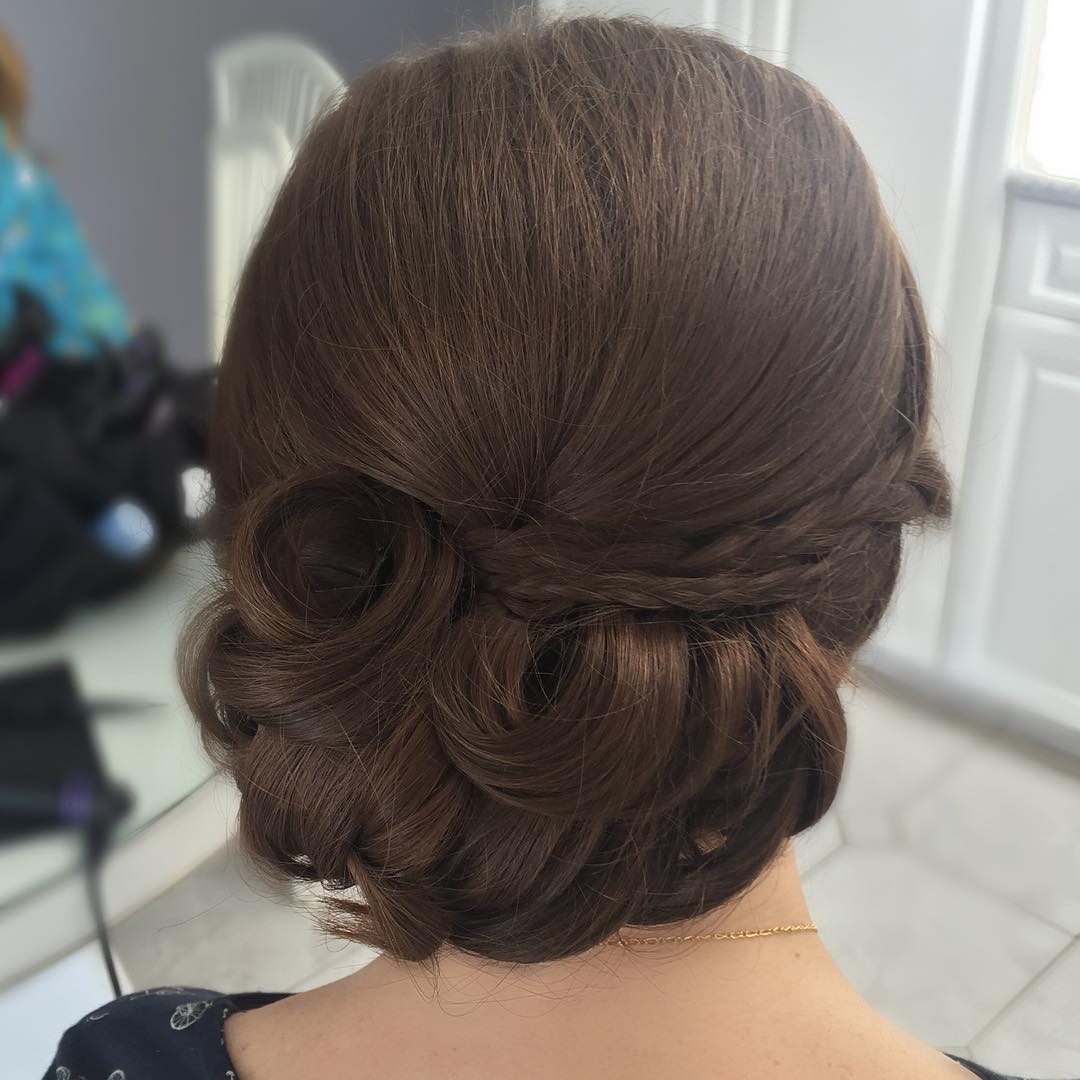 A more elaborate version of the chignon updo entails a bit of curly detail and braided accents. This highly personalized look can take as many or as few embellishments as you desire and looks supremely elegant when pulled off correctly.
14. Classic Prom Updo Hairstyles for Long Hair
If you are going somewhere special, this simple prom night updo can give your hair the elegant twist it needs. Featuring lots of loose textures and messy curls, you can use bobby pins to give it some volume and height. Finish it off with a glamorous jeweled crown.
15. Curly Medium Updo Hairstyle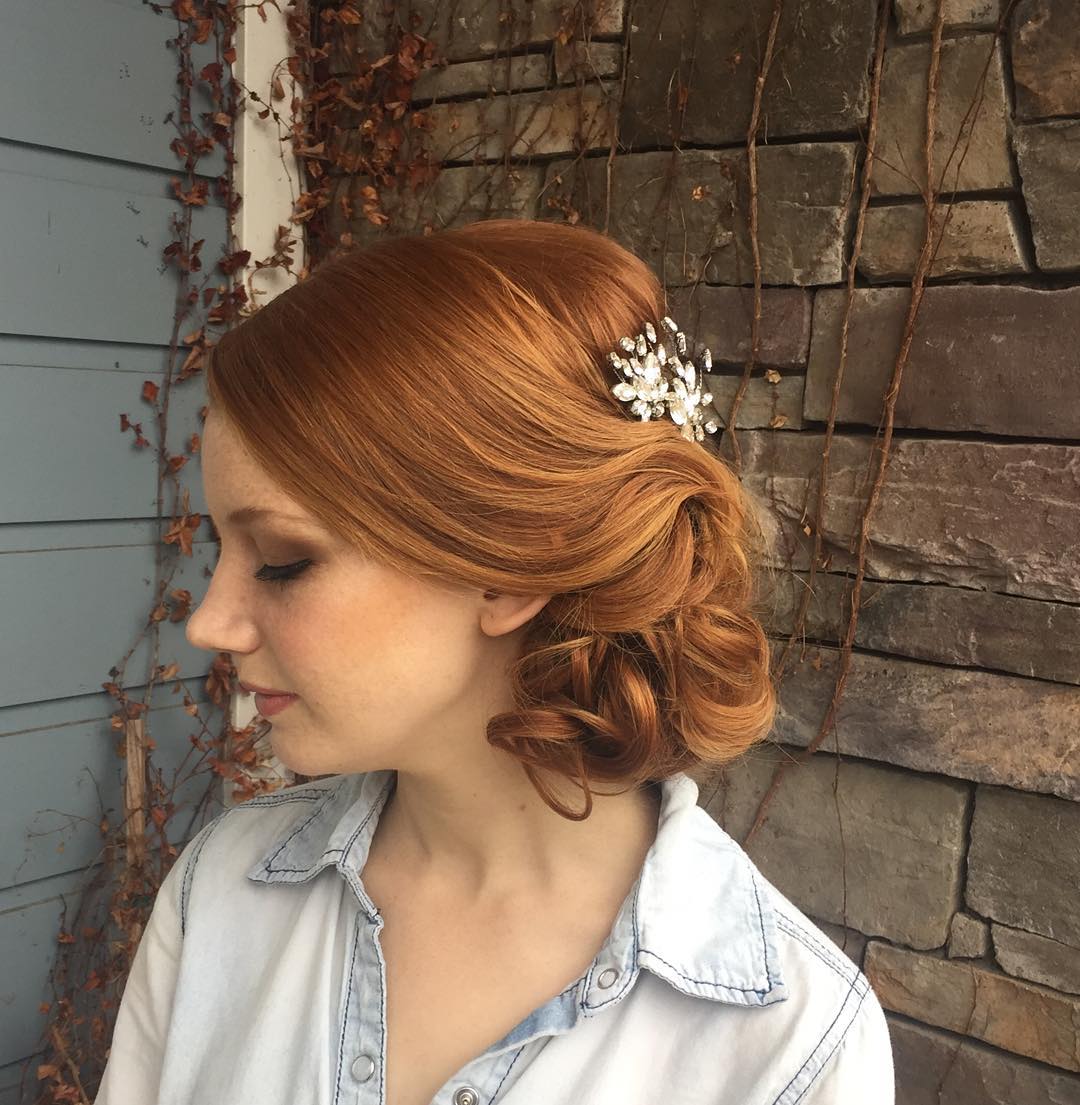 Give your updo some waves and springy curls to create a look that is unique and very feminine. The medium updo is relatively simple to pull off although it may look bland sometimes. To counter this, you can use some jeweled hair accessories to keep things interesting.