Prom is the perfect excuse to go overboard with extravagant looks and classy hairdos. When it comes to prom hairstyles, elegance is the name of the game. It helps if you manage to throw in a braid here or a few curls there to create a look that is stunning, elegant and entirely your own.
Cute Prom Hairstyles
If you are looking for inspiration for the upcoming prom, here are the amazing prom hairstyles that will make you stand out.
1. Intricate triple braided prom hairstyle
Nothing looks as classy as stylish braids thrown in to give your hair a unique look. If you want a look that will make you the center of attention, try this bun and braids combo. It combines an element of elegance with chic trendiness. The undone bangs on the side finish the look with a touch of stylish carelessness.
2. Lengthy curly prom hairstyles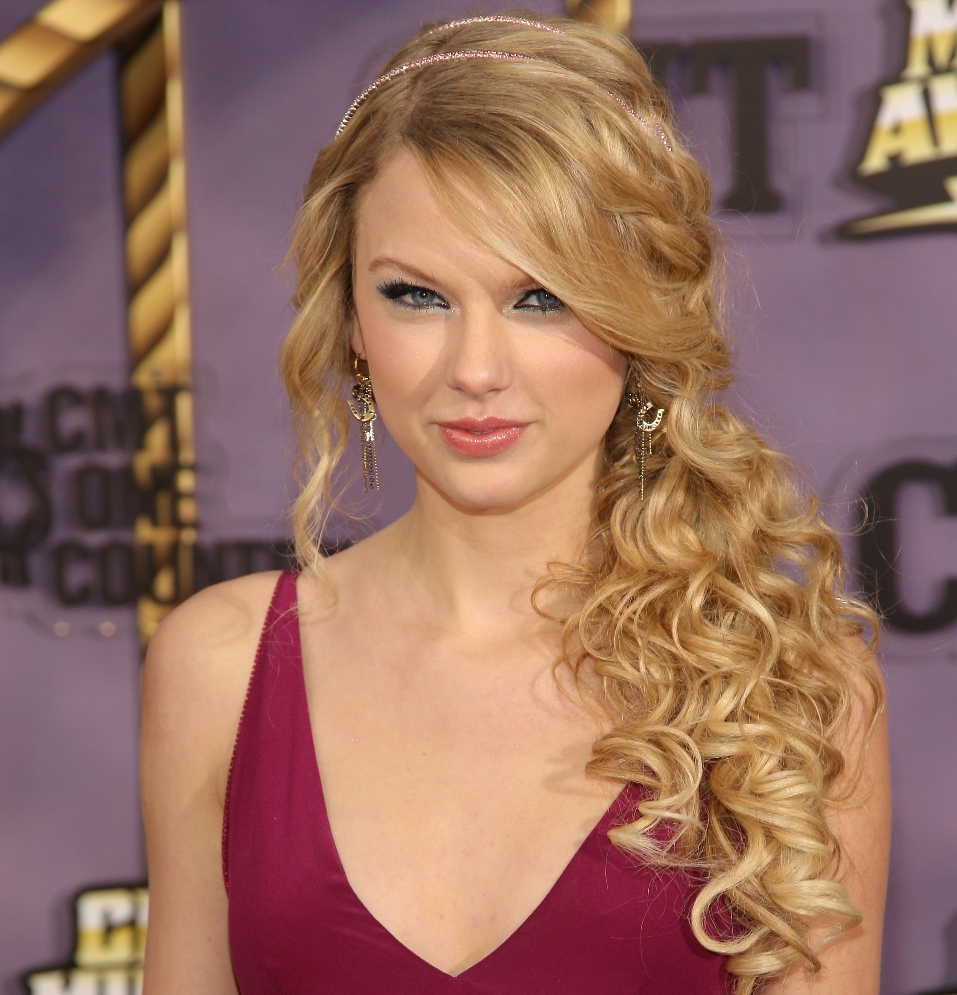 Wearing your hair up might be what is expected of you but it does not mean you should limit your creativity. You can try something simple like wearing your hair down in a loose, curly braid. Make sure you pull it away from the face as much as possible with the exception of a few curly strands at the sides that will add a delicately feminine touch. This messy side braid looks even better on curly hair.
3. Dutch Braid Floral Updo 
Wearing a more traditional prom updo still gives you a wide range of options to choose from. This prom hairstyle features a stylish dutch braid that elegantly crowns the head. The look is rounded off with a fancy braided bun that gives it undeniable elegance and class.
4. Elegantly braided prom hairstyles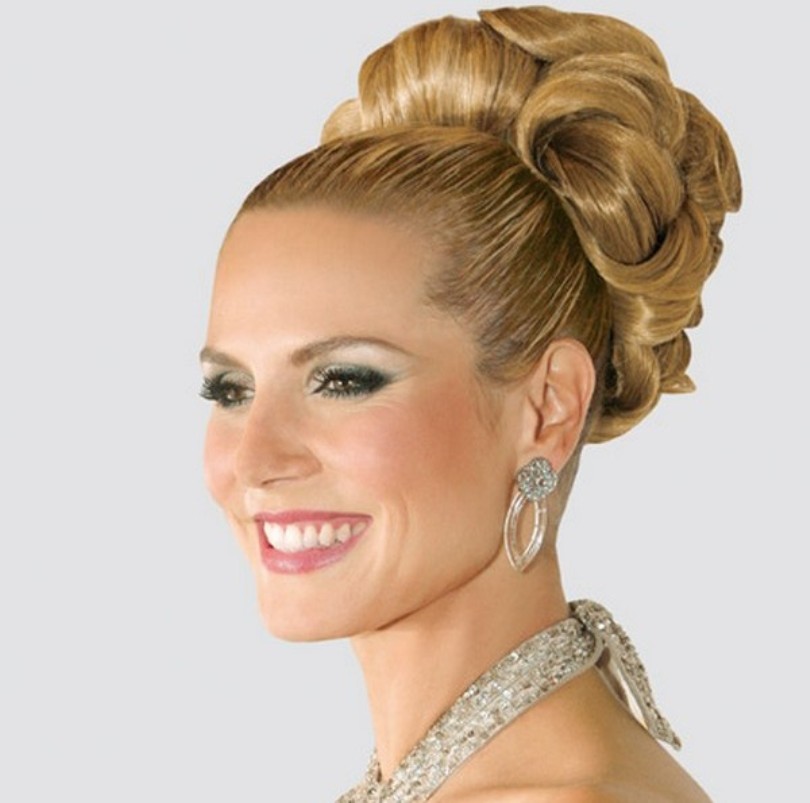 Despite the simplicity of this look, it actually requires quite a bit of skill to seamlessly fashion the braids into a voluminous curly bun. The resulting look is exquisite with radiant blonde locks combed straight at the front and pulled back into the messy bun. Pulling the hair away from your face lets you show off your features and accessories.
5. Hairstyles for prom: The side roll
This look requires as much hair as braiding skills to pull off successfully. The side roll is made of a loosely braided fishtail that looks spectacular. Thanks to the golden highlights that give the hair more radiance. It ends in a cute, messy bun that looks very trendy.
6. Stunning Wavy Updo prom hairstyles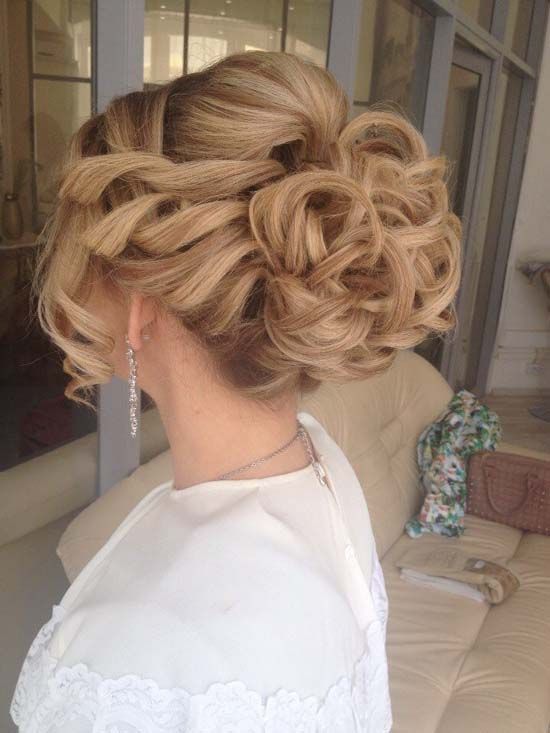 Messy is fantastic when it comes to elegant updos. If you have the length, you can first bring the hair to life by giving it streaks of color to add more excitement into the look. The long, wavy locks have been left tousled and styled into a loose bun at the back, leaving the hair looking artistic and very unique.
7. Exquisite florette updo prom hairstyles for long hair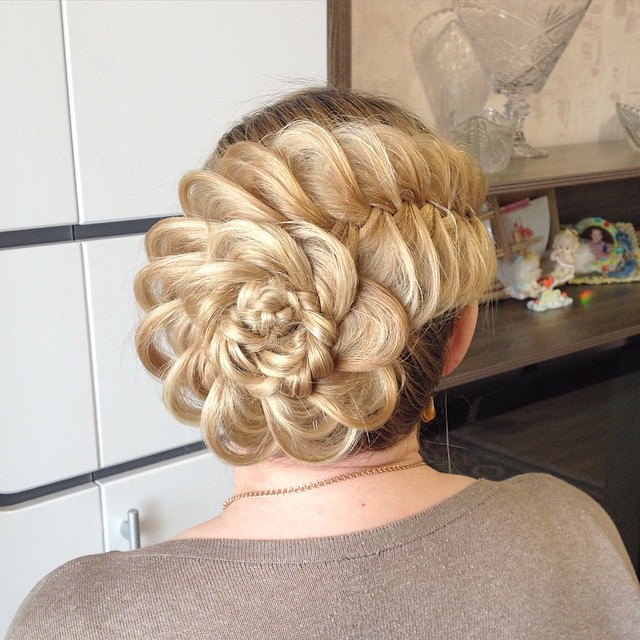 If you are looking for something that will silence the entire room, this mind-blowing fishtail florette braided updo will surely do the job. The hairstyle is artistic, to say the least. It turns what is a basic braiding style into an intricate and sophisticated updo running along one side and finishing at the back in an exquisite floral bun.
8. Simple french twist prom hairstyles
Simplicity is gorgeous. Dial down the flashiness with this classic French twist updo. It is easy to pull off, easy to maintain the whole night and lets you show off your face and accessories such as earrings and makeup.
9. Prom hairstyles: Tousled curls
For a more contemporary prom hairdo, forget the neatness and elegance and try on something daring. This unique hairstyle features fiery red curls loosely tied into a lengthy ponytail. The volume is fantastic and is enhanced superbly by the textured appearance of the locks.
10. Simple bun with accent braid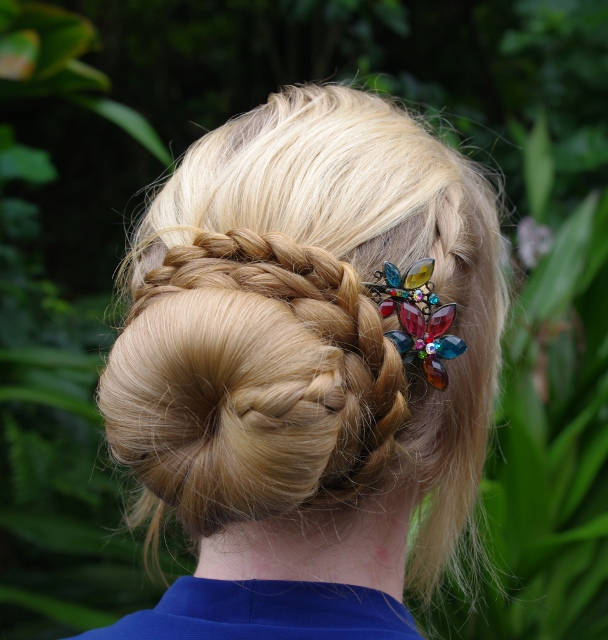 If you opt for a simple, conservative updo, you can add some style into the look by accentuating it with an elegant braid. Throwing in a nice, thick braid into updos gives the look a glamorous finish that will go spectacularly with any formal outfit.
11. Wavy prom-style updo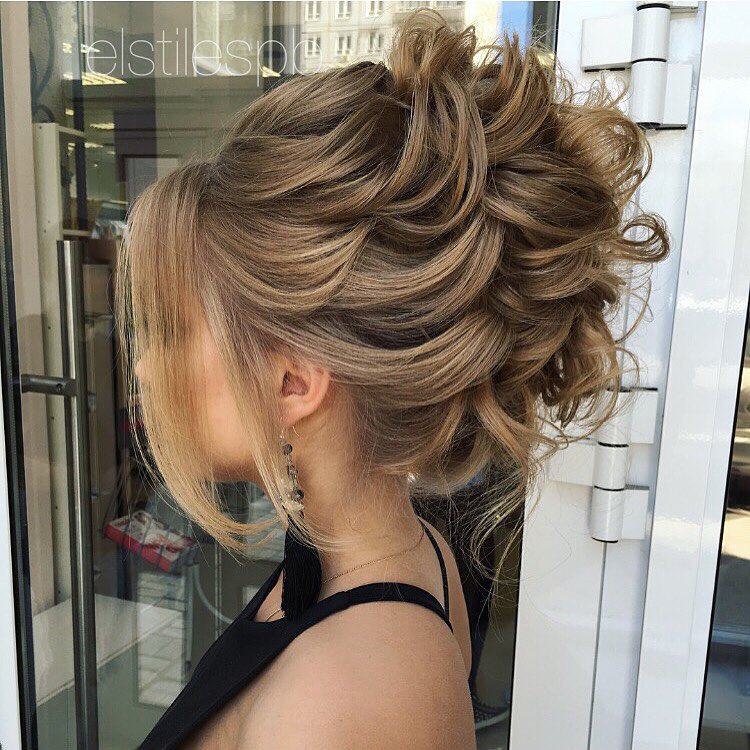 If you are more into the movie-themed prom hairstyles, you might as well go all the way with this classic wavy prom updo. Layered locks will give your hair texture and a volume to match the splendor of the look. A smooth balayage gradient leaves your hair looking radiant.
12. Loose bun with side braid hairstyles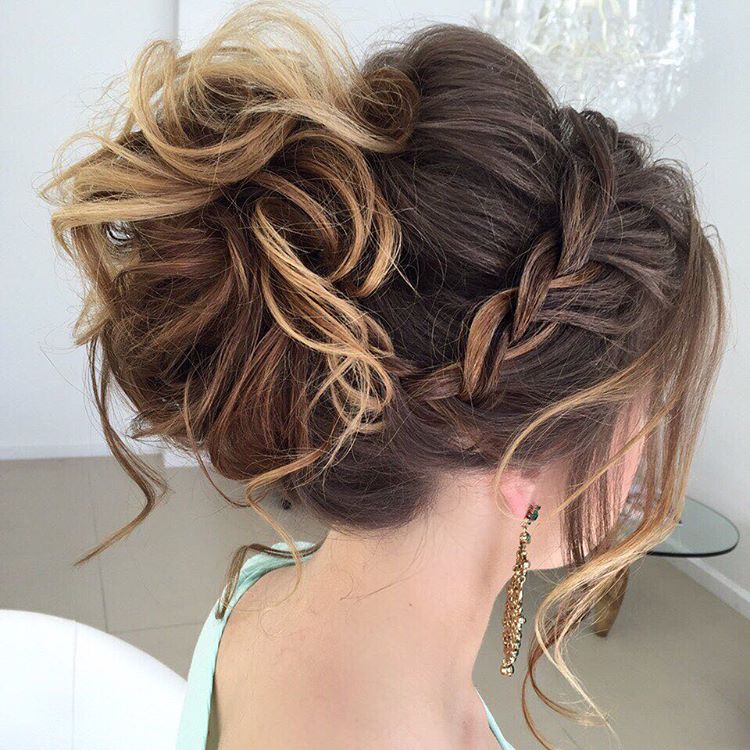 It seems like the messier the updo gets, the more unique the style is. This look entails pulling back your lengthy hair and styling it into a messy bun with stray curls and loads of texture. Pair it with a stylish French braid running just above the ear for an elegant finish. Loose bangs give the face a softer, more feminine frame.
13. Accented messy bun for prom
Braids are a great way to make any basic hairdo glamorous. Throw your hair back into a messy but delightfully curly bun with the exception of a few, silky strands to keep your look exquisite. Finally, add some French braids to accentuate the bun and round off a cute prom night hairdo.
14. French braided crown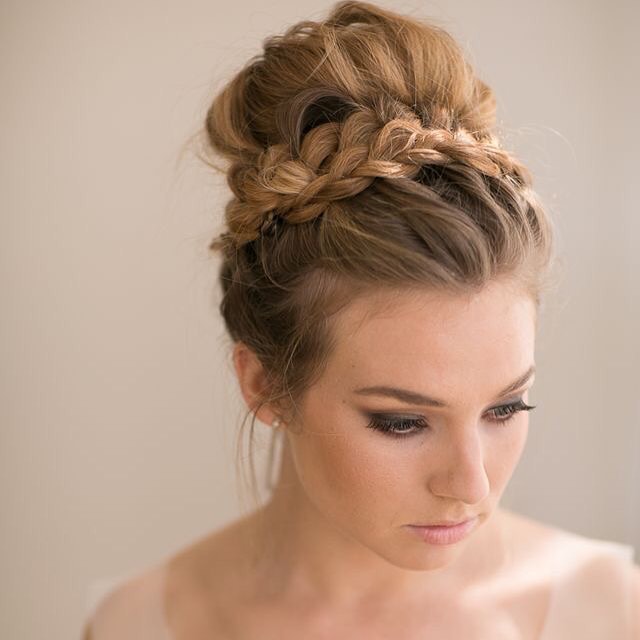 Give your look some much-deserved versatility using a simple french braid. Whether you are going for texture, elegance or just a unique look, a french braid crown is the injection of elegance your prom hairstyle needs to make you stand out.
15. Simple braided roll prom hairstyles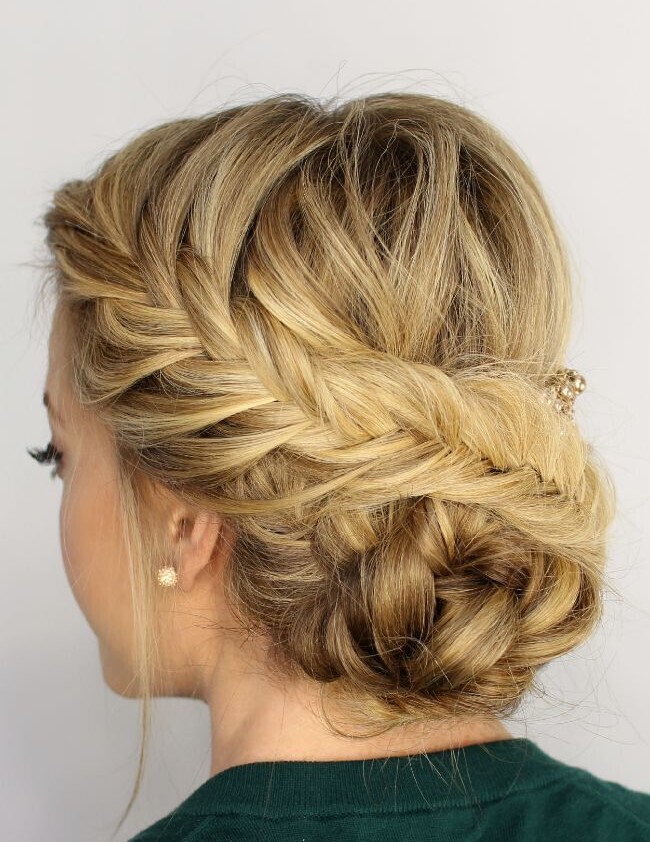 Loose updos give your look a softer, more care-free edge compared to tight, neat updos. This braided look affords you a lot of texture and a unique roll-up bun to keep things stylishly messy. Texture enhancing products can be used to give your hair more natural texture.