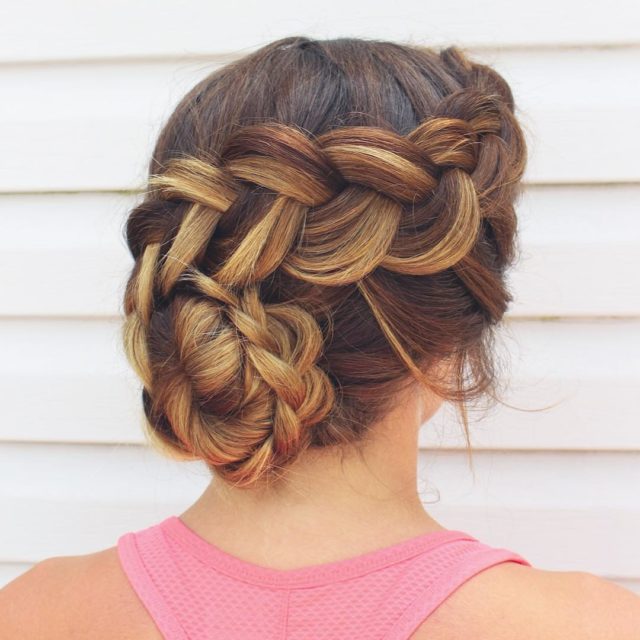 There are endless styling possibilities when it comes to prom hairstyles for long hair. Whether you prefer sophisticated updos that will bring out the elegance of your outfit or wearing your hair down and giving it some stunning effects, you can always turn it up a notch by giving your hairstyle a bit of personality. Here are some super cute and spectacular prom hairstyles for long hair.
Prom Hairstyles for Long Hair
1 Classic Braided Chignon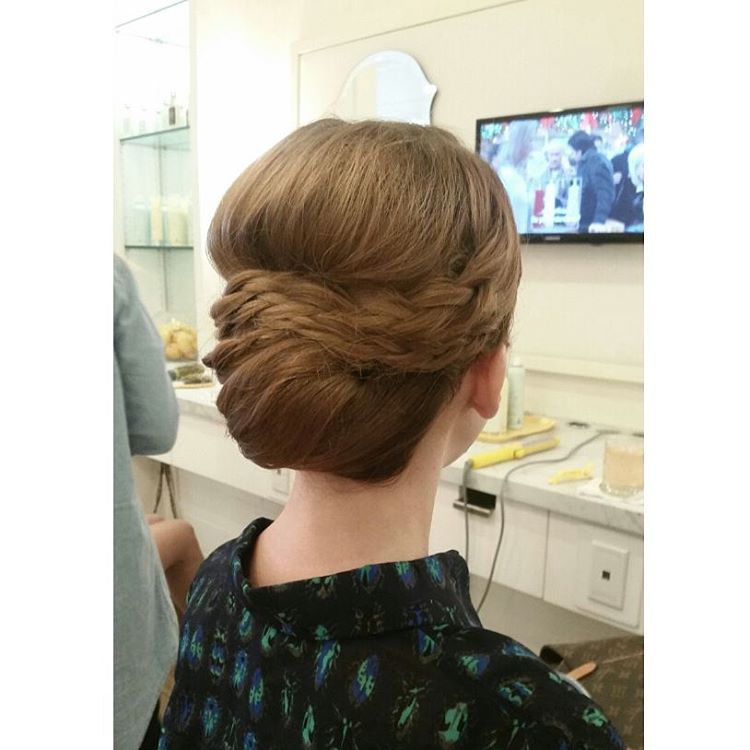 A chignon is relatively low-key but still, every bit is as elegant as any sophisticated prom updo. Make use of your long hair by accenting the chignon with a stylish multi-strand braid to finish off a very sophisticated look for the prom.
2 Sculpted Bun Prom Hairstyles for Long Hair
Deft fingers can easily pull off this elegant prom hairdo. This superbly sculpted bun has been held together in a high position using bobby pins and decorated by delicate orchid flowers to create a dreamy prom night look.
3 Low Bun with Petals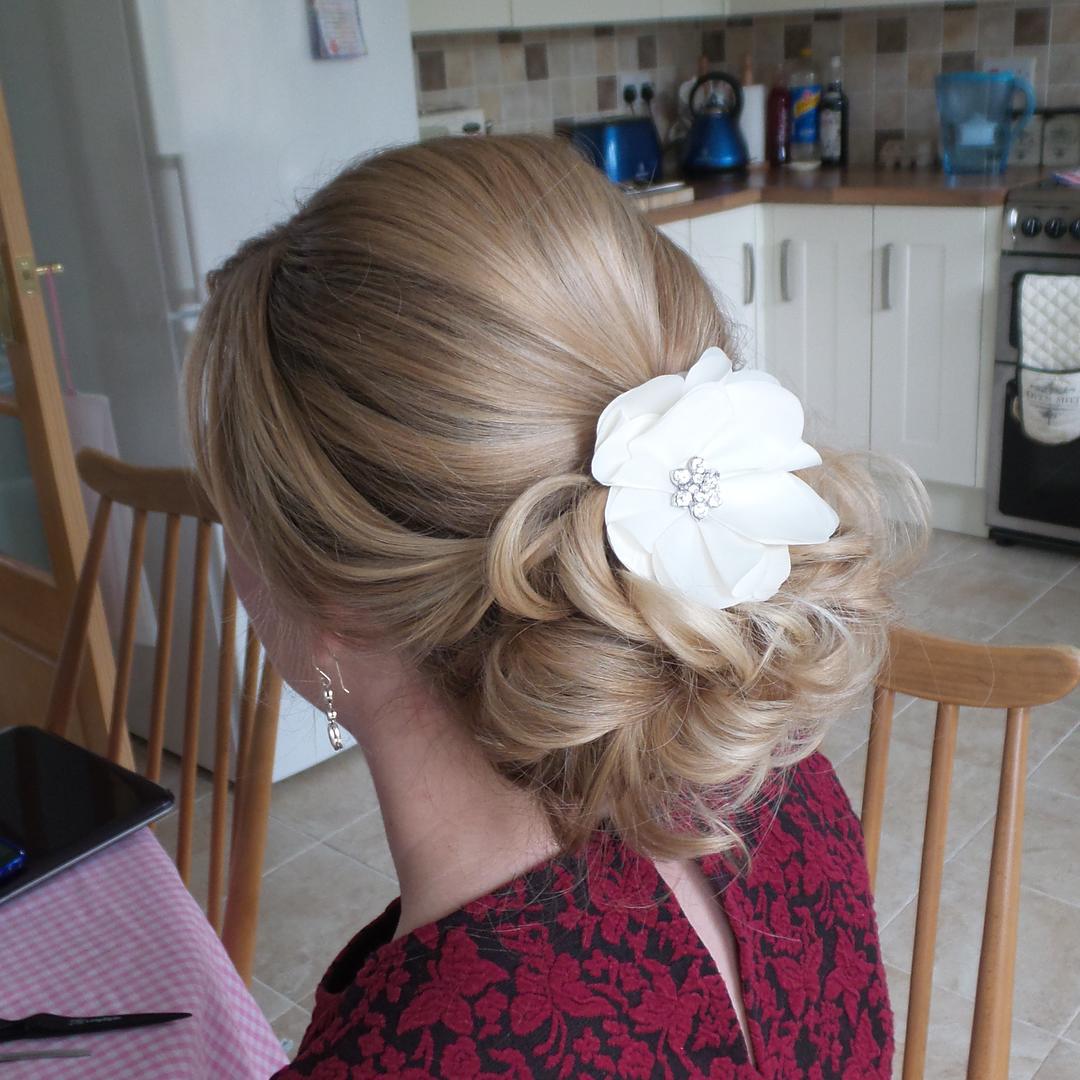 For a festive prom night look, wear a low loose bun with lots of curls and natural texture. The look is simple to pull off but it is an elegant prom night look that works superbly with medium-length and long hair. Cap it off with some vibrant flower petals for a delicate finish.
 4 Messy Updo Hairstyles for Prom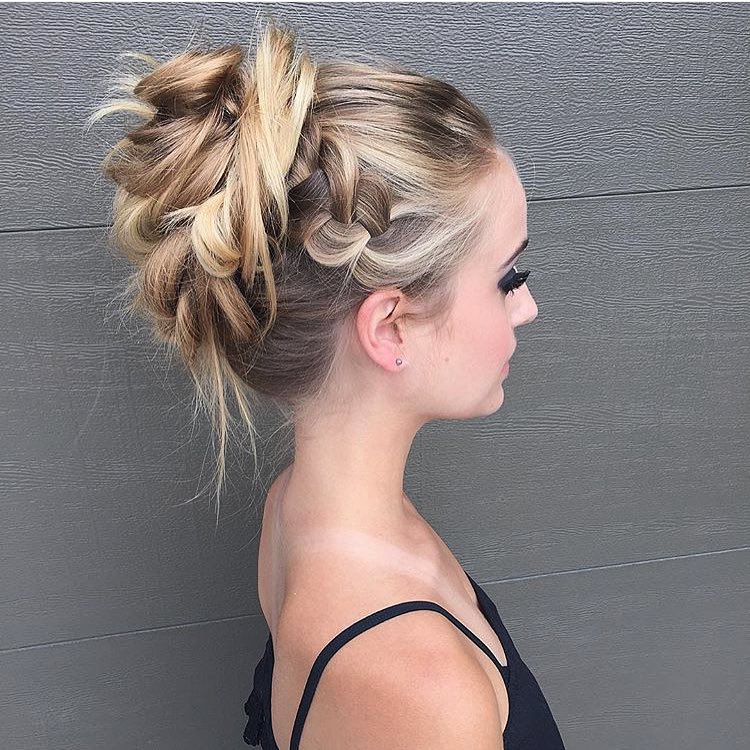 Give your hair a wildly gorgeous and undone finish with a messy updo that has lots of texture. You can play with balayage painting techniques to give it a splash of radiant color and use braids to add some intricacy to the look.
5. Braided Prom Hairstyles for Long Hair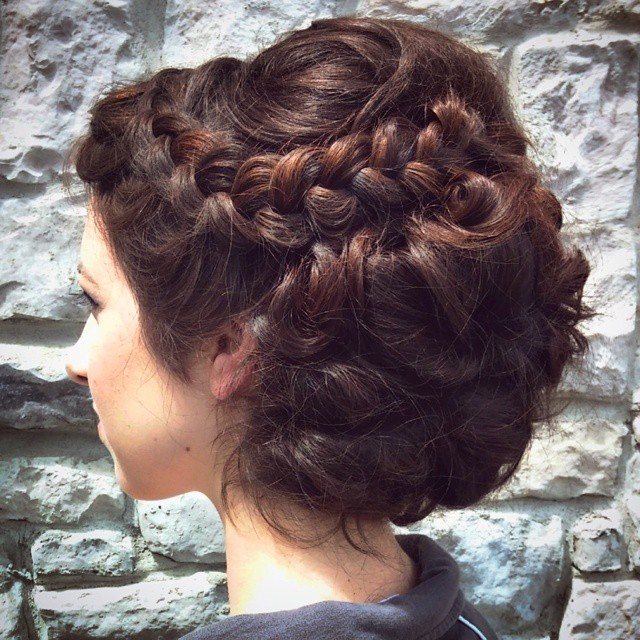 Long hair affords you the luxury of using thick intricate braids to accent your updo. This chic prom hairstyle is a bit retro but looks very sophisticated. Using braids to accent the look offers a unique variation of the style.
6 Lace Braid Crown with Sculpted Waves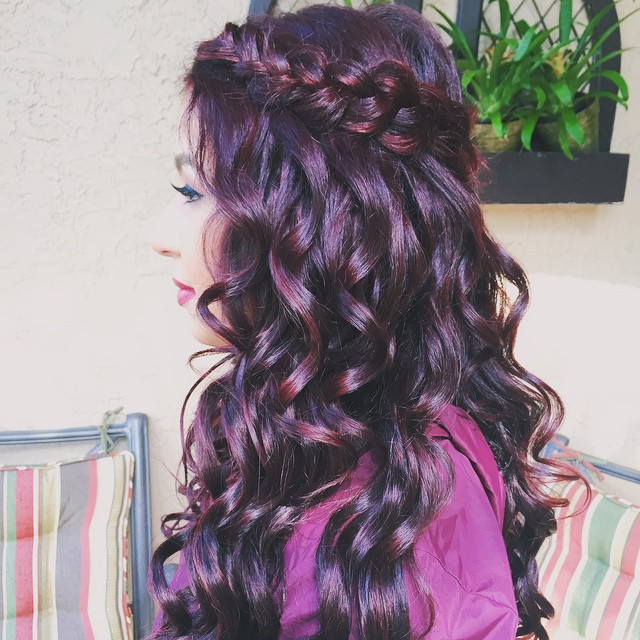 This angelic prom hairdo features lots of sculpted curls with glossy finishes naturally draping down the shoulders. The intricate lace braid crown adds a touch of sophistication to round off an exquisite prom night hairdo.
7 Braided Updo Prom Hairstyles for Long Hair
Go for intense texture contrasts with this elegant prom night updo. The hairstyle features a messy updo full of curls that is accentuated by multiple french braids running across the head. To soften the look, a shattered fringe with an uneven cut caps it off.
8 Snail Bun with Fishtail Braids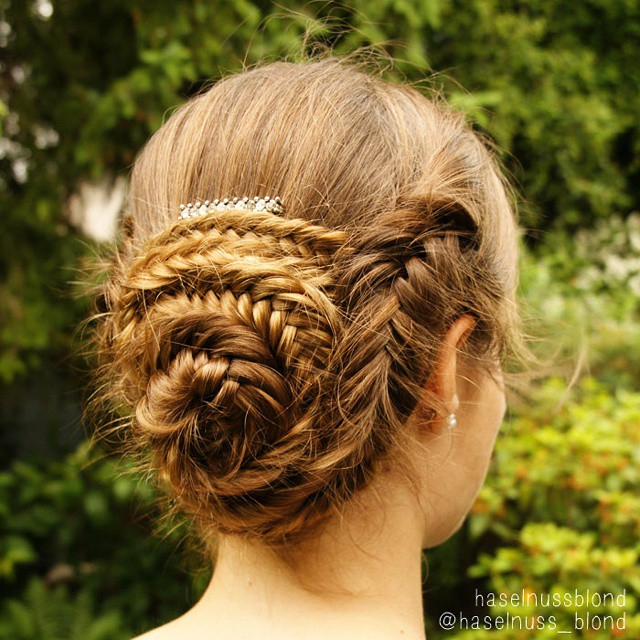 For dexterous fingers, this sophisticated prom updo is a great way to make a statement on the big night. The bun is accentuated by fishtails of different sizes running below it and encircling it to create a fantastic snail shell look.
9 Updo with Ringlets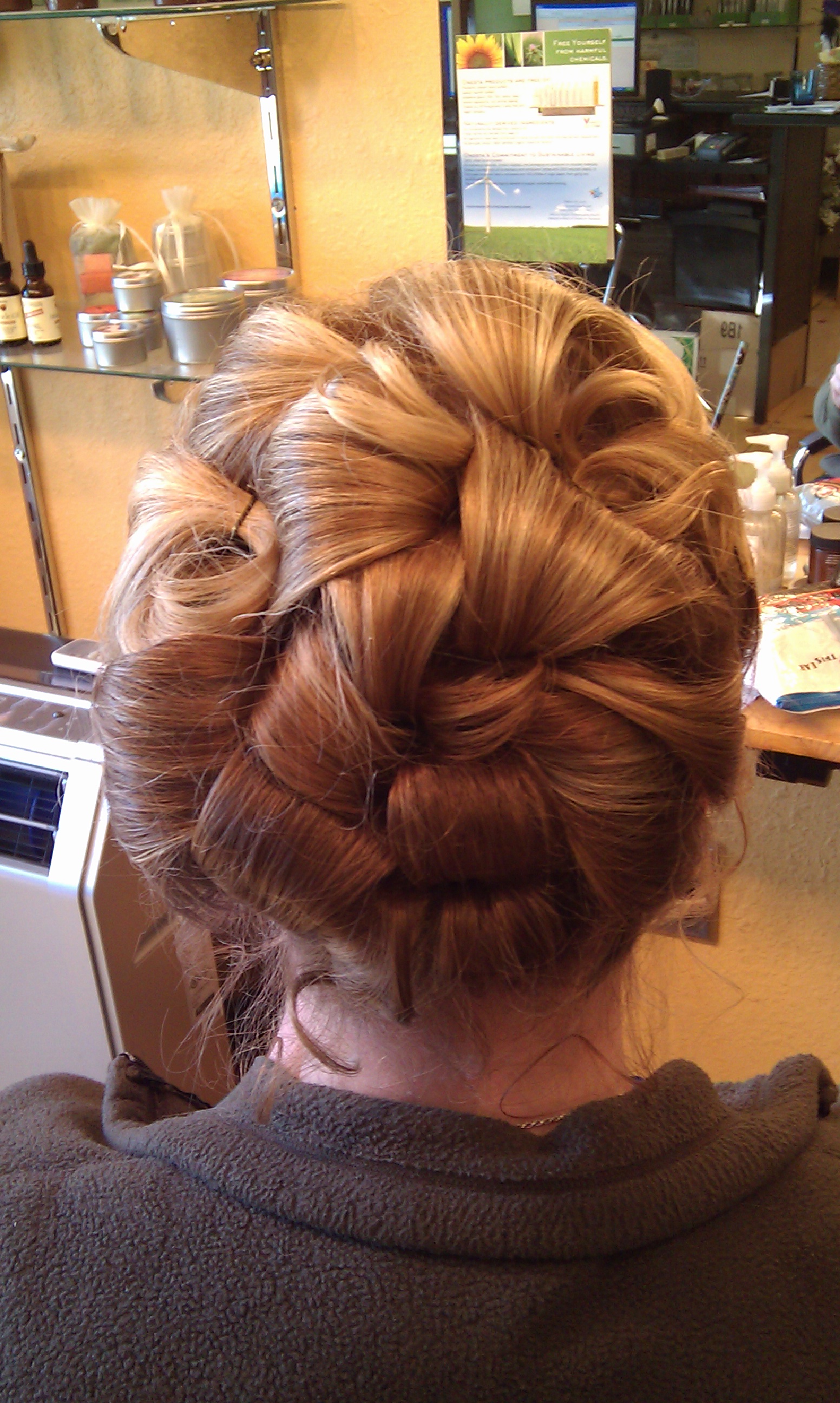 If you are worried about your updo turning out bland, style the lengthy top into bouncy ringlets to create a tasteful finish. Give the curls a bit of bold color using ombre and you will have yourself a show-stopping hairdo for prom night.
10 Braided Side Bun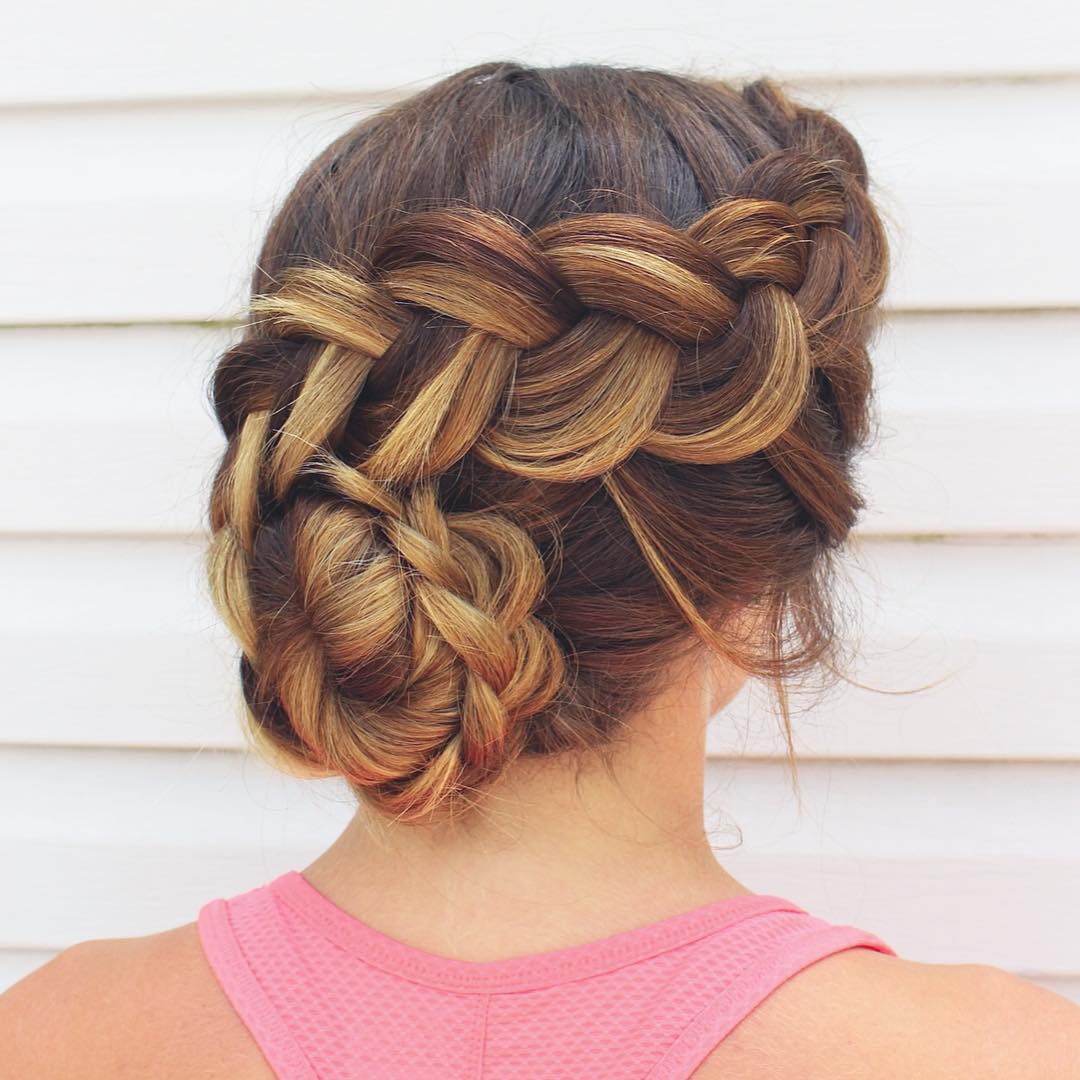 Break out of the traditional high center buns and go for a stylish side bun with some braided accents. Twining the braid and making it thick and noticeable is a great use of long hair as it adds some great texture to the hairstyle.
11 Multi-Braided Bun Updo for Prom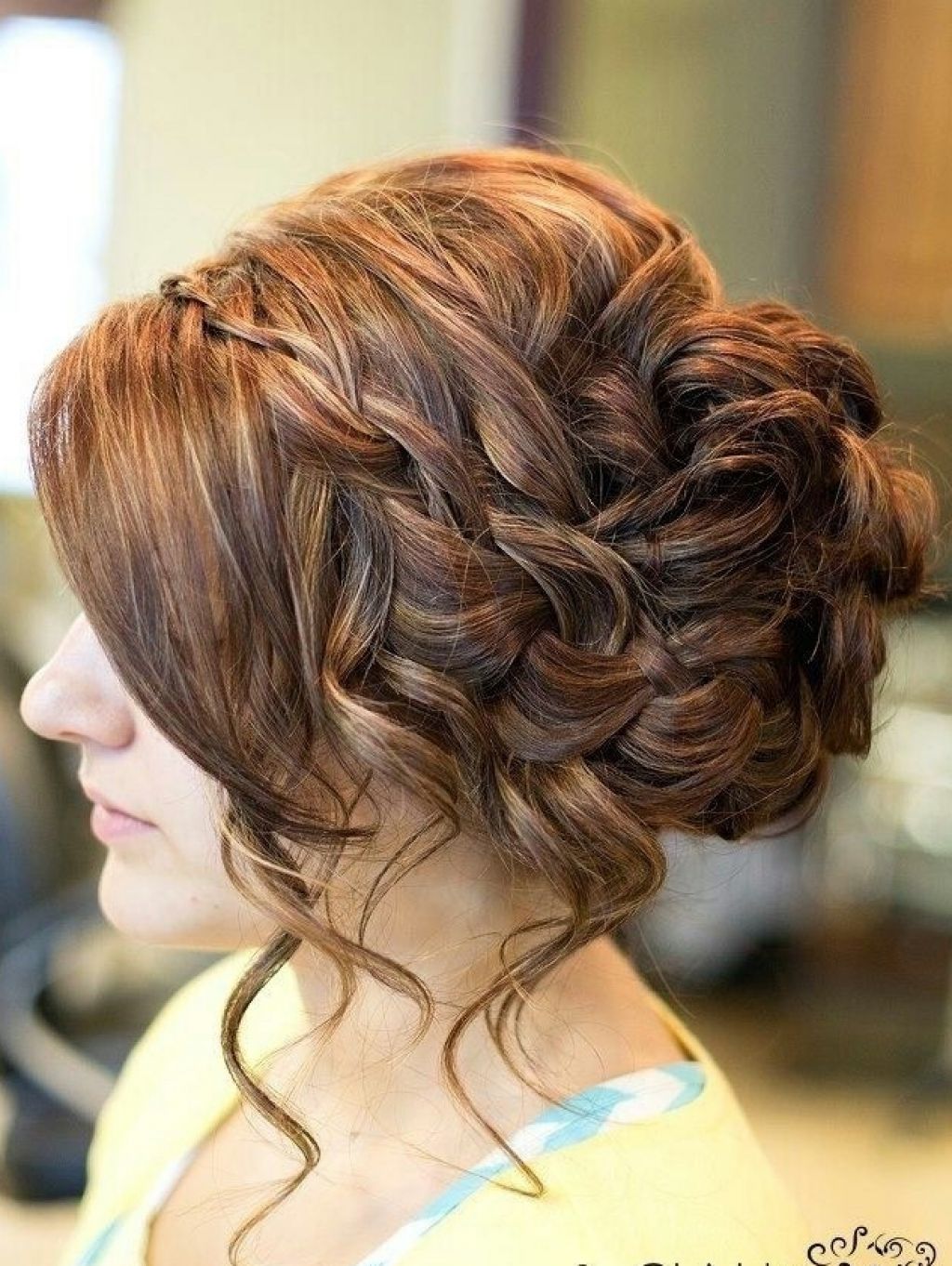 Go as far as you can to make your prom look unique and elegant using a combination of braids and a classy bun. This multi-braided bun features some large curls to add more texture to the look. You can wear it as it is or go for a pretty hair ornament and bring out the princess in you.
12 Low Classy Chignon Prom Hairstyle for Long Hair
A chignon updo will forever remain the definition of sophistication and class. Try this unique variation that hangs low and slightly towards one side to create an unforgettable prom night look. Let some tendrils hang loose at the temples to give the look a bit of excitement.
13 Loose Floral Chignon Updo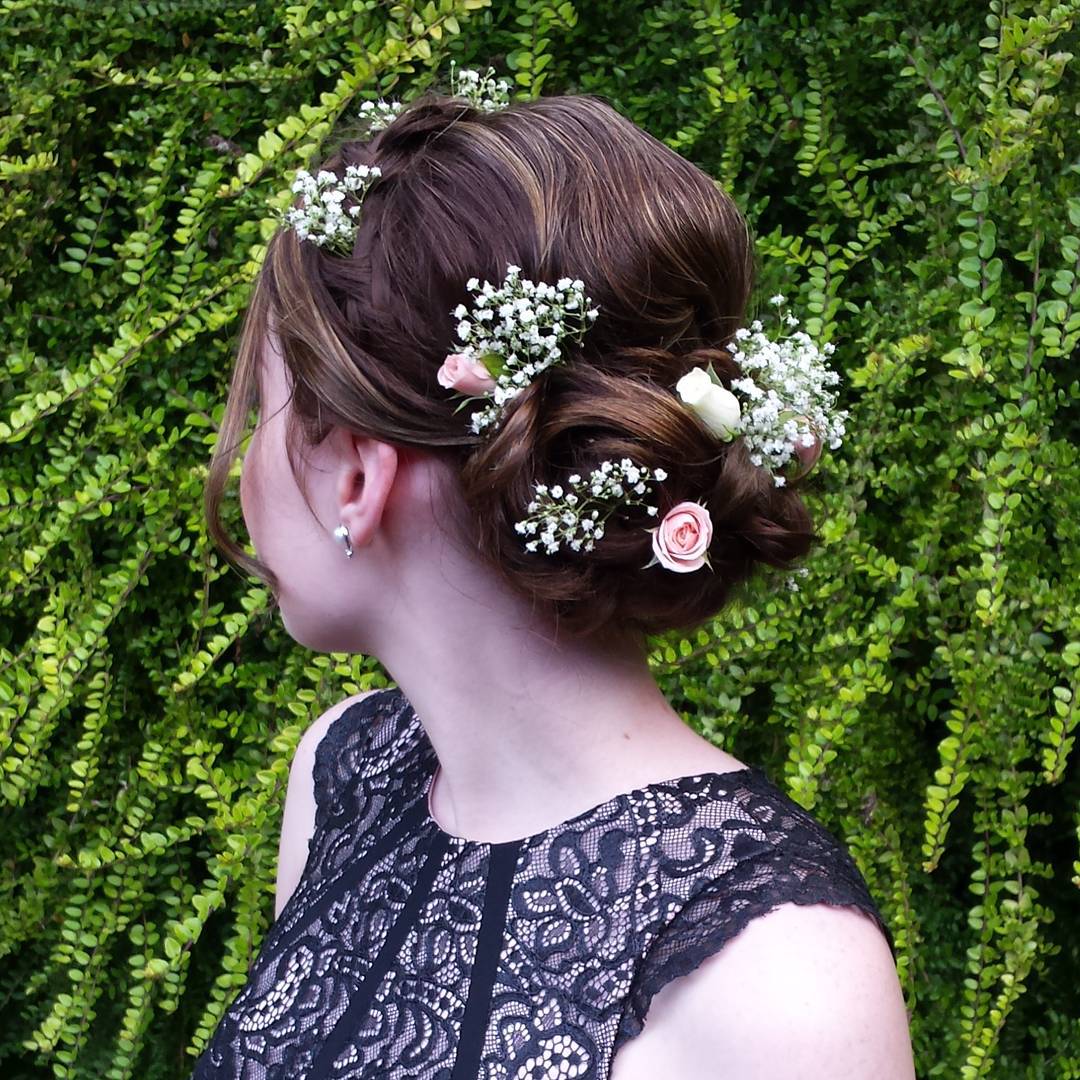 If you are looking to spice up your prom night look with something a bit less permanent than color, go for some cute hair accessories to give you the oomph you need. A basic chignon can be made dramatic with just a few curly tendrils and some beautiful floral hair accessories.
14 High Bun with Reverse Braids
As far as uniqueness goes, this look is one of the most creative prom hairstyles for long hair out there. It features a large bun placed high on the head with an intricate french braid trailing behind it to give it some more drama.
15. Lengthy curly prom hairstyles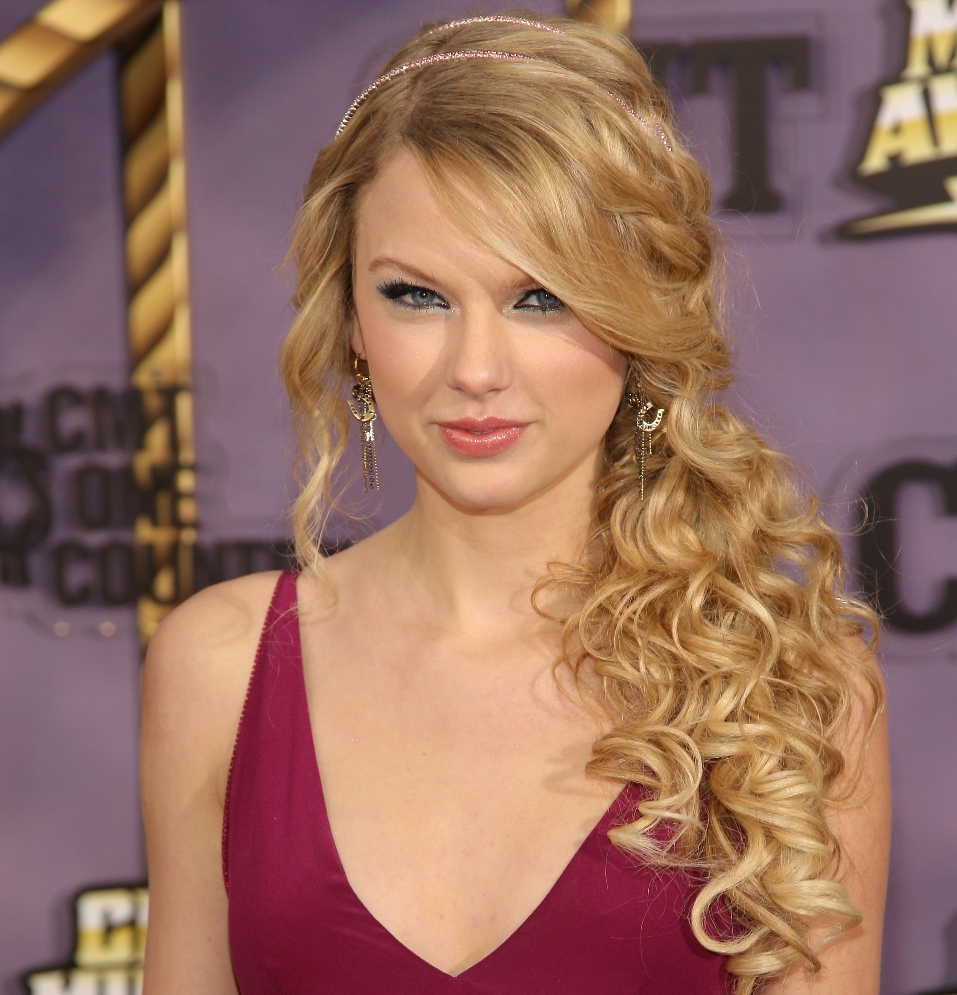 Wearing your hair up might be what is expected of you but it does not mean you should limit your creativity. You can try something simple like wearing your hair down in a loose, curly braid. Make sure you pull it away from the face as much as possible with the exception of a few curly strands at the sides that will add a delicately feminine touch. This messy side braid looks even better on curly hair.
16. Dutch Braid Floral Updo 
Wearing a more traditional prom updo still gives you a wide range of options to choose from. This prom hairstyle features a stylish dutch braid that elegantly crowns the head. The look is rounded off with a fancy braided bun that gives it undeniable elegance and class.
17. Prom Hairstyles: Tousled curls
For a more contemporary prom hairdo, forget the neatness and elegance and try on something daring. This unique hairstyle features fiery red curls loosely tied into a long ponytail. The volume is fantastic and is enhanced superbly by the textured appearance of the locks.