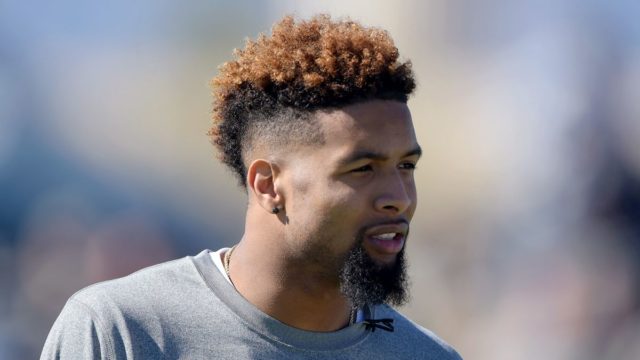 Fashion, haircuts, and tattoos in sports have become an obsession for many. We have many great and entertaining sports including baseball, golf, soccer, hockey, but NFL's American Football is arguably one of the most enjoyable and entertaining sport to watch. Not only because of the level of engagement it brings, but we get to see all sorts of haircuts (for those who are looking for inspiration) and the like of Odell Beckham Jr Hair keeps our imagination running wild.
If you have been watching NFL for a while now, you have probably heard of Odell Beckham Jr. For those who are familiar with him, you can agree with me that he will become one of the most iconic players of his generation. He is by far one of the biggest stars the football league has to offer today. He has grown to become one of the most influential players in the NFL and most of his fans are probably figuring out how they'll live without this NFL superstar. Today in this post, we want to discuss a few details about him. Read on and get to know.
Odell Beckham Jr. is an American football star who plays for New York Giants as a wide receiver. He was born on the fifth of November 1992 in Baton Rouge, Louisiana and attended Isidore Newman School in New Orleans, where he was a letterman in basketball, track and in NFL football, he has been a wide receiver, running back, cornerback as well as a quarterback for the Greenies football team. It is imperative to note that he was a hugely talented individual who took part in a whole host of other sports including soccer, basketball and was also an excellent track and field athlete. In basketball, he lettered all four years and always featured in the all-district selections during both his senior and junior years. Equally, he played some soccer during his youth and considers the retired English player David Beckham his childhood idol. As a highly promising track and field athlete, Odell is believed to have followed his mother's footsteps to excel in both jumping and sprinting events during his time in high school.
He was signed by New York Giants in May 2014 and made his debut on October 5, 2014, after overcoming his injury woes. He has since gone to establish himself as an integral member of the Giants squad and has earned numerous accolades including the 2014 Football Pro Writers Association Offensive Rookie of the Year award as well as the 2015 Offensive Rookie of the Year award by the Associated Press.
Odell Beckham Jr Haircut and Color Choices
As an NFL star, he is not just known for his prowess in the American Football. He is not only admired for his achievements as a talented football player but as a man full of style. He has had numerous eye-catching hairstyles ever since he was in college, and lots of his fans have always paid attention to the evolution of his unique fashion on hairstyles. Typically, the current Odell Beckham Jr. haircut is referred to as faded frohawk, a style deemed to be one of the best among people of color.
To be more precise, this type of hairstyle is somehow similar to the Mohawk but with an afro combined together thus resulting in a unique, innovative and amazing hairstyle. Frohawk is relatively wider in the front of your head and proportionally becomes thinner through the back. The hair is usually first bleached and then styled into relatively thick spikes using a particular styling product. The sides are skin-faded and a full grown beard is left to touch the fade around the ears. It is critical to mention that the most commonly known Odell Beckham's hairstyle usually feature orange, blonde highlights especially on the afro part of the hair. His style has always rocked the world and it is no secret that most people would want to try them out.
Odell Beckham's Hand Size
Odell boasts an athletic body and perhaps it's due to this that he has strong and powerful hands. Research has shown that the average size of a male's hand is about seven and a half inches, which is perfect for wrapping around a pint glass! However, his hand measures ten inches which is incredible.
His Height and weight
Odell Beckham's height is 1.80 m(5 ft 11 inches). On the other hand, he weighs 198 lb (90 kg).
Odell Beckham's Tattoos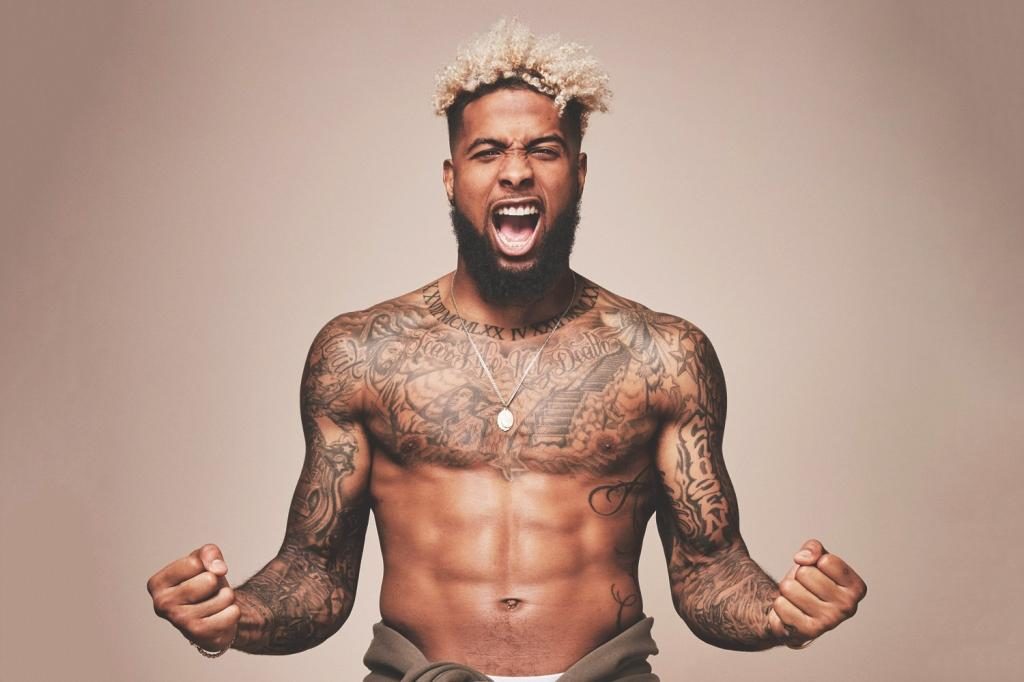 Odell Beckham Jr's latest leg tattoos feature a whole host of prominent figures, including Malcolm X, AI stepping over Ty Lue, MJ, Bob Marley, Jesse Owens, Allen Iverson stepping over Lue Tyronn, Dr Martin Luther King Jr., Barack Obama, Lil Wayne, Tupac as well as the legendary boxer, Muhammad Ali. Simply put, he now boasts one of the most spectacular tattoos on the globe, which is simply a great work of art; one that takes you through American history!
Odell Beckham's Shoes
As a football star, he has his lifestyle sneaker that features the Nike SF Mid AF-1. Some notable features of this unique footwear are adjustable ankle straps, top-end leather construction with nylon accents, co-branding, full-length gum sole unit, and perhaps the zippering system of its heel. It is also worth mentioning that there are certain details which appear on the model such as the Metlife Stadium, the latitude, and longitude of the city of his birth, markers for his home field, his jersey number, and position.