When it comes to jumbo box braids, bigger is a lot better. Jumbo box braids are extremely popular mostly when it comes to styling, as they are more versatile. Having thicker or bigger braids also gives them a nice weight that allows for natural, unrestricted movement. Another reason you should love box braids is that they are awfully easy to take care of and last a long time. Herein are some pristine jumbo box braids you should totally try.
Beautiful Jumbo Box Braids Styles
1. Multicolored Box Braids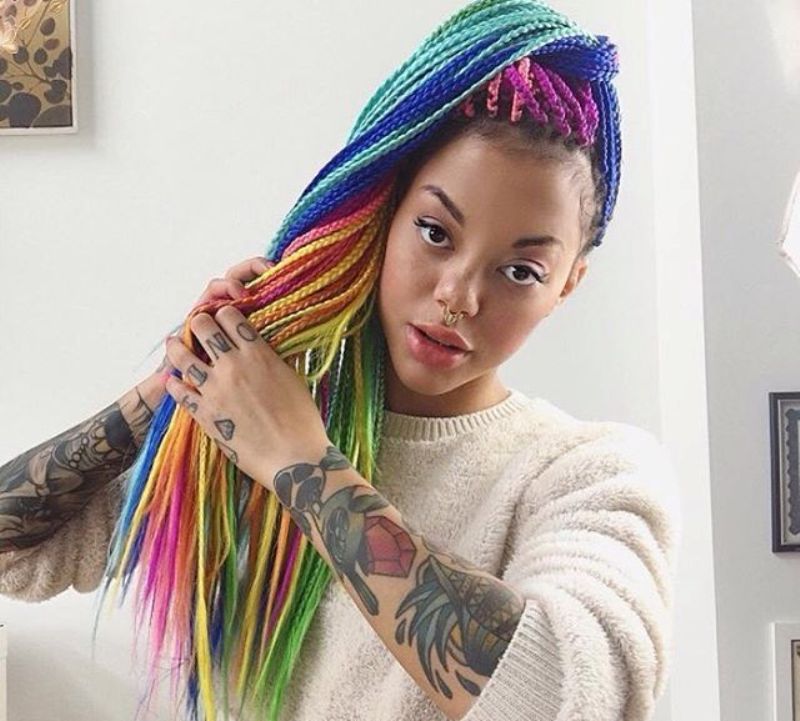 This delightfully cheerful look is a classic casual hairstyle for the fun loving personalities out there. You can either buy the multi-colored jumbo box braids pre-twisted or get differently colored hair extensions and do the braiding yourself. The result is a beautiful rainbow of jumbo box braids that you can style into anything you want.
2. Mohawk Jumbo Box Braids
Enjoy the best of both worlds with this sharp Braided Mohawk hairdo. The look gets its crispness from the contrast created when the cleanly shaved sides are paired with the vividly colored blue braids that feature a large knot on top and thick braids cascading down the shoulders.
3. Short Jumbo Box Braids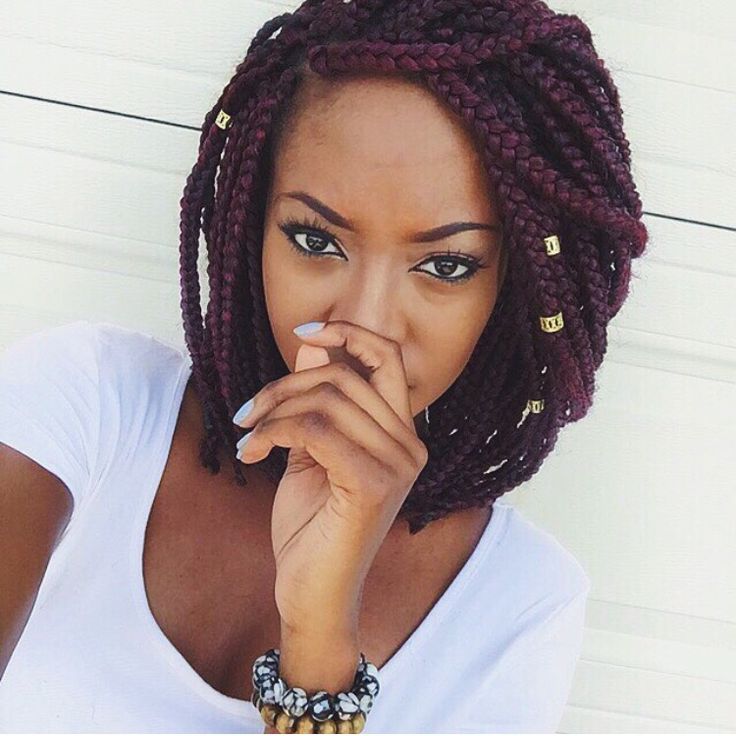 You can achieve a bob hairstyle by going for shorter jumbo braids. Shorter jumbo braids don't have to necessarily be the thickest so ensure you take that into consideration when choosing your locks. Keep them well spaced to cover the entire head.
4. Long and Thick Box Braids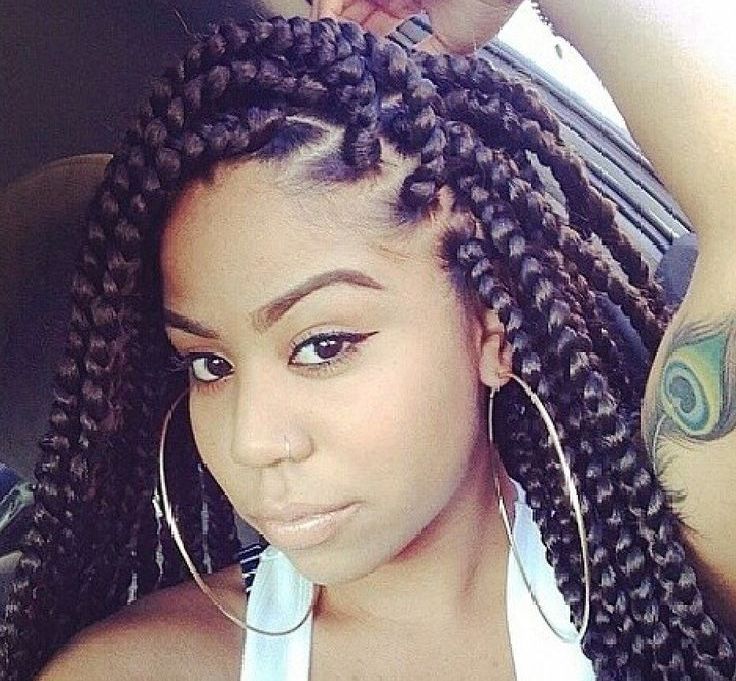 The simple elegance of this look cannot be understated no matter how simple you decide to go. These stylish box braids are bold and elegant and feature some wonderful thickness which makes the look extra chic.
5. A-line Jumbo Box Braids with Part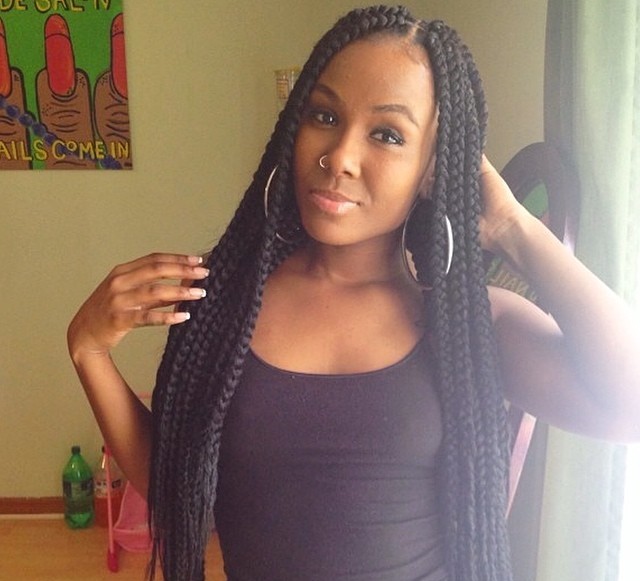 If you are looking for something a bit more classic, try going for long, luxurious braids and simply wear them down. The thick straight braids are perfectly attractive and will add a youthful edge to everything you wear. Longer braids are also easier to style into updos.
6. Voluminous Jumbo Braid Top Knot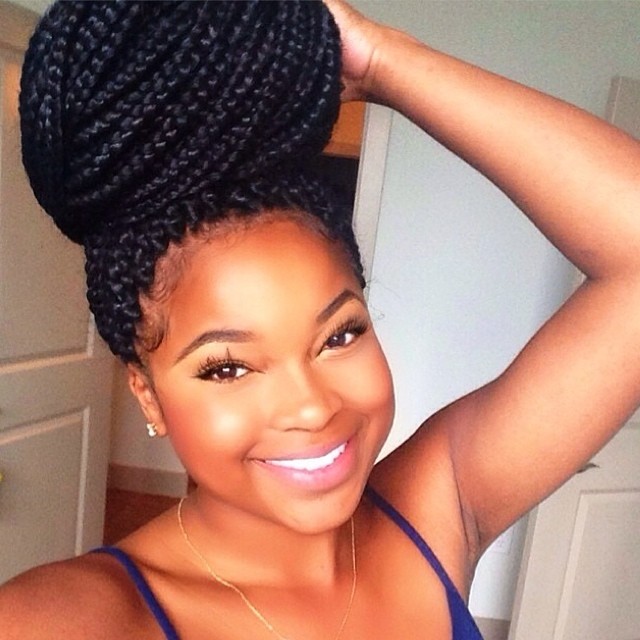 Your search for something intricately African ends here. This stylish jumbo box braid updo oozes elegance and confidence. All you need is the long jumbo braids which you can style into the sexy topknot. The sheer volume focuses the attention on the face while simultaneously allowing you to show off your best features.
7. Braided Updo Jumbo Braids
If you are already rocking some stylish jumbo braids, here is a way you can class up your look for those formal occasions. Braiding the locks into one large braid which can then be tied at the back or on one of the sides helps you achieve a more formal and feminine look and also gets the hair out of your face.
8. Purple Jumbo Box Braids
Purple is an amazing color to go with if you are looking for something a bit livelier than black. It will give your braids a more youthful appeal and also make them a lot more interesting. Purple also goes well with nearly all skin tones and if done right, adds just the right amount of spice to your jumbo box braids.
9. Classy Jumbo Box Braids
For those looking to try something entirely different, this classy jumbo box braid is perfect for you. The look combined the edginess of a crisp long hairstyle with the soft femininity of jumbo box braids. The best part is you can easily pull the hair up as an updo.
10. Knotted Jumbo Braid Updo
Another classy way to rock your thick braided locks is by knotting them. This is a very practical look that is also very sexy and feminine. The thick knots can be shaped and positioned to give the head a nice shape. Leave some space in the middle for that distinguishing side part.
11. Elegant Jumbo Box Braid Updo
The perfect updo is all about angles. Give it a softer look by leaving some hair slightly covering the face. The thick braids in this example have been fashioned into a stylish loose knot that looks very classy.
12. Pre-Twisted Jumbo Braids
Going for thicker braids can work as long as you keep things interesting. You can do this with stylish patterns in the hair and a soft hairline to keep it feminine. Adorn the thick braids with some shiny accessories to give your hairstyle more character.