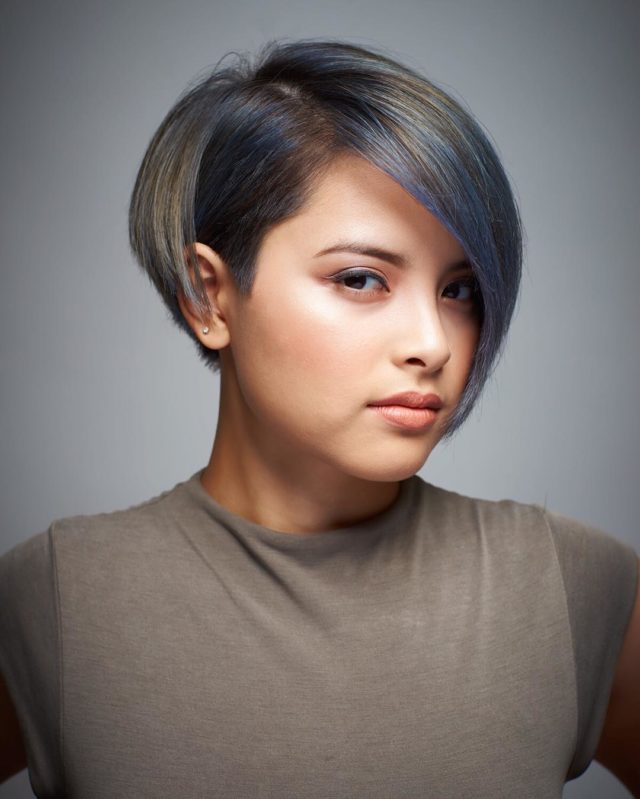 When choosing Short haircuts, it is important to consider the shape of your face. Round, oval and slightly angular faces may be able to pull it off but if your face is slightly longer, it is better if you stick to longer hairdos. Short hairstyles are way easier to maintain and are also very versatile. You can use color texture or different lengths to create a look that is uniquely personalized which is why we are bringing you these cute short haircuts for every woman of class.
Cute Short Haircuts
1. Cropped Short haircut
Do not be afraid to go completely short if you have the face for it. A shorter hairstyle works in favor of the face as it helps to show off all the feminine features and the shape of your face. Try giving dark hair a lighter dye to take the androgynous edge off the look.
2. Tousled aqua bob short haircut
Show off your short haircuts by making it as bold as possible. To compensate for the shortness, go for volume and texture by mussing up the locks to give them a tousled or windswept appearance. Additionally, you can give it a vibrant shade of color such as aqua blue to spice it up.
3. Layered short haircut for women
Texture trumps length any day especially if you want to maintain a cute and girly look. Make your short hairstyle different from the rest by filling it up with different layers and tousling up the curls for more natural texture. This feminine look can also be used to make the hair seem more voluminous.
4. Wild pixie haircut
This Tinker Bell hairstyle differs from any other generic pixie cut in the way it wonderfully blends long and short bangs to create a wild, choppy look. It also features random layers and slightly tousled locks that give it a lot of superb texture.
5. Cute short haircuts: Swept up pixie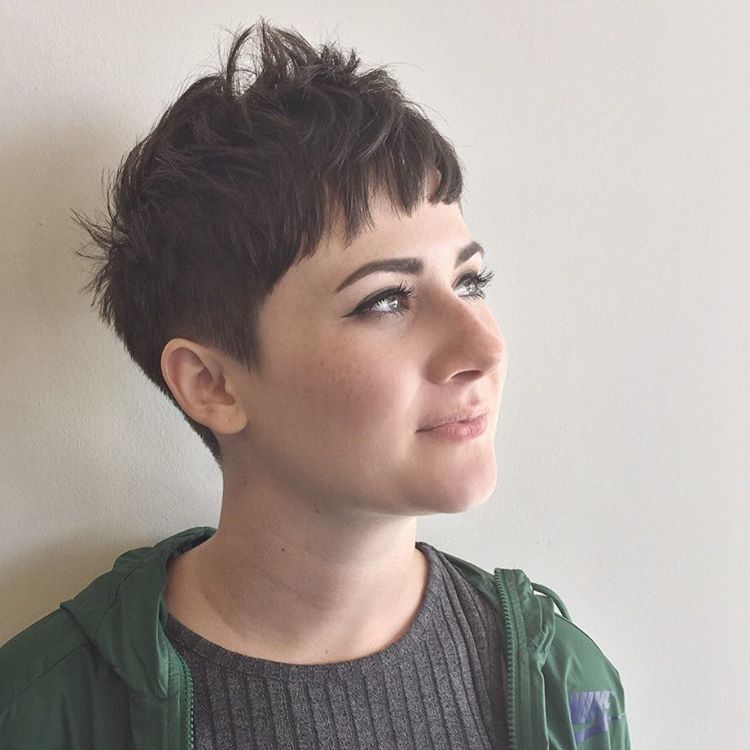 Instead of focusing the length towards the sides, you can try a pixie hairdo that takes the length to the top in a look that slightly resembles a faux mohawk updo. Keep it messy with a short, shattered fringe and windswept locks for added texture.
6. Asymmetrical Short haircut for women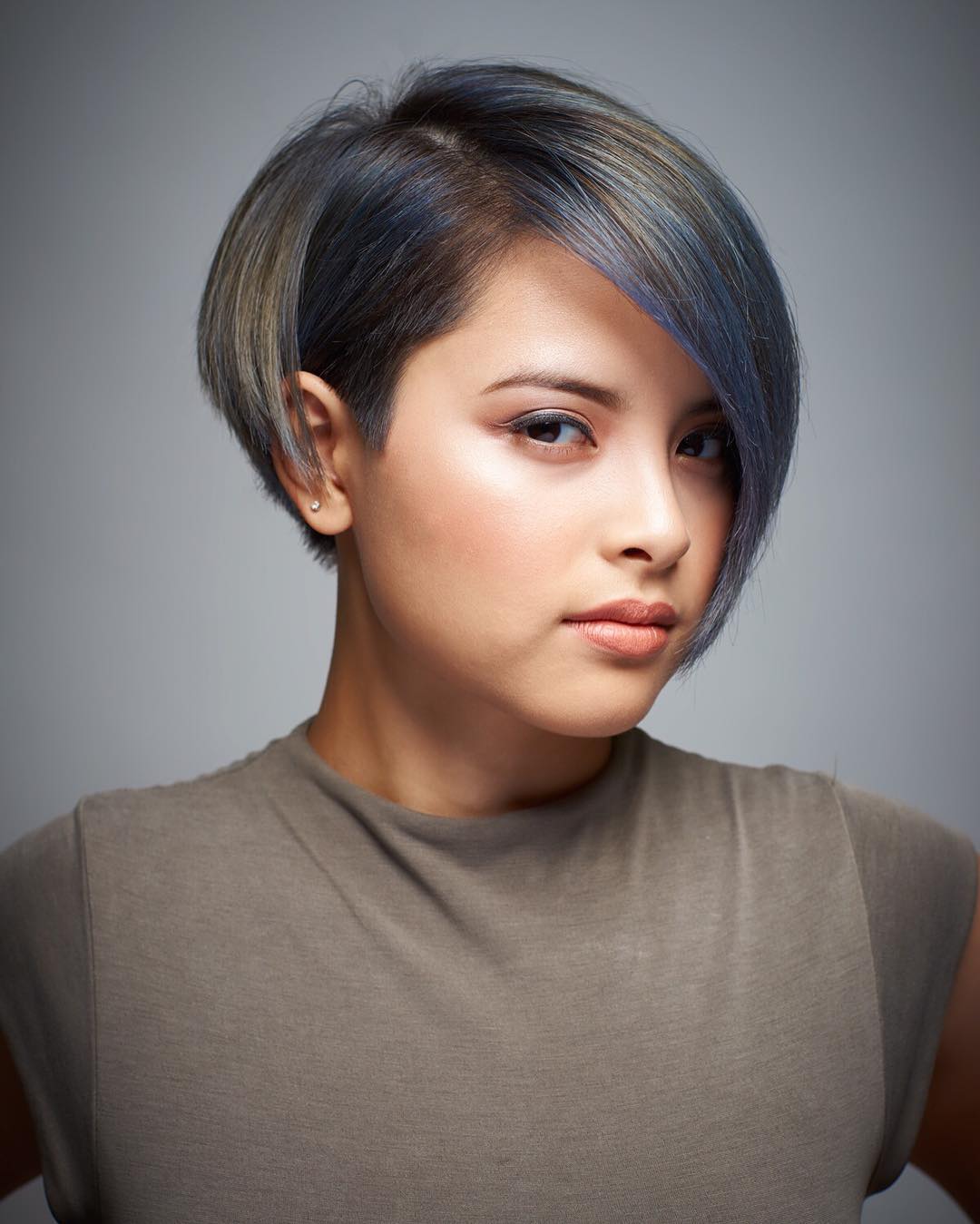 If you want to look chic and unique with a bob, some asymmetry will go a long way in making your hairdo stand out. Keeping one side short also helps to show off smooth, round feminine faces. The longer side should end just above the jaw line. You can add some mellow blue highlights to give the look some color.
7. High women's pixie haircut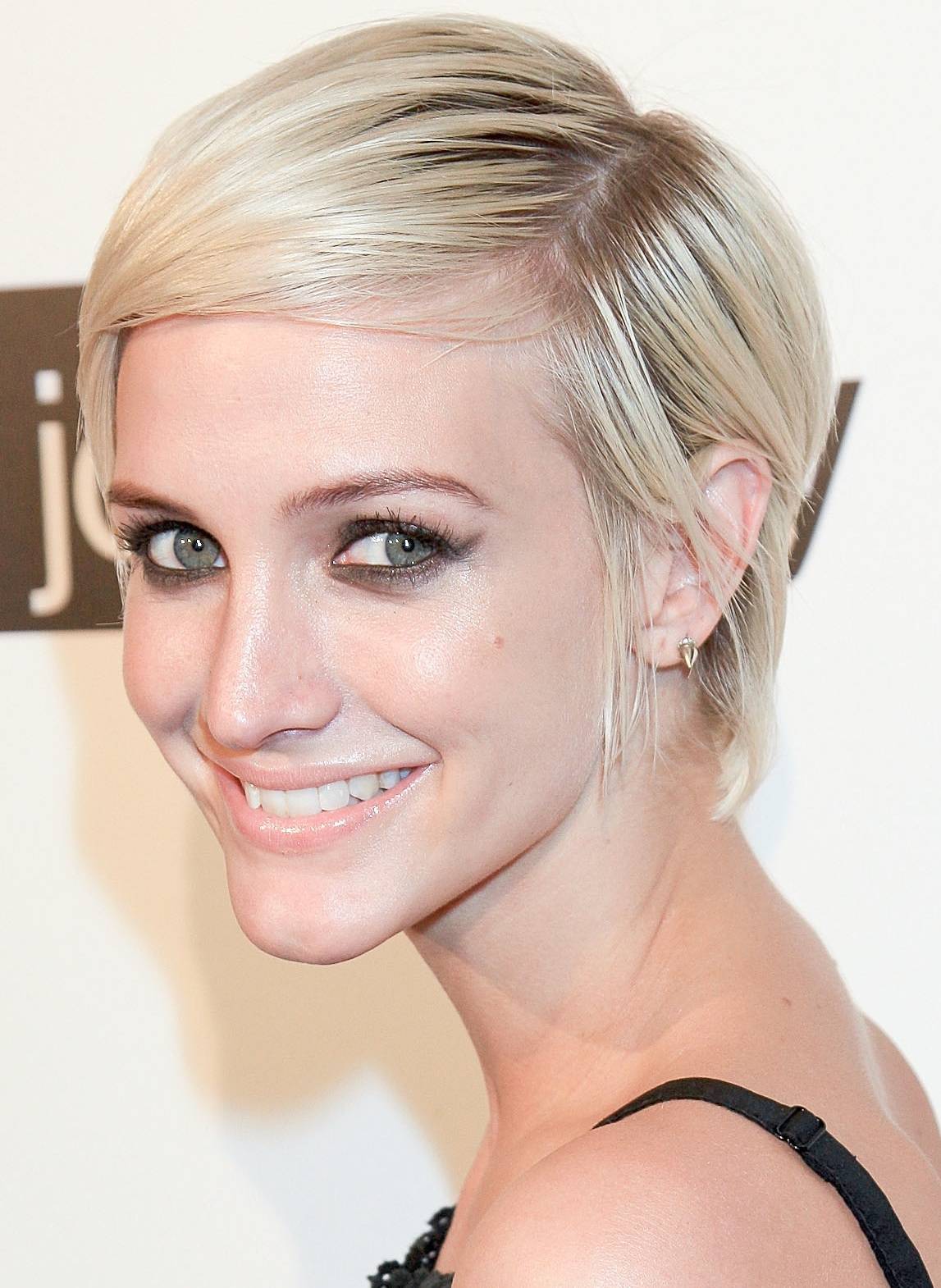 For a more feminine look, do not crop the pixie too short at the sides. Instead, leave some bangs dangling just above the cheeks with a uniform cut all round. Giving the pixie hairdo some volume can be achieved by leaving the top a bit higher than usual. In this example, darker roots and stylish lowlights have been used to give the hair more depth.
8. Tapered short hairstyle for women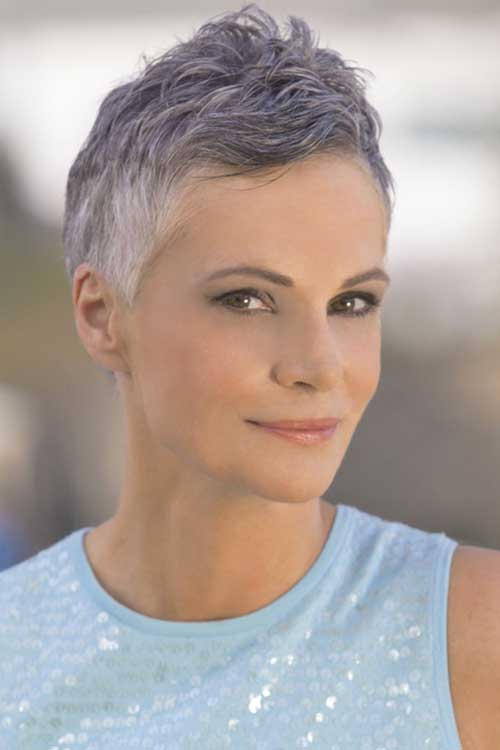 The taper fade is gradually making its way into a good number of short haircuts for women. When combined with cropped haircuts for instance, it creates a stylishly trendy hairstyle with a slightly edgy appeal. This layered pixie hairdo uses the stylish taper fade at the nape to transition the ashy grey locks into a patterned shave.
9. Simple cropped hairstyle for women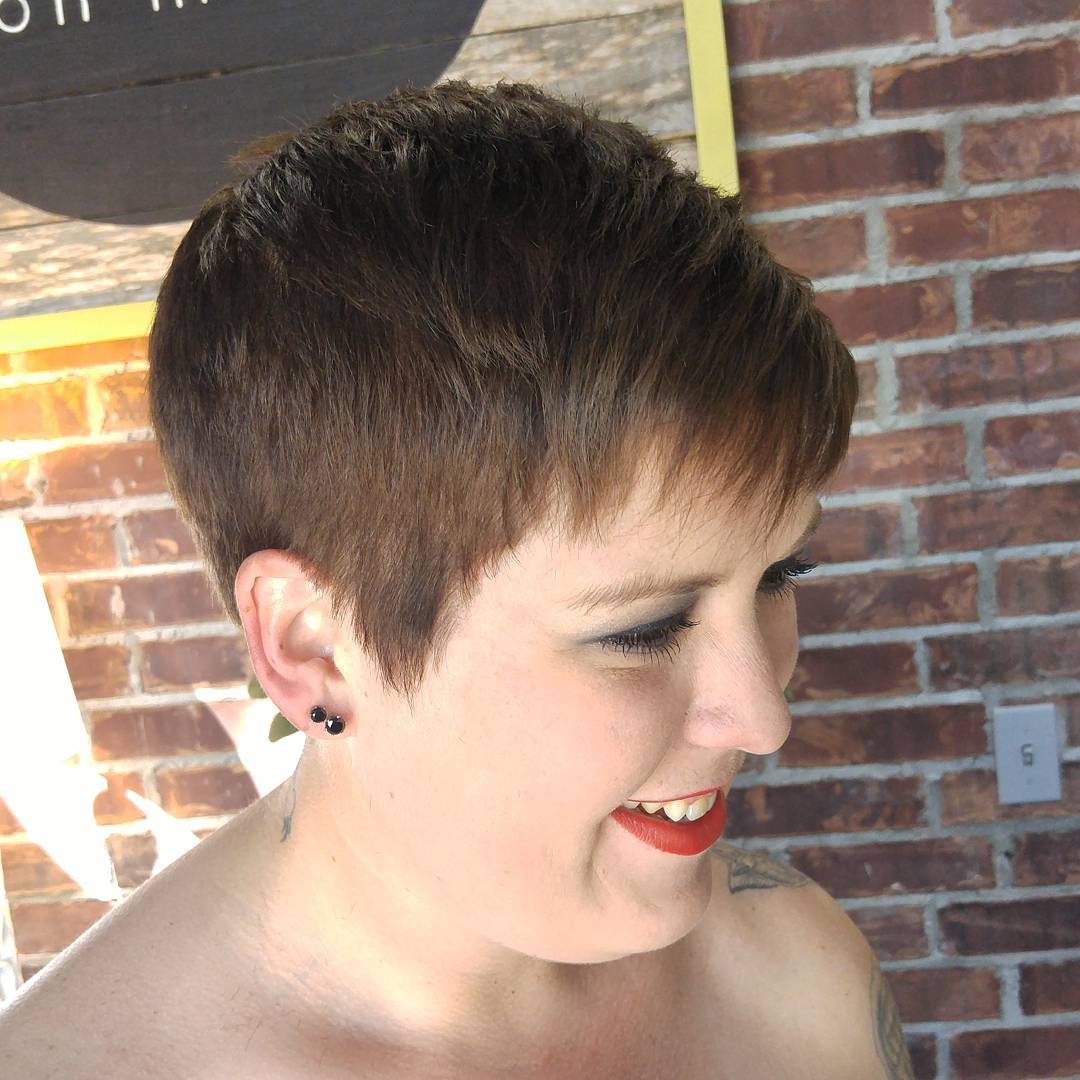 Shorter is better if you have a beautifully shaped face to back it up. This cropped pixie cut is a low maintenance look that is still very stylish. The brown hair is fairly basic shade for the bluntly cut fringe that gives it a sassier outline.
10. Short tousled crop with braids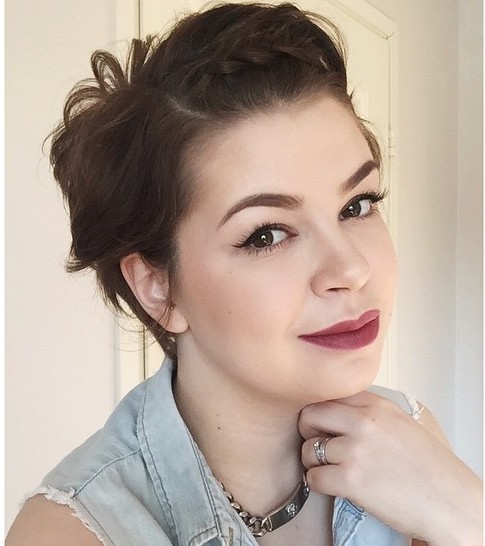 Some looks are simple enough to create at home but look gorgeous when done right. For a quick fix to short, cropped hair, you can try this simple cropped look with a windswept texture and a slight part. What makes it unique is the stylishly braided bangs draped to one side.
11. Short angled bob hairstyle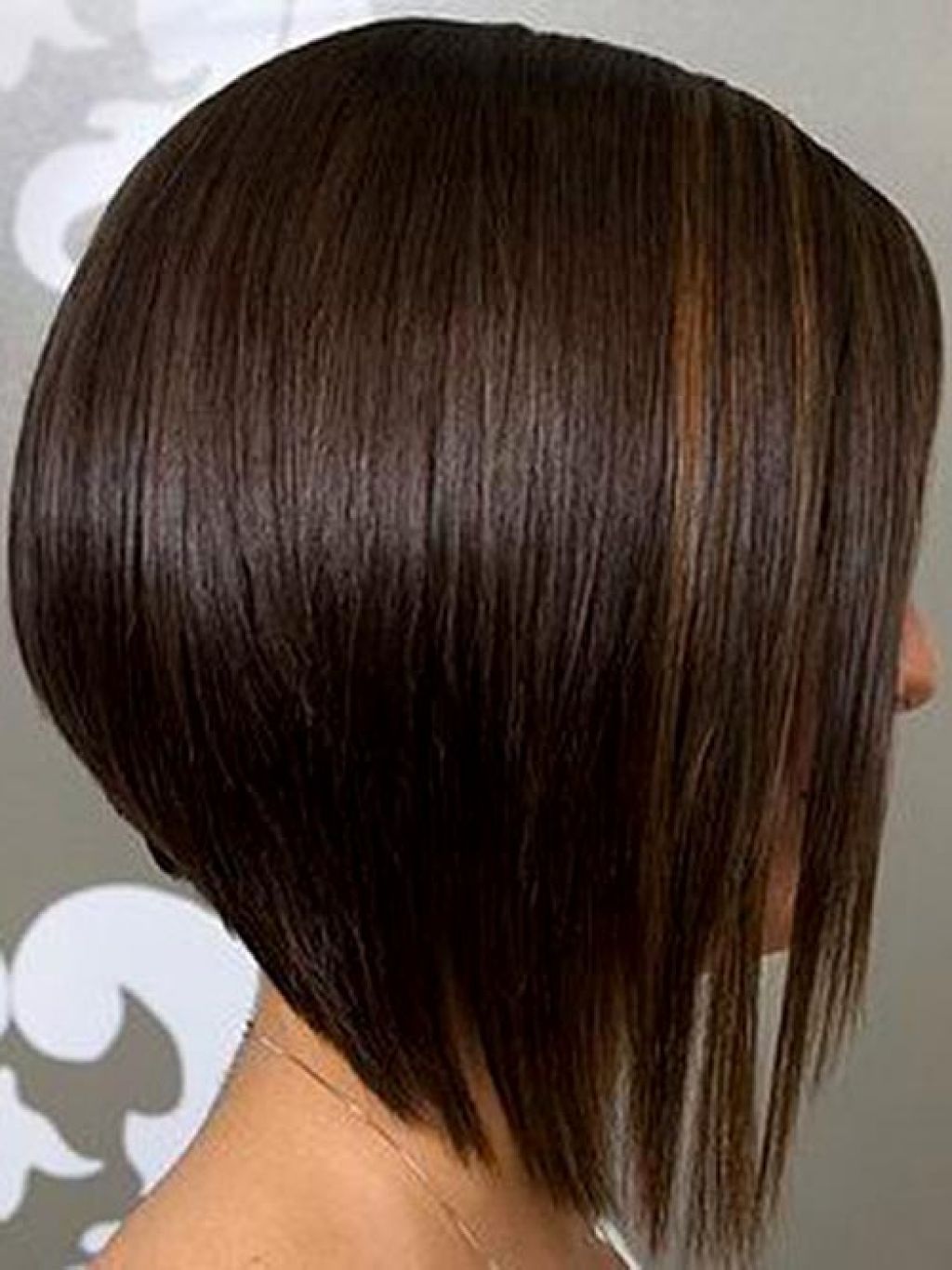 Sometimes in order to look good with short hair, you have to give it a carefree appearance. This bob cut makes good use of the angled cut that lengthens towards the front. The tousled texture of the locks and radiant highlights are a nice touch to what would have otherwise been a painfully normal look.
12. Short silver haircut
If you are starting to notice a few grays within your locks, embrace the change by giving your hair a lustrous hue of silver. It will actually make it look more youthful especially when worn in a short, layered pixie cut with great texture.
13. Short hairdo for women
Your face can sometimes be your biggest asset. If that is the case, a simple short hairdo will, in fact, enhance your youthfulness. Keeping it short means that you can keep it messy using tousled locks and blunt cuts to give it a more natural finish.
14. One-sided crop haircut with side part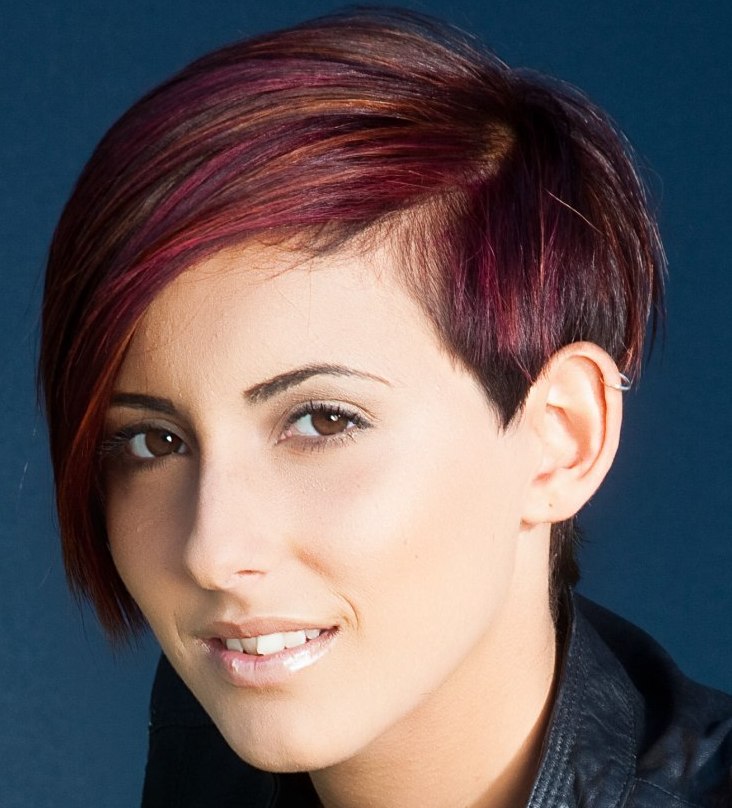 One of the perks of wearing your hair short is that you do not have to keep an even length. In fact, a slight asymmetry will go a long way in enhancing your looks. You can let one side hang lower than the other, leaving the other side of your face beautifully framed.
15. Frizzy lob short hairstyle for women
Admittedly, to pull off a carefree short hairdo you need to give your hair a degree of shagginess. The loose outline created by windswept locks gives your face a superb frame and accentuates your features. You also stand to benefit from lots of great texture.
How to Create Cute Short Haircuts For Women