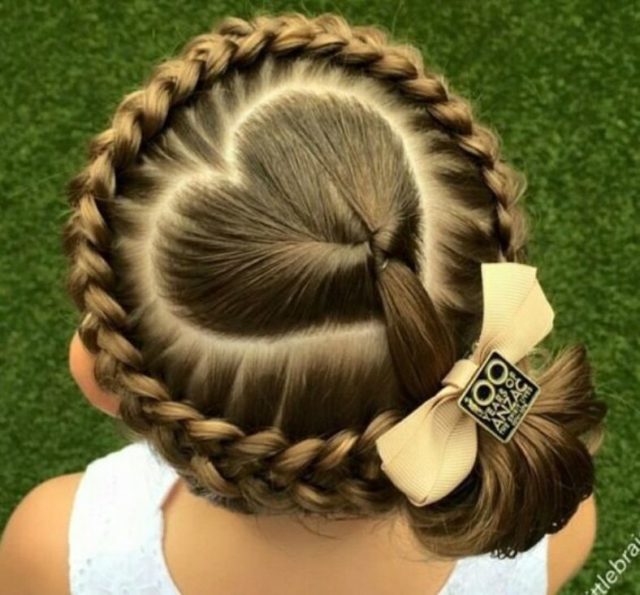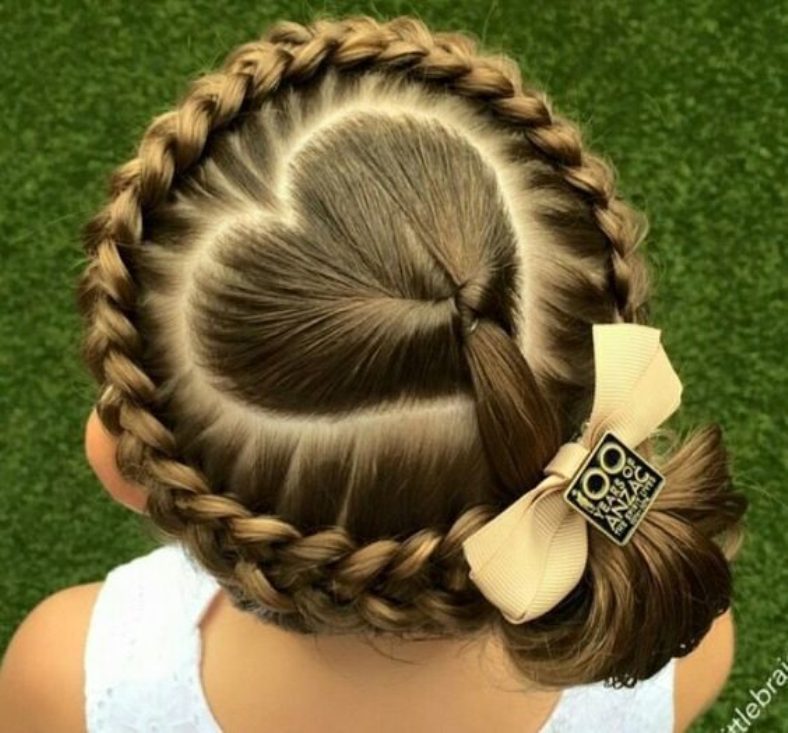 Short of cute, lovely hairstyles for kids? You are in the right place. We mums struggle a lot most times looking for many options as to the hairstyle for our little girls. We end up repeating the same style of hair all the time. We even end up spending a fortune on their hair on the long run.
For this reason, we have put together a collection of different easy and quick kids hairstyles which can be done by anyone 'I mean even the dads'. These are styles which bring out the outer beauty of your child complimenting the inner beauty of their hearts. Also we do not doubt that mums will do anything to make sure the hair lasts long while remaining neat especially during term time.
Cool Kids Hairstyles
1. Knotted zig zag kids hairstyle for kids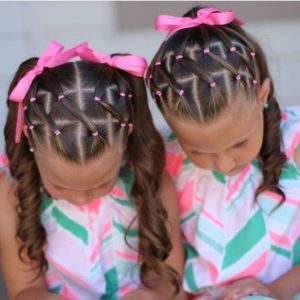 This is one of the cutest and very simple natural hairstyles for kids. You will need about ten or more pieces of pink or multi coloured hair rubber bands depending on the quantity of your girl's hair. All you need to do is to part the upper half of the hair into two horizontal layers and on each layer, create as many vertical partings as desired not making it too big or too small. As you part the hair, immediately tie it up with the band. On each part using your fingers, separate the hair into two and affix into the next layer to create a knot. You could either end up doing a ponytail or pigtails.
2. Angled french braided hairstyle for kids
Awww! what a cute look to give your little girl. Just brush the hair all to one side and knot a French braid from the middle top. To add some style, you could get out a bit of fringe in front and slant it to the side.
3. Colour touch sided kids braids
This is one of the easiest hairstyles for kids. It can easily bring out the cheekiness of your little girl. It is meant to give her the big girly look and builds her matured looks.
4. 'S' Style braided girls hairstyle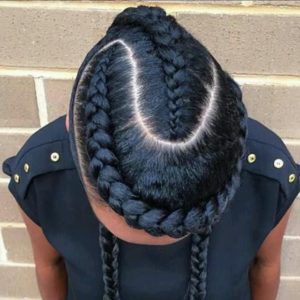 Just two different braids, with the front braid patterned in an 'S' shape. This style best goes with a full puffy hair but don't be discouraged if your girl has got a light hair, there are other styles specifically meant for her or that's why we've got attachments.
5. Twisted zigzag pigtail buns for kids
Looks complicated but actually quick simple. Make about six parted twist upwards on the half back of the hair and and two braids in front on a zigzag part joining them all to two finely made pigtail buns. This is an exclusive hairstyle that lasts.
6. Two sided braids for kids
Typical party hairstyle look for the girls which can give them a stand out to their beauty.
7. Fringed girly bun kids hairstyles
What is easier than letting out a little fringe in front and making a bun of the rest of the hair. This I would say is one of the quickest and easiest natural hairstyles for kids which you can do on your little girl. This can be done several times in a month therefore having different headbands will make all the difference.
8. Angled inner pigtail braided kids hairstyle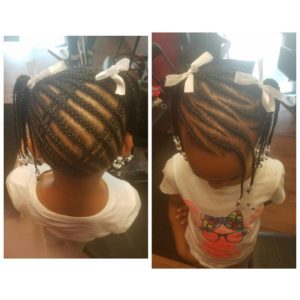 Don't get discouraged by the cute looks of this braid, trust me its not as complicated as it looks. All you need to do first are the two pairs of inner braids that should link up at the end to the pigtails and then weave the other braids as normal to form the complete pigtail creating a zigzag part when parting the hair. These hairstyle should last for right about two week plus if done neatly.
9. Dutch stylish braided ponytail hairstyle
Lovely Dutch braids to make your girl look ladylike and classy. Just make an angled full hair dutch braid and create a knot with part of the hair holding together the end of the dutch braid to a ponytail. This hairstyle makes my girl feel like mummy as she says.
10. Kids Hair Crown
Very Unique style I must say. These hairstyle is just as the picture describes. Definitely not as complicated as you might think and your little girl will sure feel like a princess that she is on this.
11. Twisted Curly Braids
These lovely twisted curly braids might take a lot more couple of hours than a quick hair but I can assure you that it lasts a couple of good weeks more than most quick hairstyles we do to beat time. Just to mention, remember to put on some rollers at the tip of the twisted braids overnight using a setting cream or oil to create the curls.
12. Middle heart ponytail for kids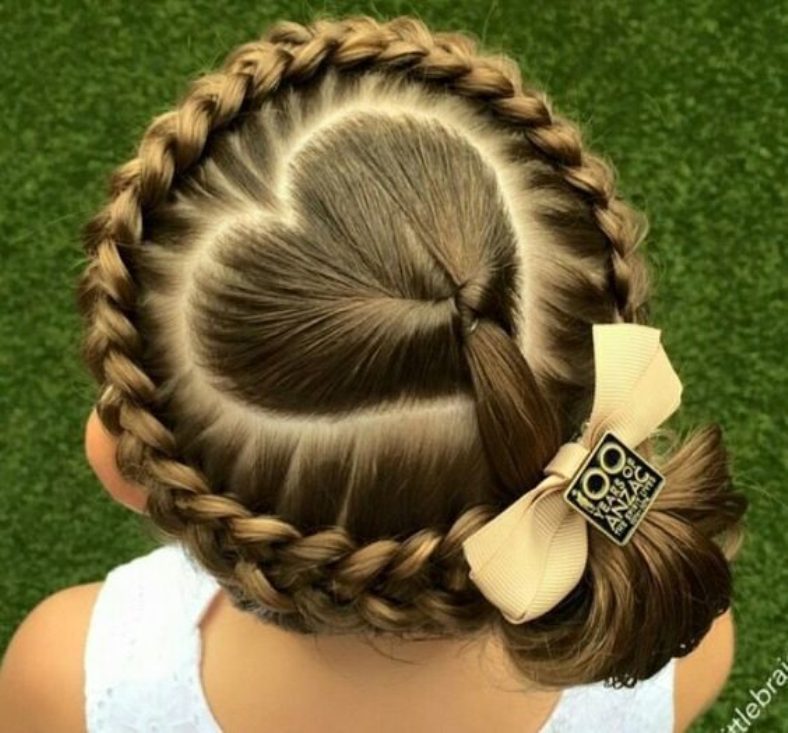 These posh hairstyles for kids can be done mostly for a party or an event. It makes your girl stand out among many. All you need to do is weave the hair all round creating a knotty heart shape ponytail in the middle of her head.
13. Kiddy twisted pigtail hairstyle
Picture your little girl with that twisted pigtail, wearing a heart melting smile on her face. This style is pretty simple as it just requires three to four twists on a finely packed pigtail.
14. Stylish woven bun hairstyle for kids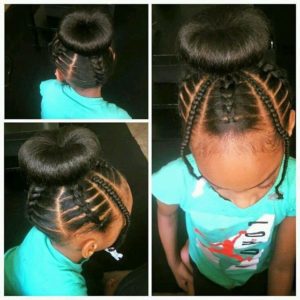 This hairstyle looks great on adults and children alike and it is easily actualized by doing two on each side 'pick one after the other braids' to the top,  two normal Dutch braids to the front and at the back a French braid to the top, put all weaves to the top into a bun using a bun holder if that would make it easier for you the designer.
15. Minnie Mouse bow bun
Awwww my girl loves minnie mouse so much that when I was done with the bow bun on her, you could see the radiant joy and happiness that poured out from her face with a cute smile to compliment the appreciation. This hairstyle is mostly for those who loved, still love and are yet to love Minnie mouse cartoon. All you have to do is have a woven strand of hair close to the middle of the head, use a good portion of hair to create the bow then, using the strand as your knot, tie the bow in the middle and finally wrap all loose hair into a bun.
Watch Easy Girls Hairstyles Tutorial