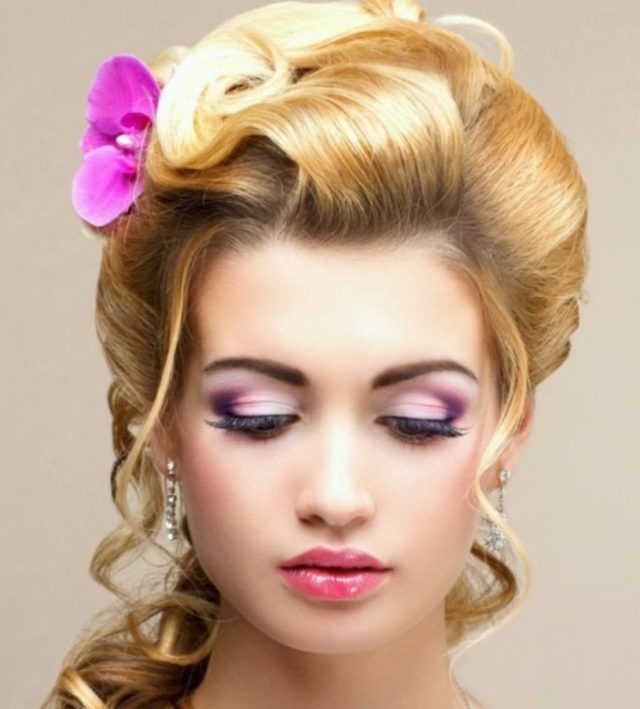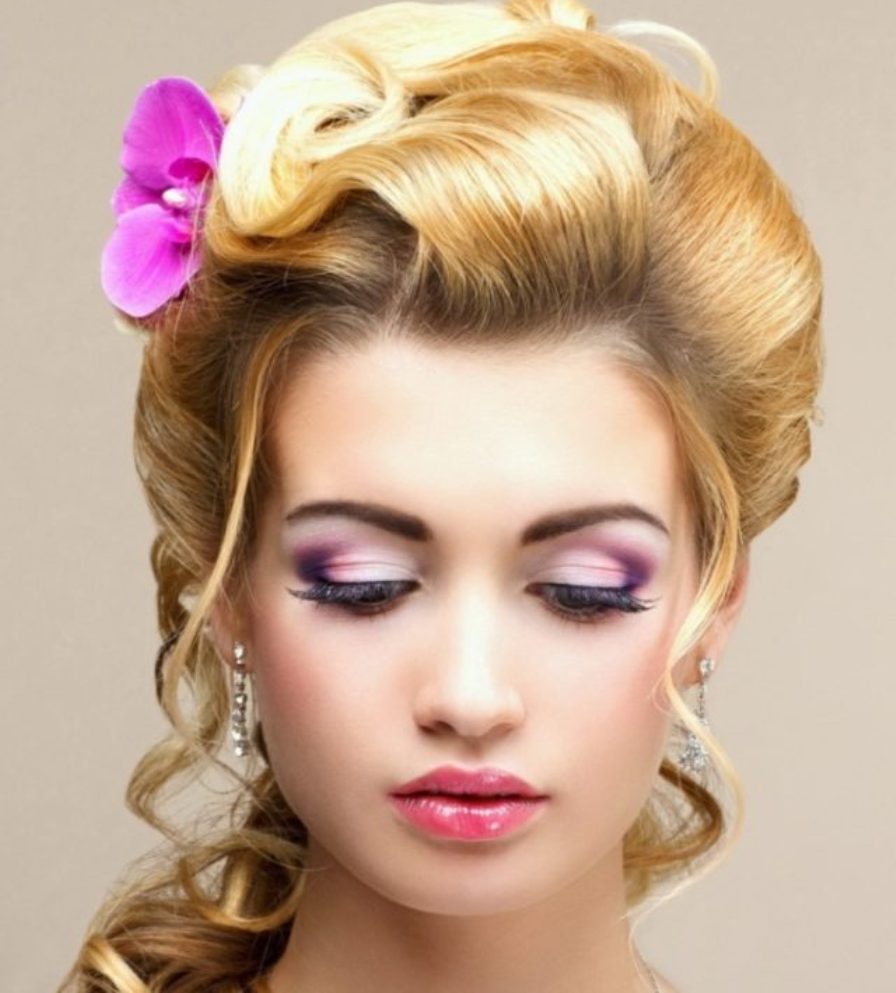 Girls are among the best dressed, the reason for this is possibly because they are young, beautiful and they love to experiment new things. This is the phase when they are moulded into confident women. cute girls hairstyles are quite endless, from sleek updos and crazy voluminous hairstyles to classy bobs, there is an exciting hairstyle for all hair lengths including both short and long hair. Here is a look at some of the cutest girls hairstyles which are easy to create and will give you a stylish look.
Cute Girls Hairstyles
1. Ombre Braid and Bun Hairstyles for Girls
This updo is perfect for both dressy and casual occasions. The top hair portion is sectioned off from temple to temple then parted in the middle part and both sides are braided in the middle of the head. The two braids are then loosely wrapped around each other forming a messy bun. This style could also be braided in a spiral manner all the way to the back from one side to create that stylish bun.The blonde highlights at the soft bottom curls add depth to the braid.
2. Frozen-Inspired Cute Girls Hairstyles
This hairstyle gets its inspiration from Frozen, a Disney animated movie. To set it up, gather all the hair to one side and create a Dutch braid. Once below the ear, switch the braid up to a fishtail style and secure it with an elastic.
3. Streaks of Silver – A Cute Girls Hairstyle
This hairstyle ditches the conventional hair colors to a silver hue. You can get it by bleaching the hair to a light blonde then toning it with light ash blonde to give it a silver effect. To add depth to the hair, add a few strands of your darker blonde hair or incorporate soft pastel colors like pink or lilac.
4. Highlighted French Braid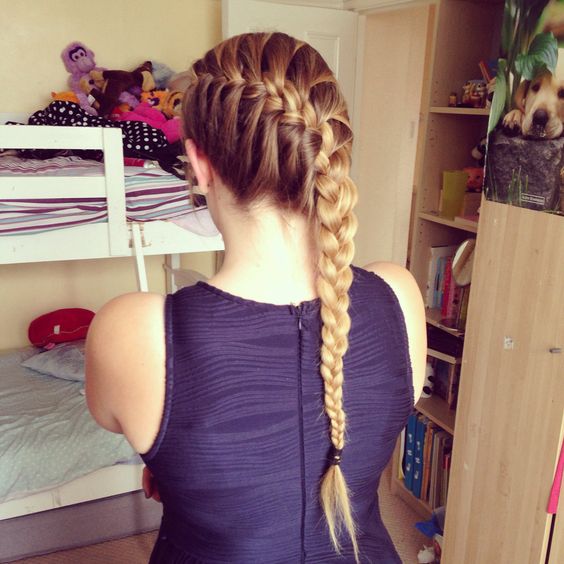 The highlighted French braid gives the hair a new twist. This girl's hairstyle is elegant, pretty and perfect for girls with colored hair. To set it up, take the hair to one side then create a French braid all the way to the back.
5. Classy Chignon Hairstyle for Girls
Classy Chignon is a perfect choice for both ladies and young girls. Twist two equal sections of the hair away from the face and pin them along the sides. Next, twist the remaining hair forming an S' pattern. You should not leave any holes so that you form a uniform bun.
6. Stylish and Cute Girls Hairstyles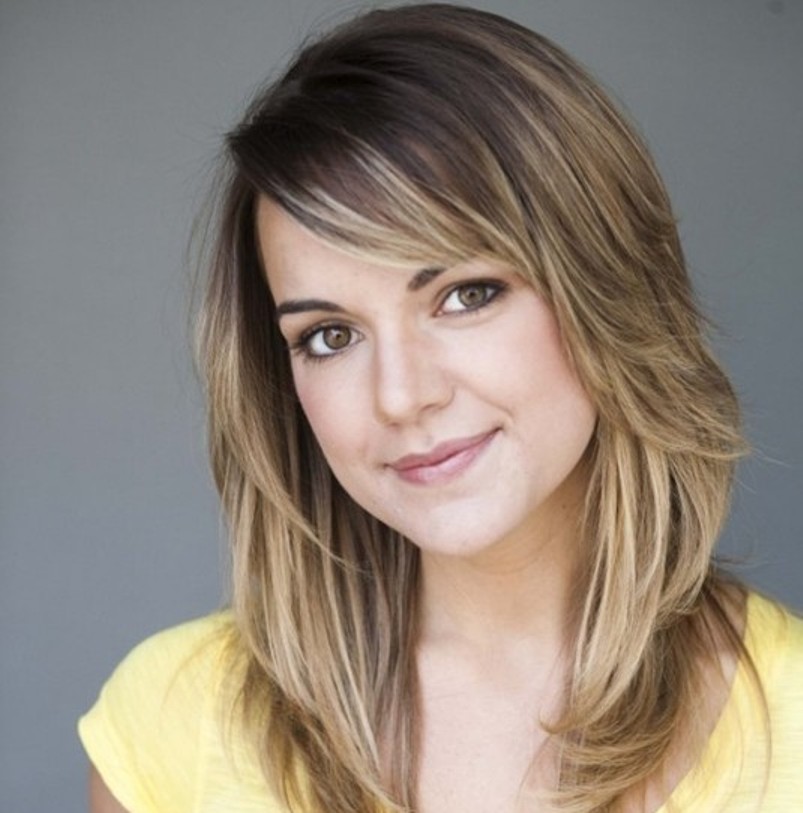 This hairstyle works best on medium textured hair. The fringe is cut heavy then extended in a curved fashion around the face then down to the jawline. The sides of the hair are layered but the back is left straight and long. The darker tone underneath adds depths and interest to the style.
7. Braid for Tweens
This hairstyle is perfect when you are pressed for time and it can also work as a trendy hairstyle for girls. Take a part of the hair on the side and braid it, secure it with a clear ponytail holder and pin it in place such that it allows the rest of the hair to fall behind.
8. Retro Pinned Bob Hairstyle
Retro pinned bob is super chic and perfect for medium length hair. To set it up, Comb the front part of the hair to one side and warp it on two hot rollers to make retro waves then pin sections of it in place creating a bob effect.
9. Curly Ponytail for Girls
This is a simple yet elegant hairstyle. The curls makes the hair appear voluminous. Simply wrap the ends of the hair with hot rollers for some time, then comb and style the hair whichever way you want.
10. Romantic Crown Braid for Girls
This wrap around braid takes your hair to a new direction. The braid starts at the nape area to the front of the head then works itself around the head. The end of the braid can either be secured to create an illusion a crown of weaved hair or simply secured with clear ponytail pins.
11. Fabulous Fishtail for Girls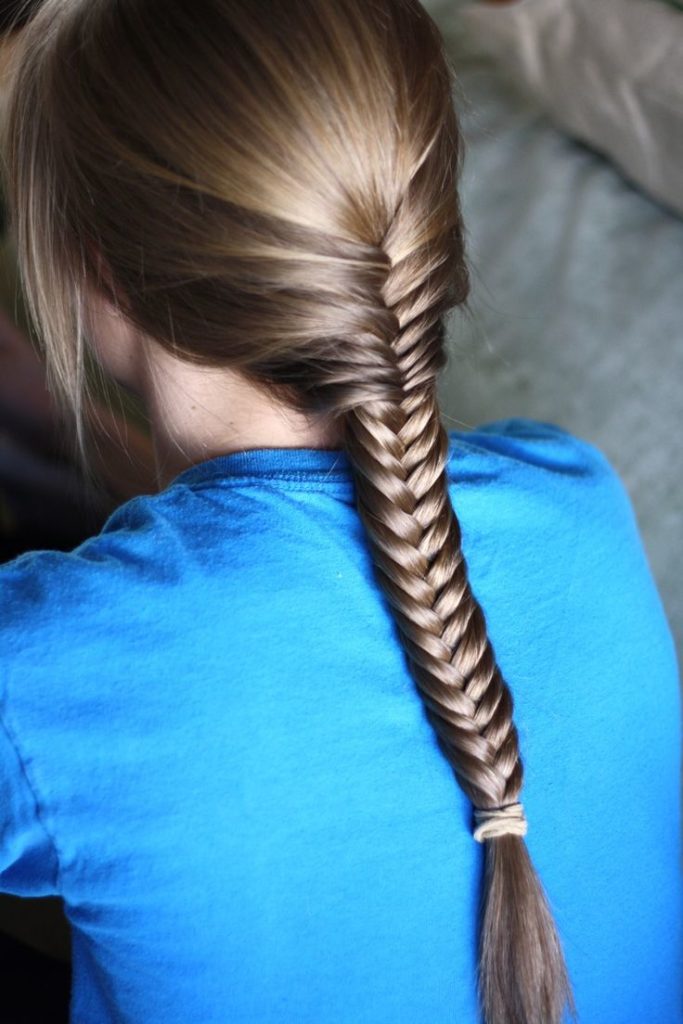 You will need to have thick and long hair for this hairstyle. Begin by creating two ponytails, one at the two top of the head and the other about three inches down. Starting with the top ponytail, make a lose fishtail braid and when you get to the other ponytail, incorporate the hair as well then use an elastic band to secure the end of the braid.
12. Cute Girls Hairstyles – Side Ponytail 
This ponytail is made on the side of the head. It gives you a carefree and playful look and it is best suited for college girls. To set it up, simply comb the hair to the side then use an elastic band to secure it.
13. Side Braided Cute Girls Hairstyles
Take sections of hair from the left front side and from the top and create one single braid, adding more hair from the crown while allowing some hair to drop off as you braid horizontally towards the back. The other hair sections should be properly texturized and allowed to hang downwards.
14. Cute Hairstyles for Little Girls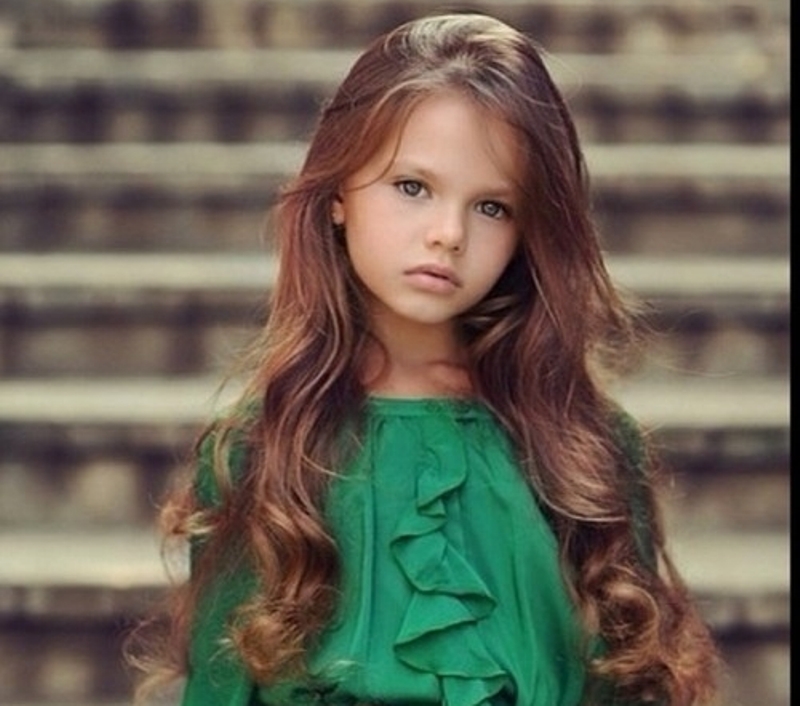 This classic version is always stylish and gives the hair a natural wave. If you do not have natural waves, you can add some using a curling iron. A subtle highlight sets this style apart and gives you a fabulous look.
15. Cute Hairstyles for Girls with Bangs
This hairstyle gives you an edgy appeal with side bangs. The bangs can extend to the chin on either both or only one of the sides of the face. This hairstyle is perfect if you are a crowd puller.
How to Chose the Right Cute Girls Hairstyle for your Girl
There are certain things that can directly or indirectly dictate what the best hairstyle for a girl should be and it is necessary that they are considered before spending engaging especially in any girls hairstyle that would take a lot of time.
1. Preference and Maintenance
Girls below a certain age range (usually around 12 years) often find it difficult to sit down for long for their hair to be styled. This is a normal experience for mothers whose girls are below the age of 12 who would discover shorter hair lengths as their sanctuary however, as the girls become more matured, they tend to prefer a longer hairstyle which tends to exude more femininity and despite the fact that longer hairstyle requires more frequent attention and is usually more difficult to maintain, they would still opt to sit out for it.
2. Style and Sophistication
The most common girls hairstyles usually revolve around ponytails, buns, braids however, the level of preference still varies among girls of varying age brackets. For instance, older girls would naturally prefer more sophisticated versions on these hairstyles such as a a braided ponytail or french braided pigtail.
3. Schools and Institutional Restrictions
Some schools have a degree of acceptable/unacceptable hairstyles for girls. Any hairstyle that is not overly glamorous usually falls within this range of acceptable styles. While such restrictions exist, girls are allowed to make any kind of hairstyle they wish for just for the weekend or if the school is not in session.
How to do Cute Girls Hairstyles that are Easy to Style
It is almost certain that you have been in a situation where your girls hair is really messed up and you have a very limited time to creatively come up with something beautiful but not the same usual hairstyle you have always relied on at such times as your backup. If you would want to prevent such situation, the video below explains how you can very easily and quickly tweak your girl's hair to an absolutely beautiful looking hairstyle.