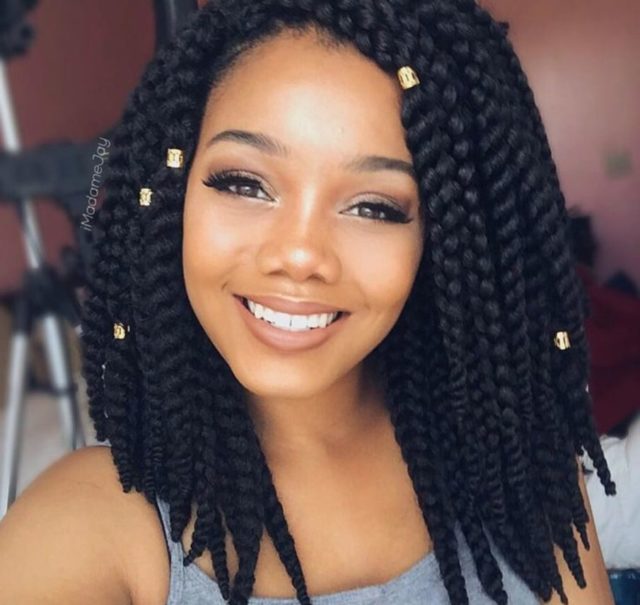 If nothing else, crochet braids are incredibly sexy. They offer the boldness, texture, and volume that can only be gotten from thick, natural African hair.
When properly done, crochet braids are also easy to maintain and touching up your look is often done in a matter of minutes. The best part is that you will have a variety to choose from, which directly impacts on the quality of the resulting hairstyle. Herein are stunning examples you can borrow from:
Crochet Braids
1 Curly Afro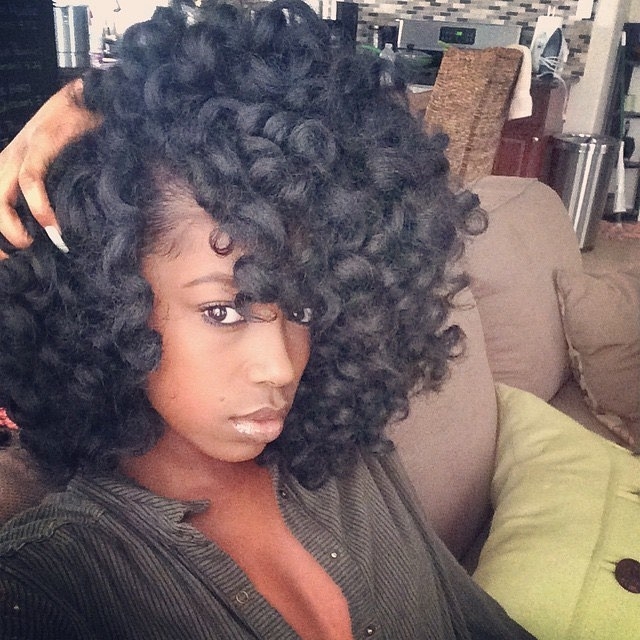 Fun and flirty, this look brings out your girly side no matter what you choose to wear. The thick, fluffy curls are perfectly done to look natural, soft and wonderfully textured. Going for more volume seems to work for the oval shaped face as it seems to make it softer and more delicate-looking.
2 Thin Flirty Curls
Choosing to go for thinner curls or braids allows you a bit more leeway in terms of volume. Layering on the crochet braids one after another can be a really stylish way to create a delicate, feminine look, especially if you want to show off your features. Glossy copper highlights give the hair some colorful radiance.
https://www.instagram.com/p/BMTOs6qBZIE/
3 Long Natural Braids
Before you go for heavy braids, ensure your hair can handle the pressure by allowing it to grow a little before adding the extensions. This intricately styled crochet braid hairstyle features thick braided locks, although you can go for smaller locks if you prefer something a bit less bold. The perfectly weighted locks create a stunning look when they naturally drape on both sides of the face.
https://www.instagram.com/p/BMFpI_­­_BBxh/
4 Sculpted Beach Blonde Curls
Blonde is a wonderful color to blend with darker skin tones. You can go for crochet braids hairstyles that features thick, voluminous locks if you want to complement your looks with soft, fluffy golden locks.
5 One Sided Marley Twists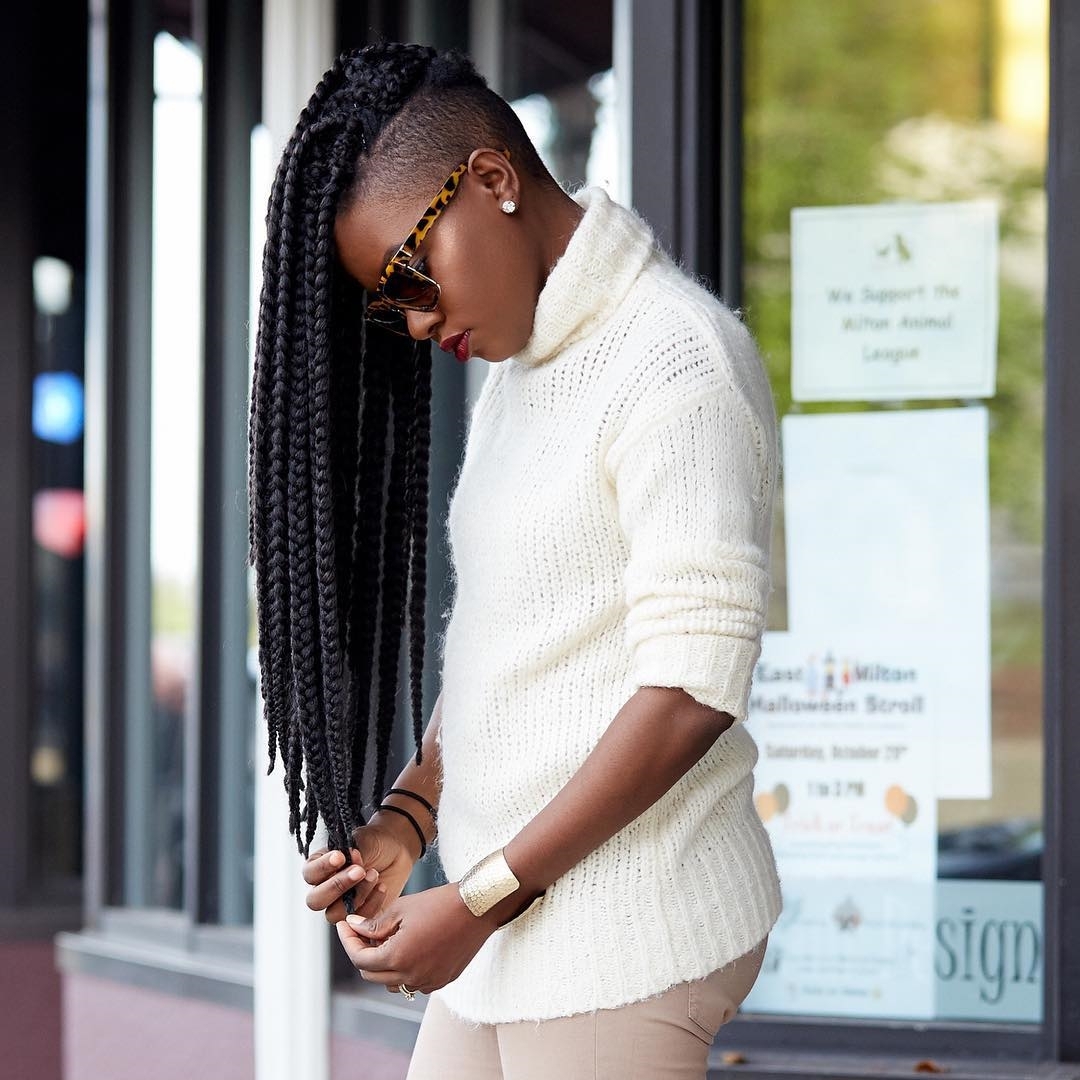 For the bold among us, you can go for a dramatically embellished look by shaving one side of your braided hairdo completely. Thick Marley twist braids are ideally the best option as they create the boldest distinction to make the lopsided look very chic.
6 Purple Flair: Crochet Braids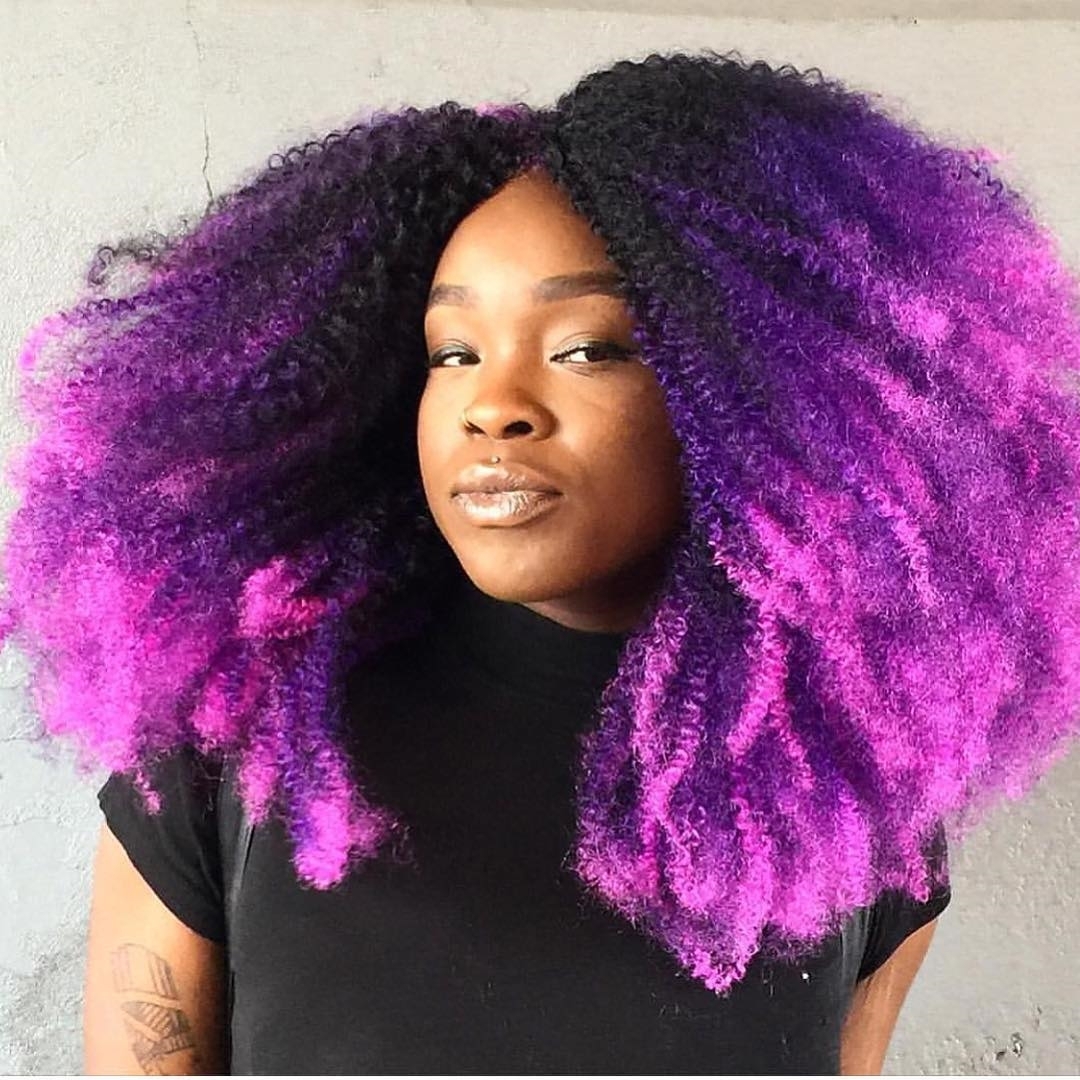 This is a crochet braid afro with a tastefully vibrant twist that involves the use of a rich purple color that eventually fades out towards the tips into hot pink highlights. Keeping the roots darker allows you to hide growth and therefore, rock the colorful hairdo longer.
7 Faux Locks with Top Bun
Using faux locks is also an option if you're looking to freshen up your style. Faux locks look smoother and rarely come undone as easily as braids would. This glamorous crochet braids hairstyle has been given a stylish twist using a well-done top bun in the middle.
8 Stringy Aqua Crochet Braids
Going for big thicker braids is a great way for creating a deeper, fuller body while going for longer locks lets you get the fullness without the excessive volume. This fabulous look features a tasteful aqua green with hints of purple accenting the edges.
9 Thick Dusty Gray Twists
The thickness of the braids in this look is without a doubt the most outstanding feature of the crochet braids. Giving them a rare dusty grey hue only makes the look more tasteful, random and stylish. Thick braids are also less of a hassle to maintain.
10 Full Amazon Curls
When it comes to luscious, feminine looks, it pays to go big. Oozing nothing but confidence and feminine appeal, this voluminous crochet braid involves layers upon layers of thick, beautifully textured locks with lots of bold curls.
11 Short Marley Crochet Twists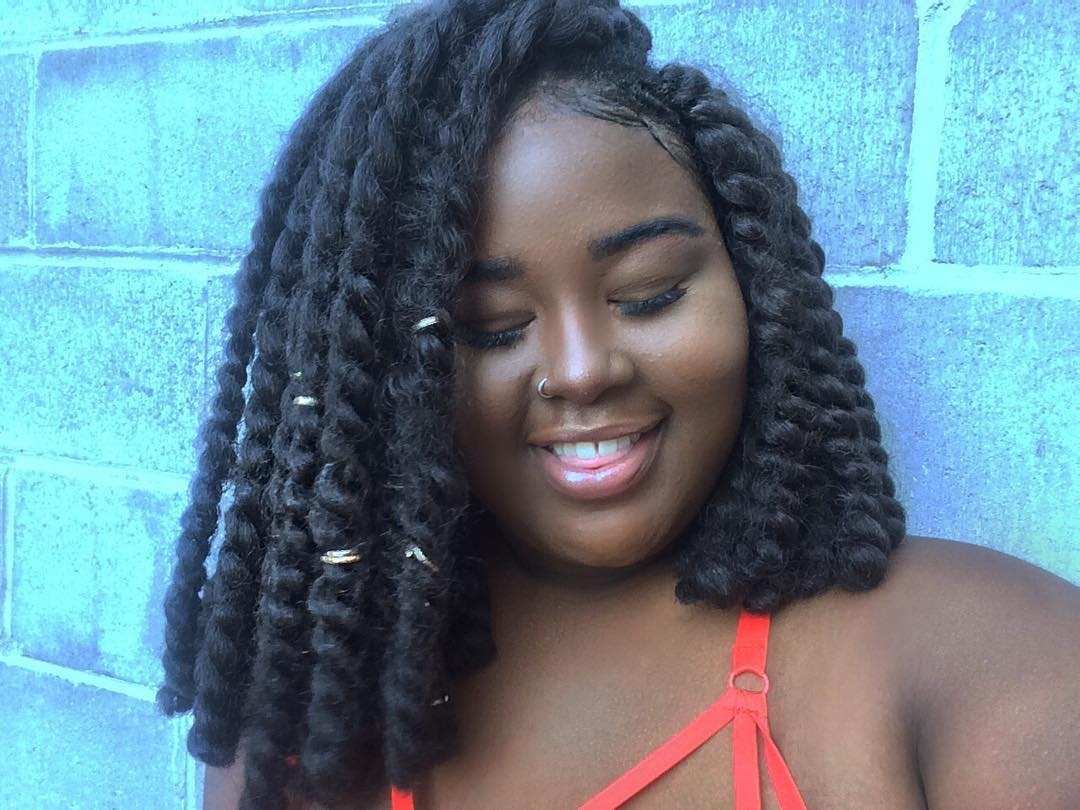 Marley twists are a great way to rock your short hair, especially if you wear them short to avoid putting too much pressure on your roots. These short, thick twists are very chic and girly, and you'll always have the option of adding one or two embellishments in the form of hair jewelry.
12 Vivid Blue Crochet Braids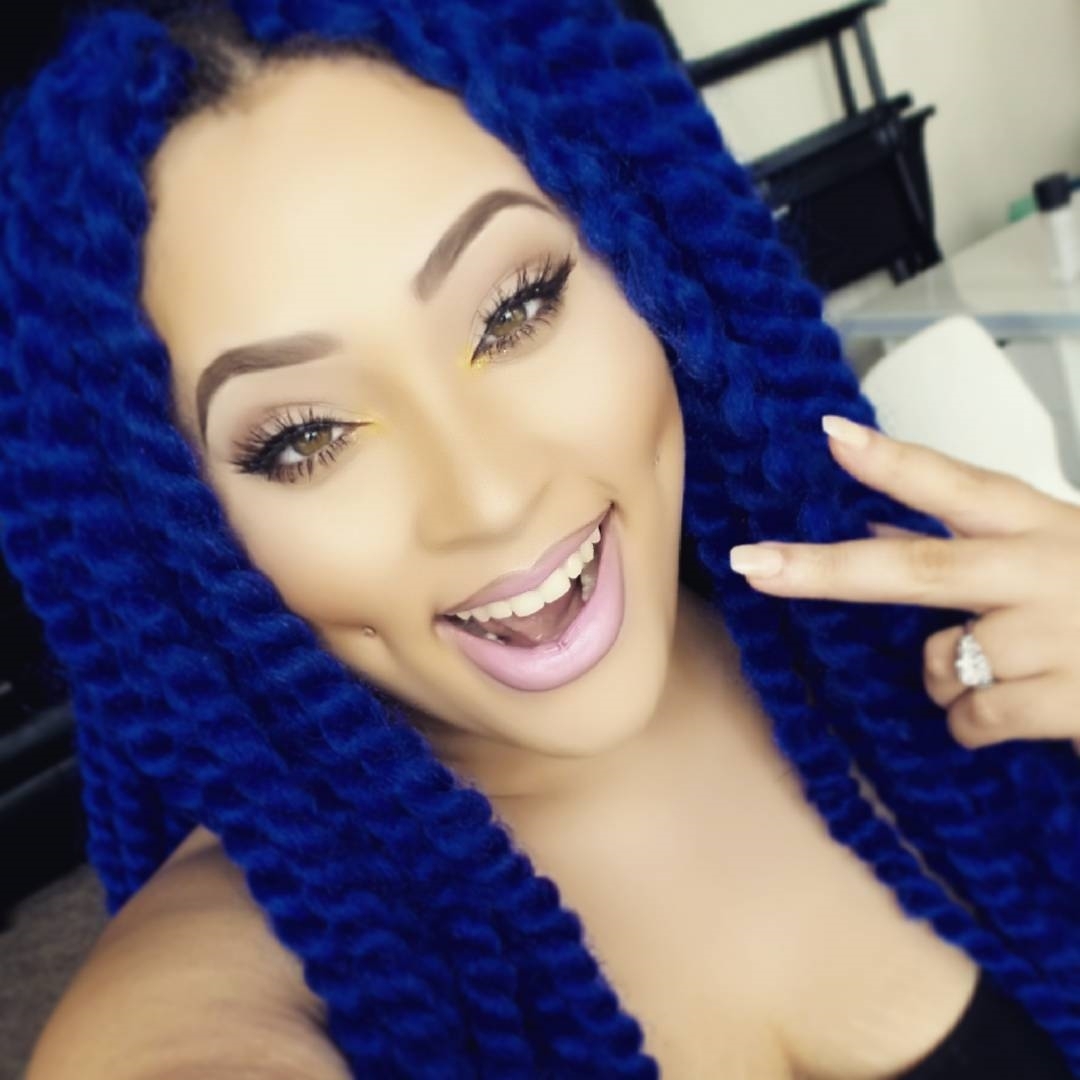 This is definitely one of the most eye-catching crochet braids you can try, mainly because of the vividly vibrant shade of blue that has been used to brighten the thick Marley twists. Pay attention to your skin tone since darker colors such as blue look better with fairer complexions.
13 Thick Twist Braids with Pigtail Buns
This is a simple way to add some girly style to any Marley twist braid hairstyle. The only embellishment involves creating two thick pigtail buns, one on each side of the head, while the rest of the braids run down the sides of the face.
14 High Top Crochet Braids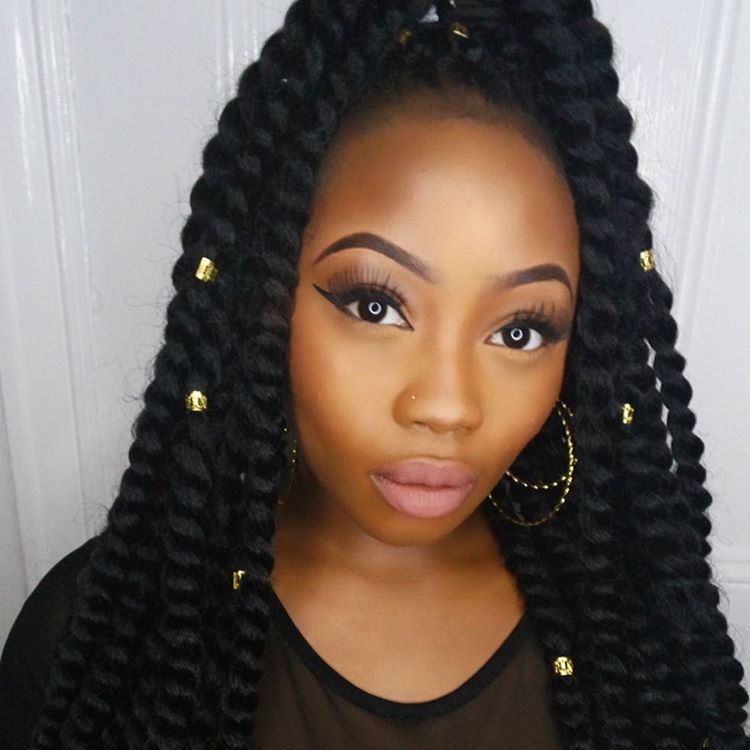 If you're not getting that natural A-line frame when wearing your braids down, try holding the top a little bit higher to give your delicate features a smooth, complementing frame. The thick dark braids have been stylishly decorated using golden hair accessories.
15 Voluminous Side Swept Crochet Braids
Boasting of some magnificent volume, this stunning crochet braids hairstyle is all about giving your hair the right amount of fullness and depth. The thick black crochet locks have also been swept towards one side of the face for a more spectacular finish.