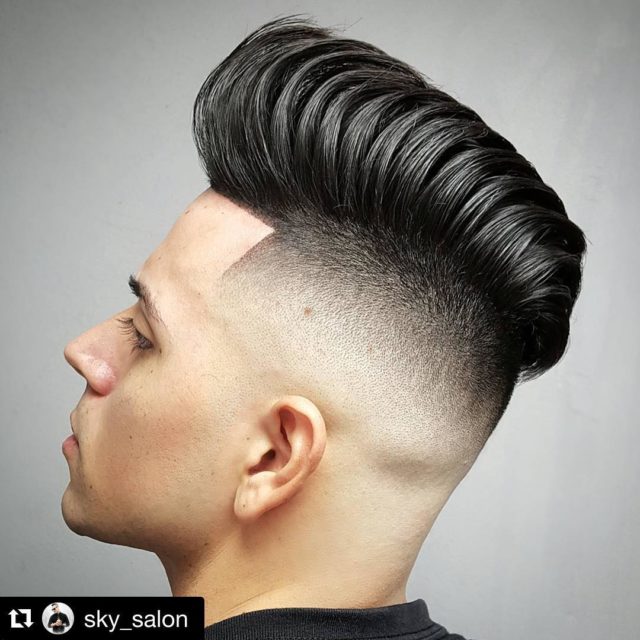 Men's hairstyles today is all about the "cool factor" and how cool a guy looks is not all about what he is wearing. As a matter of fact, it starts from his haircut because there is nothing better than having a man put on an exquisite dress and crowning it all with a perfectly styled hair.
Modern Men's Hairstyles and Haircuts
If you are looking for cool men's hairstyles that are sure to be a perfect fit and get you noticed, then you can't go wrong with these carefully selected haircuts specially hand-picked to match your next look.
1. Short Trimmed Haircut for Men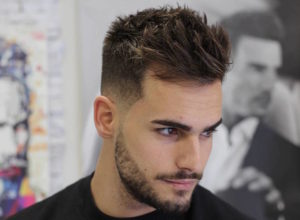 Short trimmed haircut is a hairstyle for all men. While there are many variations, it always leaves a smart and modern look and also fits every style of dressing. Whether you have beards or not, a short Trimmed Haircut is guaranteed to get you looking cute.
2. Pompadour Haircut for men
Pompadour hairstyle is a type of quiff that is trending right now. It fades on both sides and is perfect with a smart casual dress. This haircut can easily add length to your face and you can also make it more unique by adding parting on one side.
3. Skin Fade With Waves
There is no better haircut to try on if you want to keep a short hair than this awesome skin fade haircut. When waves, are added, it takes it to a whole new level and whether you have a round face, long face, keep or don't keep beards, this hairstyle is bound to fit.
4. Men's Temple Fade Haircut with curls
If you are ready for a full hair with great look, this is your style. A temple fade with curls like this is sure to get you noticed even when you don't spend so much time at the barbing saloon.
5. Low Fade Hairstyle With Curved Part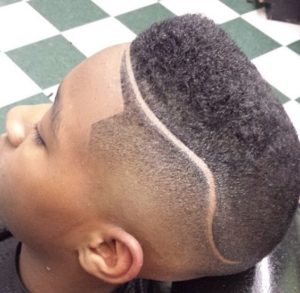 Fade haircut is one hairstyle that never goes out of trend not just because you can incorporate a lot of styles in it but you can add any type of parting to create a new style completely be it straight or curved parting.
6. Men's Faded Pompadour
Unlike regular Pompadour, a faded pompadour haircut does not have a sharp contrast of long and short hair on the sides and back rather it gradually blends into the skin. When an upward arching part line is added on the temple, it brings a whole new meaning to this style so even if you have had a pompadour haircut recently, consider adding a side upward arching part.
7. Faded Mohawk With Surgical Part
The mohawk haircut has been in existence for centuries and while it has undergone many transitions over time, the fundamental concept has remained the same where a strip if hair is left in the middle while the sides are shaved. The end result is a sharply contrasting strip of long hair and skin cut sides. The middle strip of hair can vary in length from short to long and if you want a much modern Mohawk haircut, then try this faded mohawk with a low part.
8. Men's Hairstyle With Temple Fade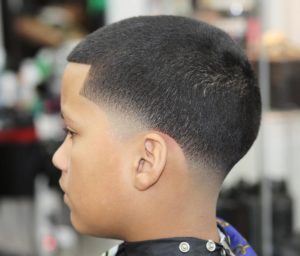 A low cut hairstyle for men will give you the classic look you need any time, any day and for any occasion. If you are looking for a haircut that is never out of trend which you can rock with a formal or casual attire and still look great, this is it.
9. Hard Part Men's Haircut
A hard part haircut is a step above the regular side part haircut in the sense that it has a much more defined look. Unlike the regular side part, a hard part is well accentuated and best complements fades, undercuts, combovers and basic low cuts. The only setback to hard part haircut is that it would need some sort of regular maintenance especially when the hair is regrowing otherwise, the contrast which defines a hard part haircut gradually disappears.
10. Smart Combover Men's Haircut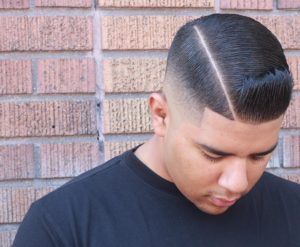 Who would believe that combover haircut was originally patronized by Japanese balding men who would grow their hair and try to use the longer hair to cover the balding part (usually at the crown) but today, it has become one of the greatest haircuts for men and there is no doubt that it looks even more awesome than it did years back. Thanks to various enhancements that can easily be added to it such as visible comb lines, side part and gelling everything together.
11. Slicked Back Undercut Hairstyle for Men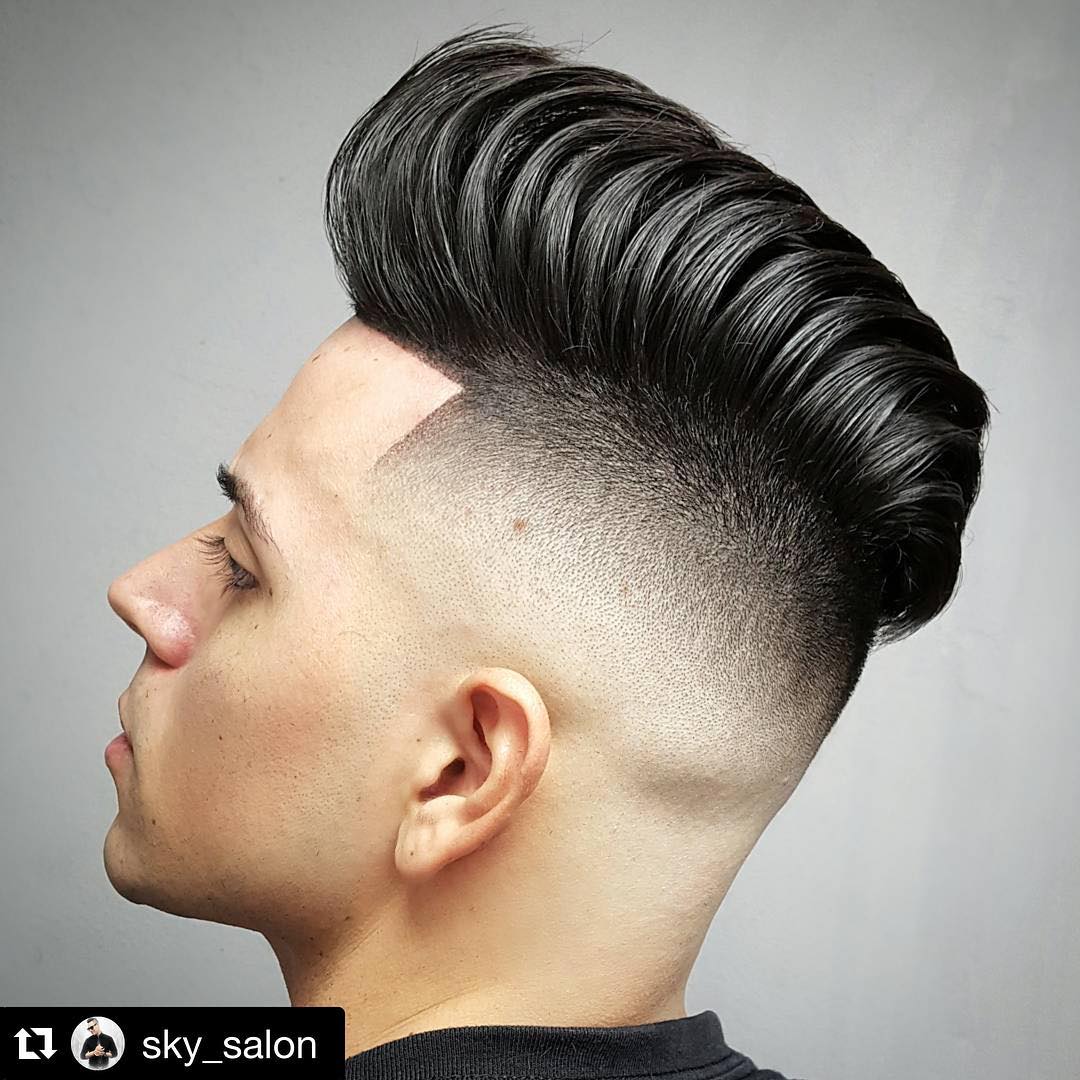 This modern take on traditional undercut is a trendsetter when it comes to cool haircuts for men. For you to be able to rock a slicked back undercut, you would need to grow the hair over the top to a significant length to be able to cover the top towards the back when combed backward. A good length is usually between 4 and 6 inches and with properly shaved sides, you are ready to look sleek.
12. Short Textured Men's Hairstyle With Low Skin Fade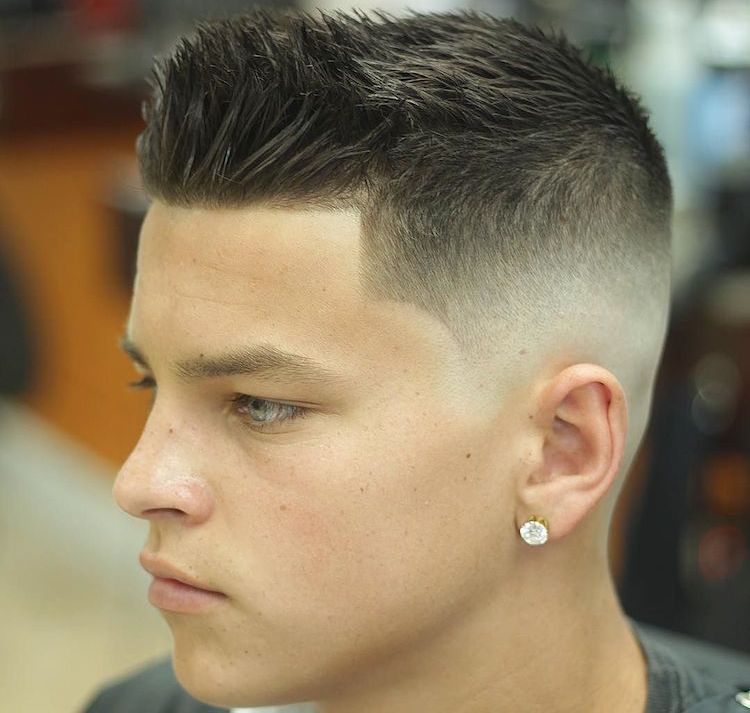 This is one haircut that looks good for every occasion be it formal or casual. It fits every shape of face although it looks better on oblong, square, or rectangular shaped face.
13. Curly Feather Designed Faux Hawk
It is always good to try out new haircut and something at the edge, between generic and over the top styles is usually cool. This style is blown out with a super-cool feather design on the sides which is bound to get you noticed anywhere without being taken for a ride.
14. Men's Quiff Hairstyle With Low Fade
This short, spiked, and perfectly faded haircut is nothing but the way to look sexy. The front lift accentuates your facial structures as it is similar to hawk's spikes. Rock this haircut and you would be sure to get some really nice compliments.
15. Cool Curls With Side Part
Generally, women's hair gets most of the attention but it looks awesome when a man's hair stands out. If you are looking for that hairstyle that would distinguish you from everyone else, this is it. These curls are nothing but breath of fresh air and will get you all the attention you need.