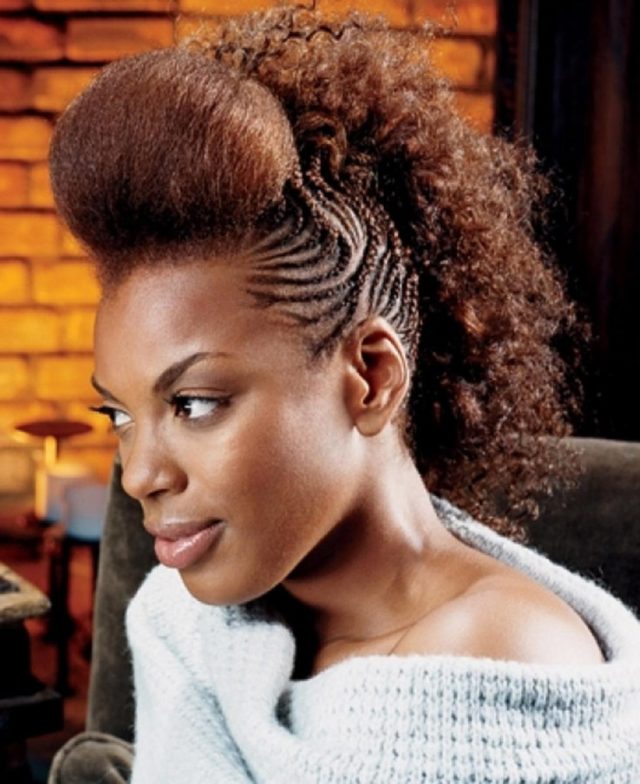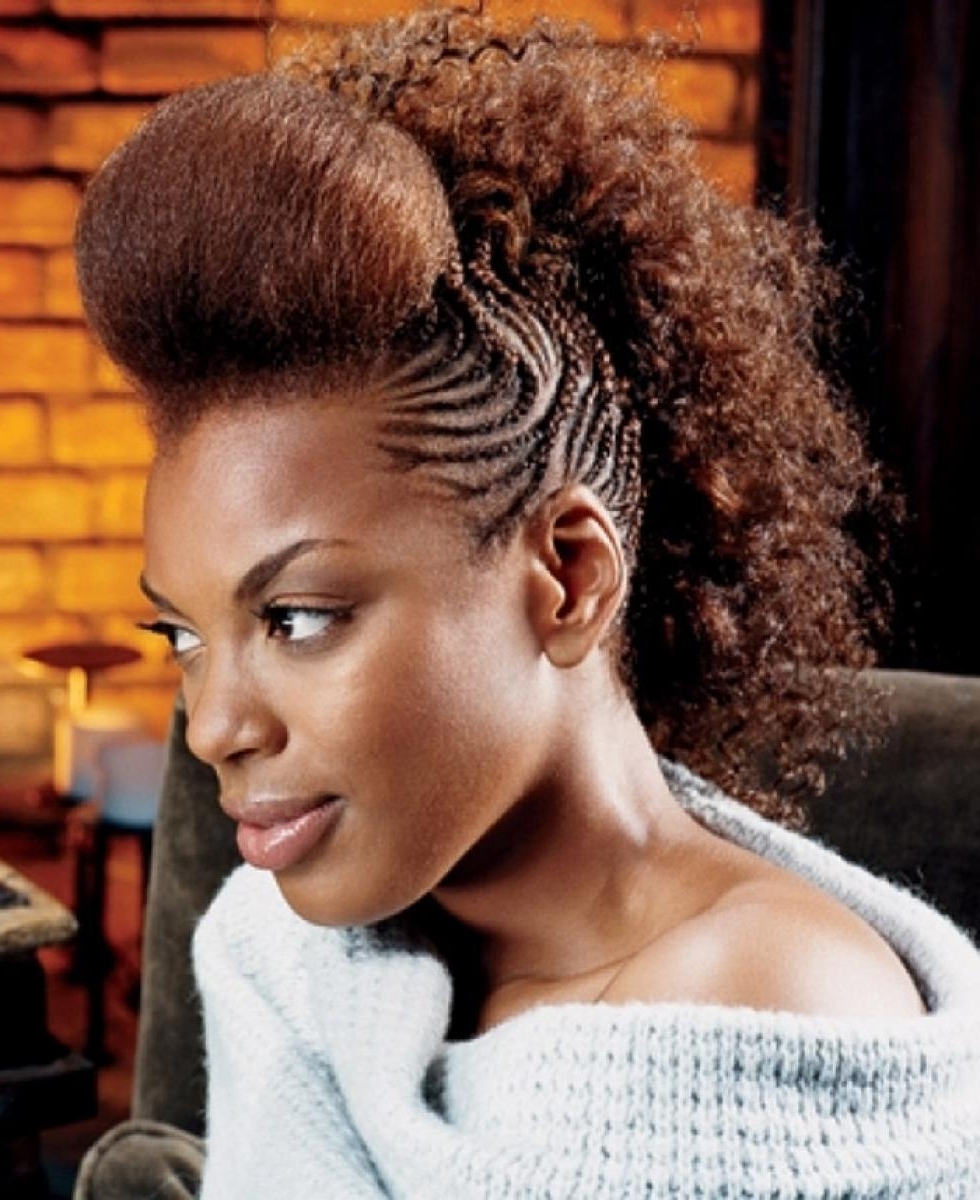 Braided Mohawk hairstyles have quickly become a very unique and trendy style that people have come to love. Braiding the sides of your hair instead of cutting them short is a great alternative that helps you achieve a unique version of the Mohawk hairstyle. What's more, you can apply a number of braiding techniques either to flatten the sides or to create a faux Mohawk.
Braided Mohawk Hairstyles and Haircuts
These excellently braided Mohawk hairstyles show you how to combine the various styles of braid in different ways in order to create a unique look.
1. Braids and Curly Mohawk Hairstyles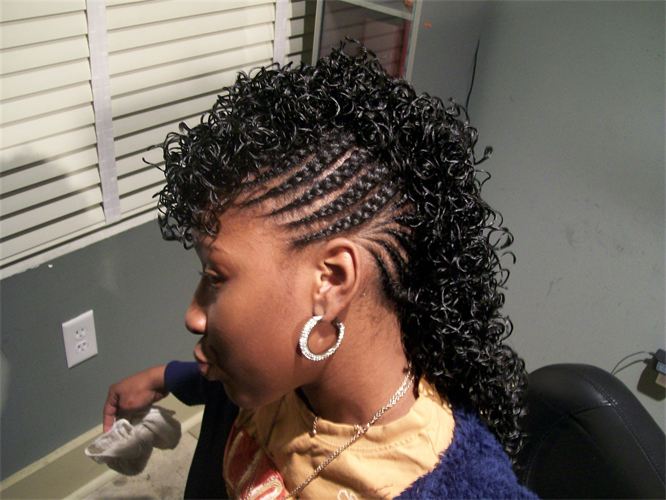 If you like adventurous hairstyles, spicing up a curly Mohawk hairstyle with braided sides and a bun is a great way to keep it fresh. The combination of the flowing tresses, the voluminous bun, and the plaited sides all work to make the hairstyle unique. You can pull this look off on medium-length hair.
2. Mohawk Braids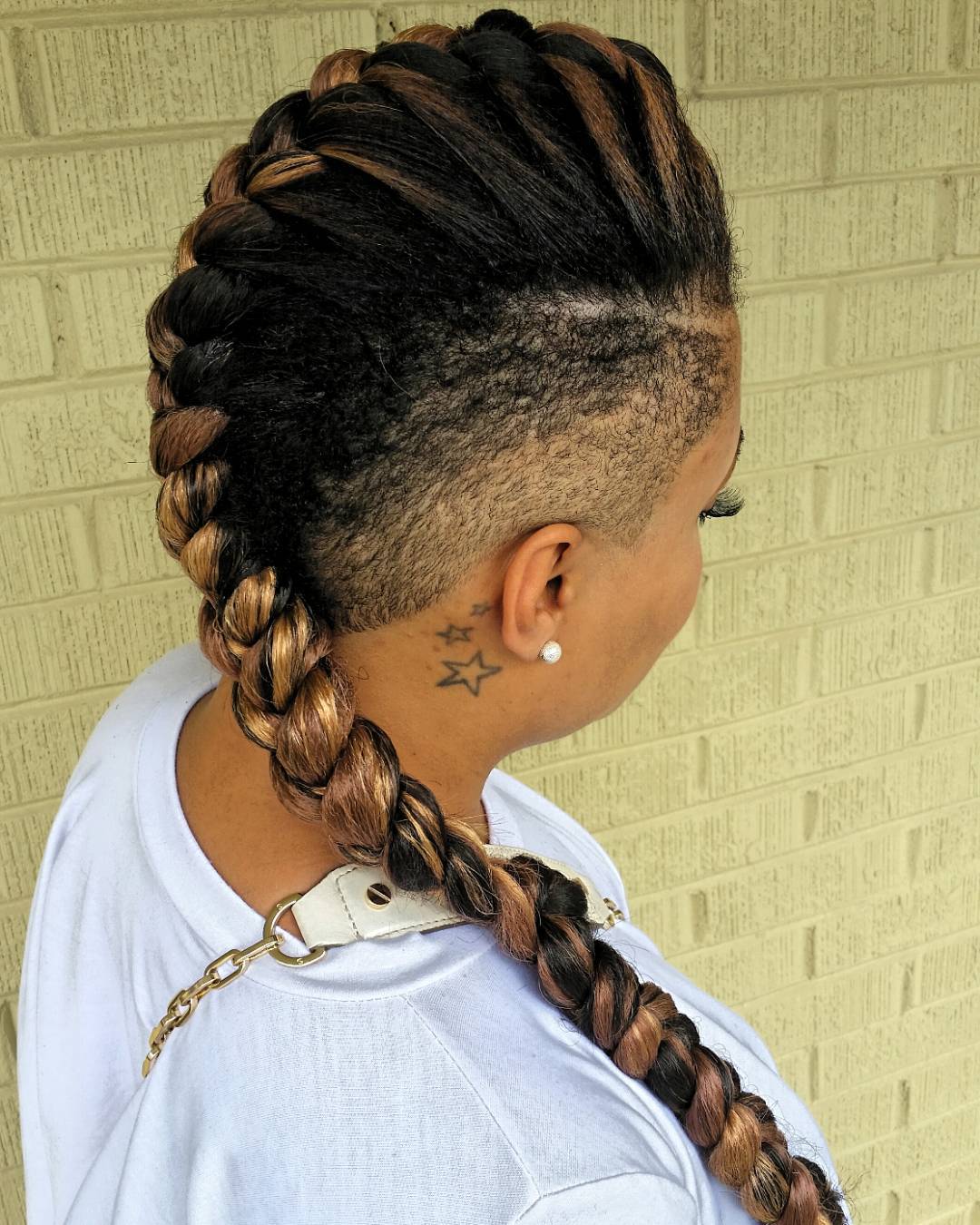 A large center braid Mohawk is the best way to make short and medium-length hair into an exquisite Mohawk. The sides have been styled and flattened to accentuate the bold single French braid on the top of the hair.
3. Simple Box-Braided Mohawk Hairstyles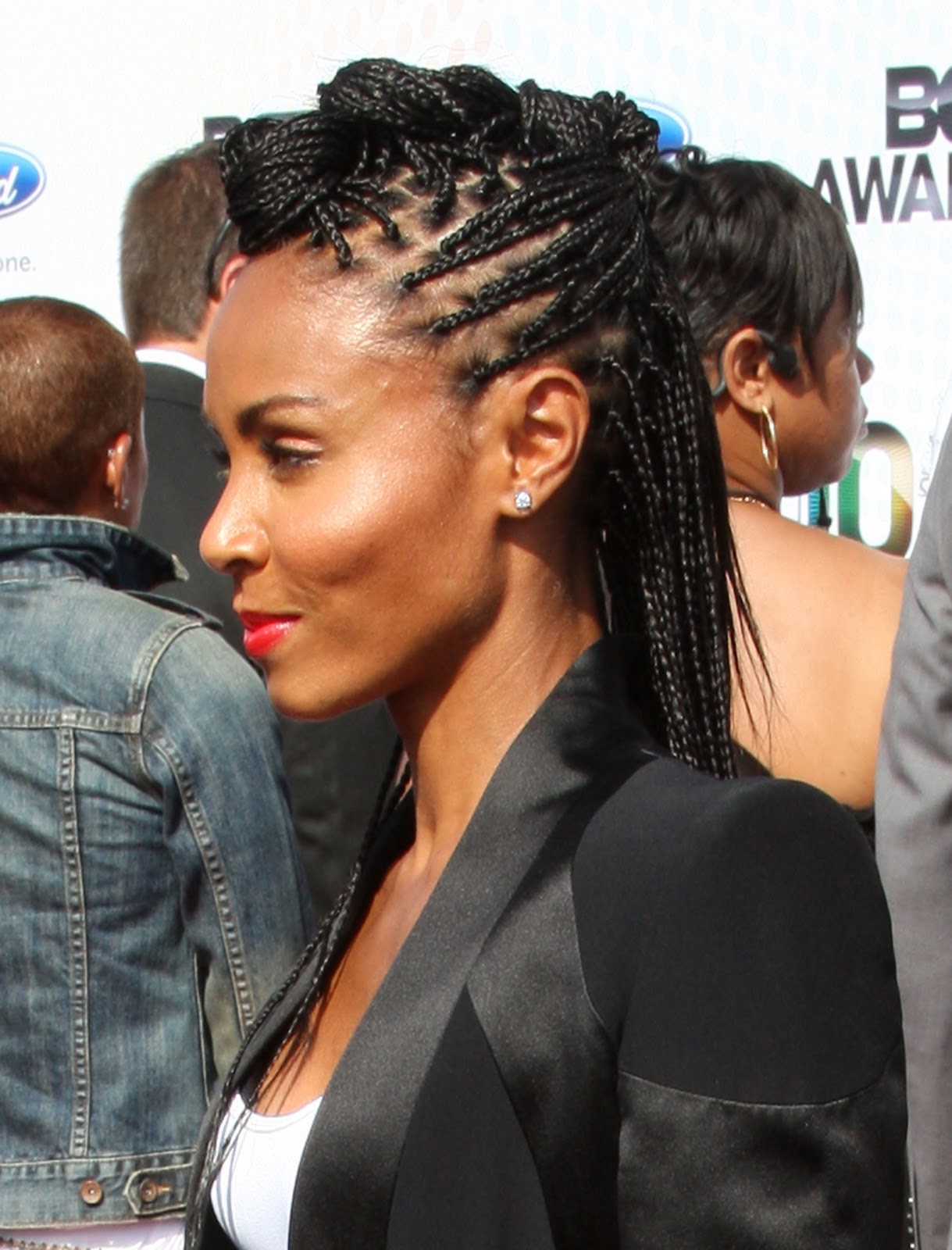 Jada Pinkett Smith shows us that simple can look just as good with this stylish version of the Mohawk hairdo. You can fashion your box braids into this Mohawk easily by making them into buns at the top and pushing the braids backward to leave the sides flat.
4. Edgy Center Braided Mohawk
If you would like to change your existing Mohawk look, trimming the sides is one thing you can do to make it distinct. However, braiding the hair at the center serves to create a unique Mohawk look. You can leave the hair longer and throw in a few patterns on the sides to spice your look up a bit.
5. Twisted Braided Mohawk Braids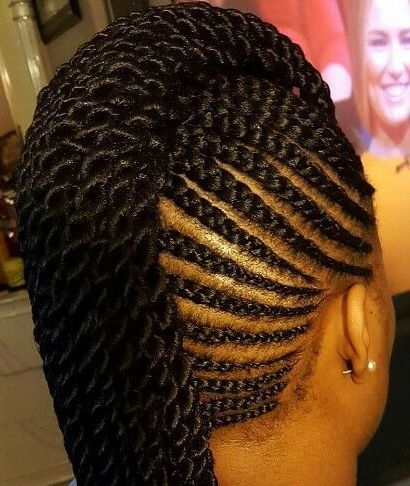 This hairstyle not only looks great, it offers a lasting styling solution so that you do not have to keep styling your hair every morning. The braids twist upwards from the sides to form a thick, solid Mohawk hairstyle. If you need more oomph, you can throw in some highlights to make things more exciting.
6. Braided Mohawk Bun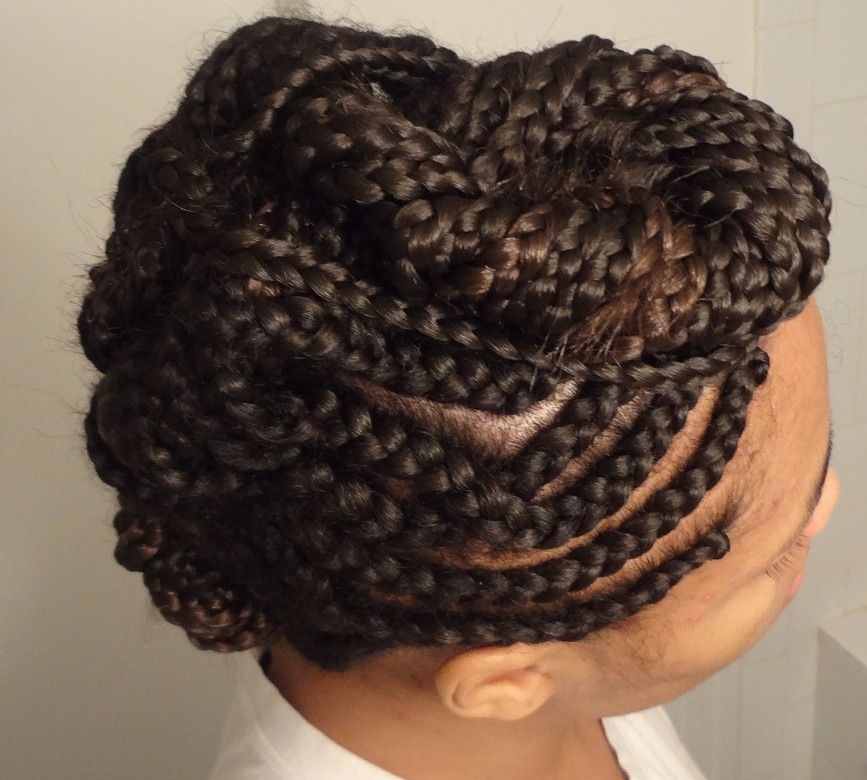 As an embellishment to your braided Mohawk hairstyle, you can add a bold braided bun to make the look unique. The braided sides form a larger braid at the top that starts at the bun and runs all the way to the nape of the neck.
7. Side-Braided Curly Mohawk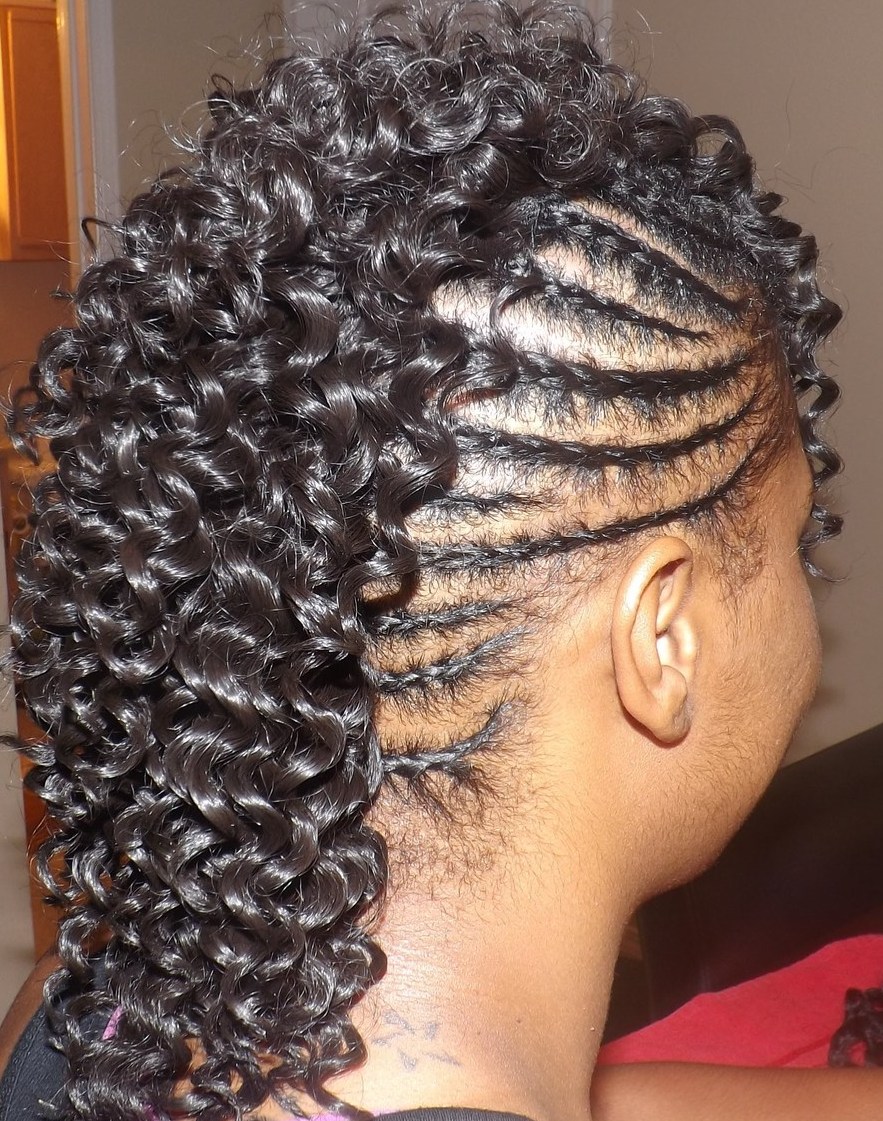 You can braid your hair and still flaunt your natural curls using this exquisite braided Mohawk hairstyle. The trick is to style the portion of hair at the top into messy curls and braid the sides neatly to make them seem flattered. This great faux mohawk can be done on medium-length hair.
8. Braided Mohawk with Twisted Bantu Knots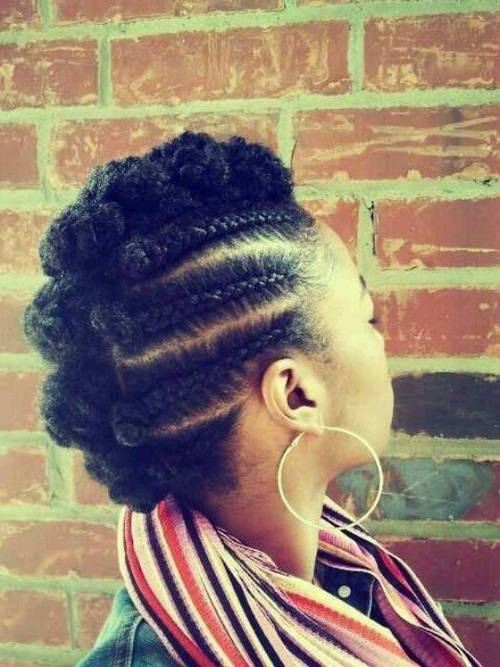 This unique hairstyle is an interesting variation of the Mohawk as it is made out of fashionably twisted Bantu knots on top of the head. The sides have been flattened by braiding in order to accentuate the bold centerpiece which is the thick Bantu knots.
9. Voluminous Mohawk with Braids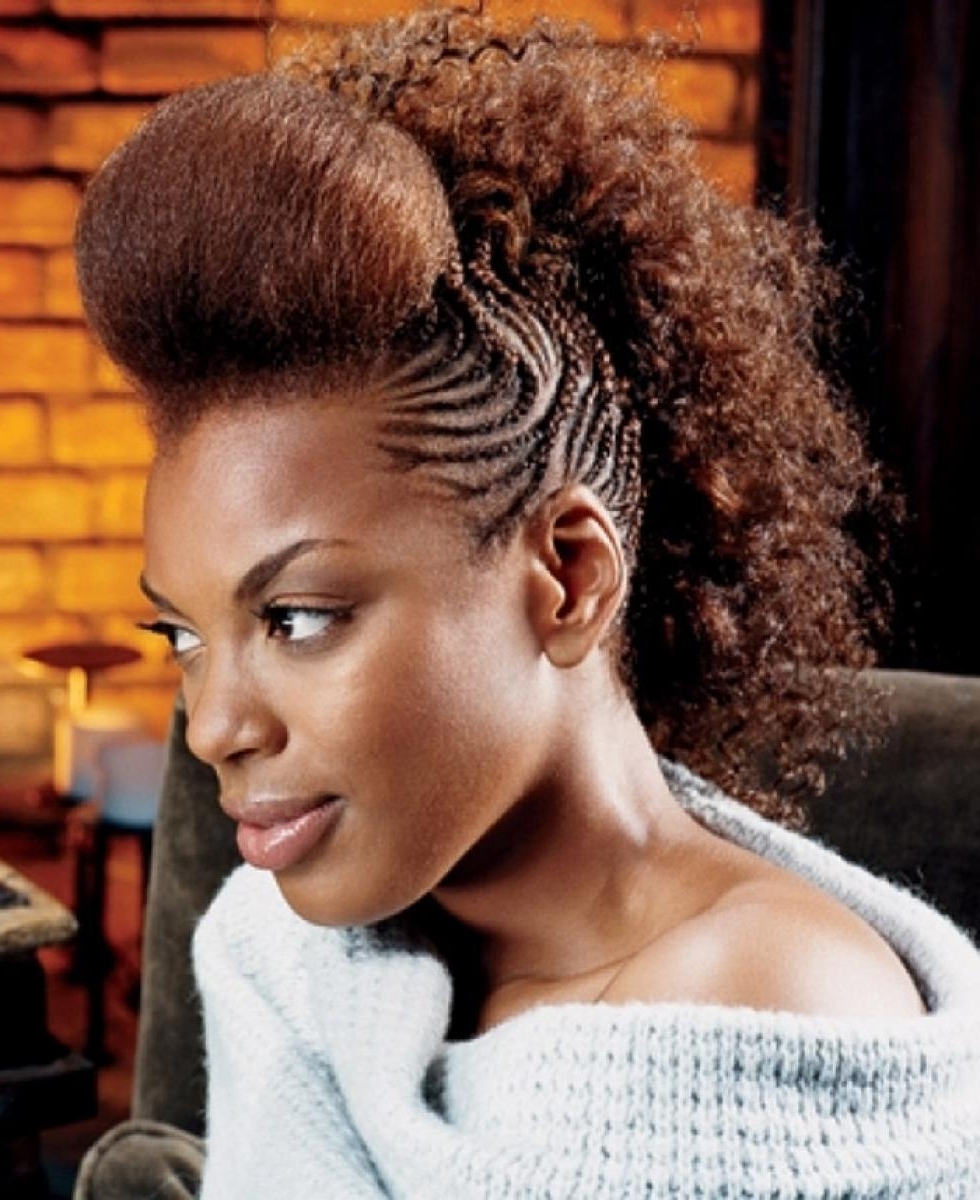 Hair length should not be an issue when it comes to the Mohawk hairstyle as this example shows us. The long, naturally curly hair has been held up using bobby pins to make it more prominent and to emphasize the volume. A superb side-braiding helps to give the hairstyle some symmetry as it flattens the sides evenly.
10. Curly Mohawk with Snaky Braids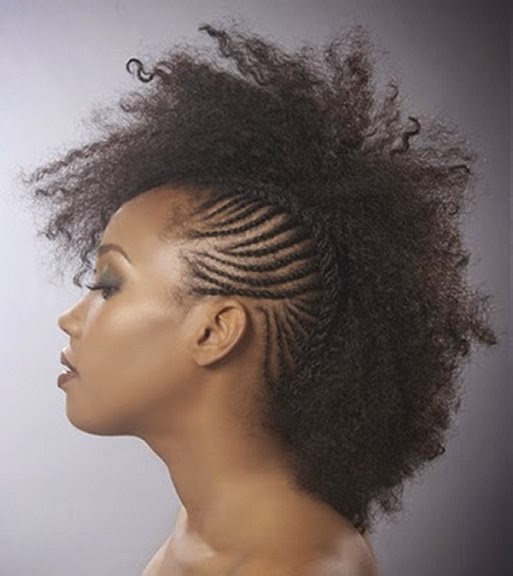 This trendy Mohawk features highlighted tresses that help to give the hair more depth and dimensions. The springy curls on top of the head are accentuated using snaky braids that round off the Mohawk in stylish fashion.
11. Red Braided Mohawk with Springy Curls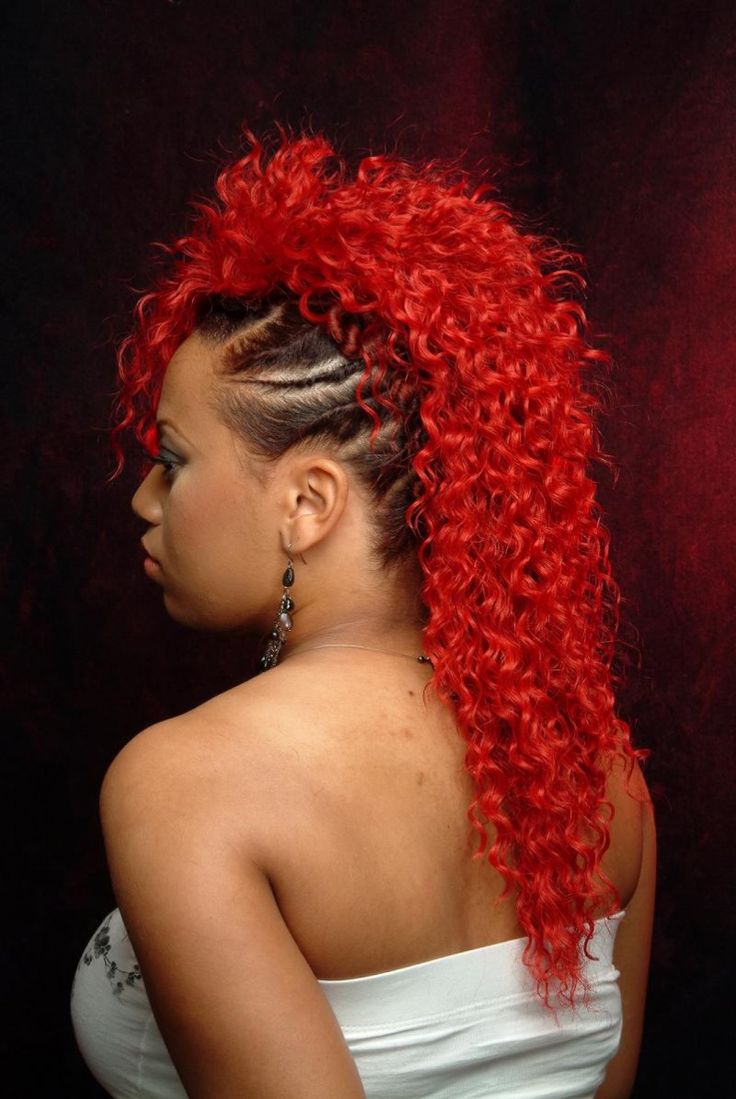 Giving your Mohawk a burst of color is a great way of incorporating your personality into the look. The coppery tresses on the head result in a fun look that is stylishly messy. Braided sides help to give the hair a uniform look by creating symmetry.
12. Side Braided Afro Mohawk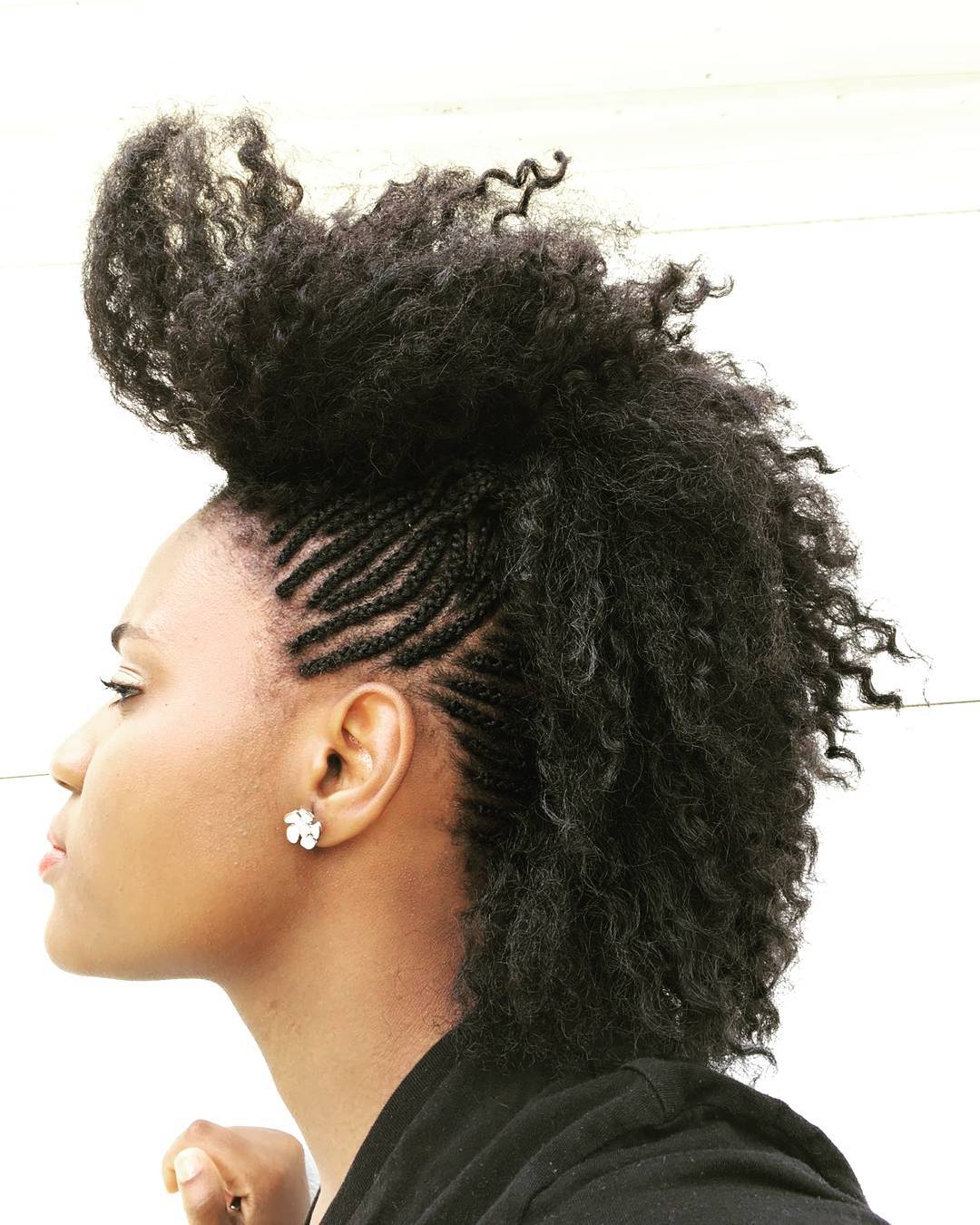 This natural look consists of a moderately voluminous crown of frizzy curls done in a stylishly dishevelled fashion. The sides have been braided to add some structure to the curly Mohawk hairstyle.
13. Natural Cornrow Mohawk Style
Going natural of recent has become the new trend. Having a mohawk with clean side cornrow will make you look very modern and chic.
Braided Mohawk Video Tutorial