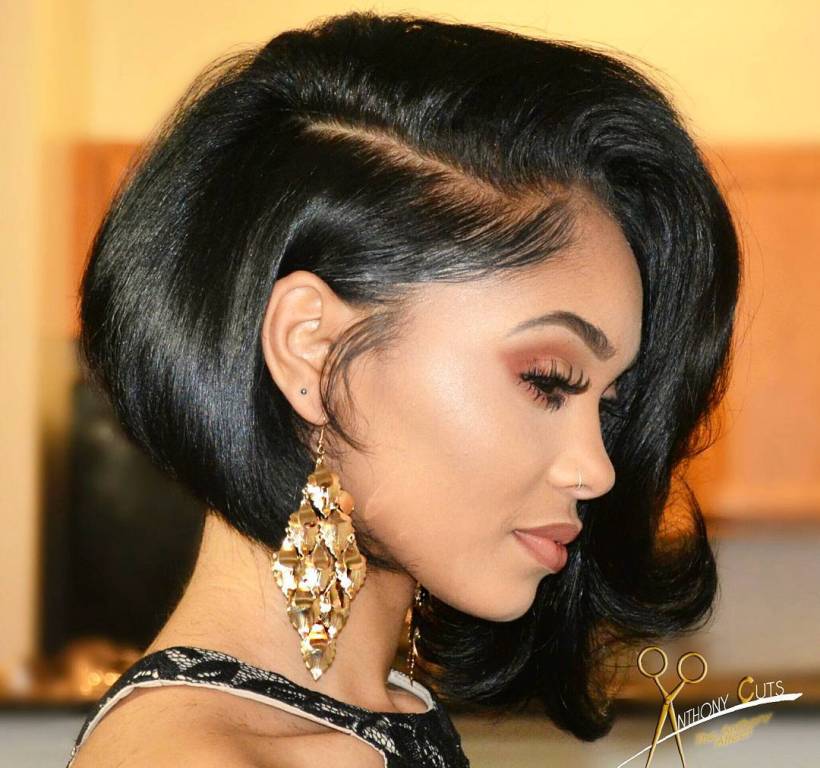 The evolution of bob haircut has seen numerous variations that make full use of different lengths, textures and vibrant colors to create unique finishes. For a hairstyle that doesn't require an entire day at the salon, the bob weave is an amazingly classy hairstyle that looks fantastic on different face shapes. Here are the classy variations of bob haircuts and hairstyles which you can look at to get some inspiration.
Utterly Amazing Bob Haircuts
1. Bob Haircut With Bangs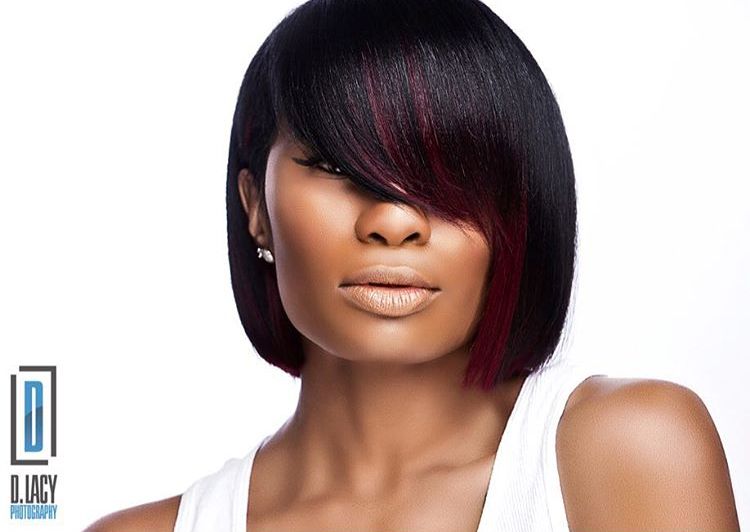 One of the most seductive looks is the long, blunt bangs that partially cover one or both eyes. Framed by an evenly cut bob with a regular frame and a neat texture, this is one hot bob weave hairstyle. Break the monotony of the black weave by giving it a dash of burgundy highlights.
2. Curly Bedhead Bob Hairstyles
Letting your curls run wild is a very sexy way to show off your feminine features. Short-haired bobs can use a bit of character such as tousled curls to add natural texture, enhance the volume and to give the look a whole lot of sass. You can use a slight side part to give it some distinction.
3. Cobalt Blue Bob Haircut
Cool highlights can help you tone down a wild look or spice up a boring one. This simple bob features neat textures, blunt edges and a bit of asymmetrical lengths which is emphasized by the side part. However, it is the stylish hue of cobalt blue that takes the look to a whole new level.
4. Elegant Wavy Bob Hairstyle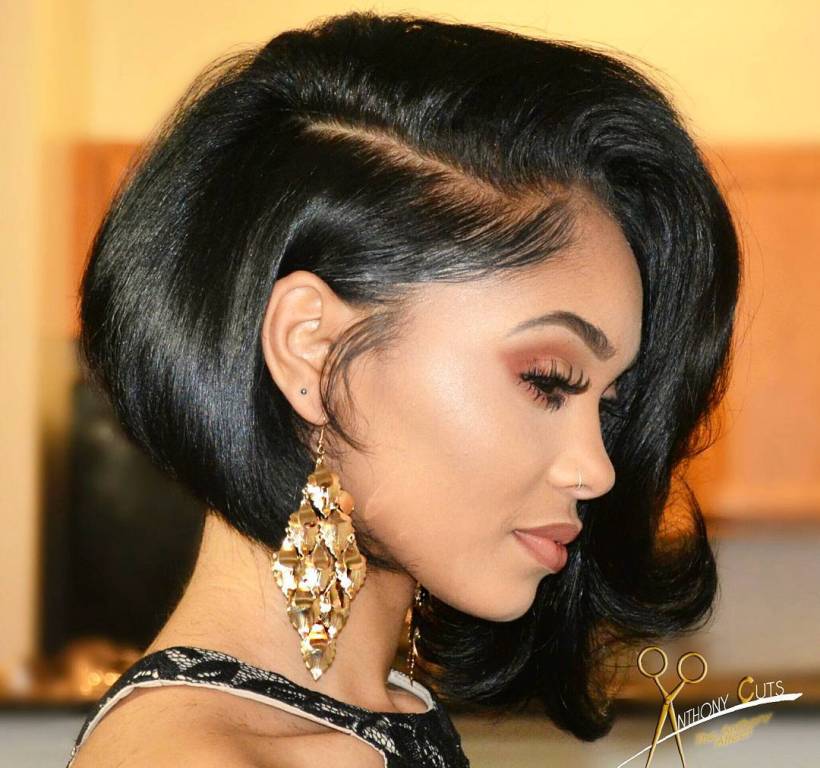 The effortlessly classy nature of this stylish bob hairdo makes it perfect for special occasions. The look oozes elegance from the smooth and slightly wavy texture of the hair to the sleek side part which helps to distinguish the different lengths of both sides and enhance the asymmetry of the look.
5. Caramel Bob Hairstyle
When going for some color to spice up your look, wavy layers provide the best canvases to make the color appear more radiant. Bob haircuts are short so using smooth gradients is recommended as it will help you give your hair a radiant Sunkissed finish.
6. Sexy Asymmetrical Bob Haircut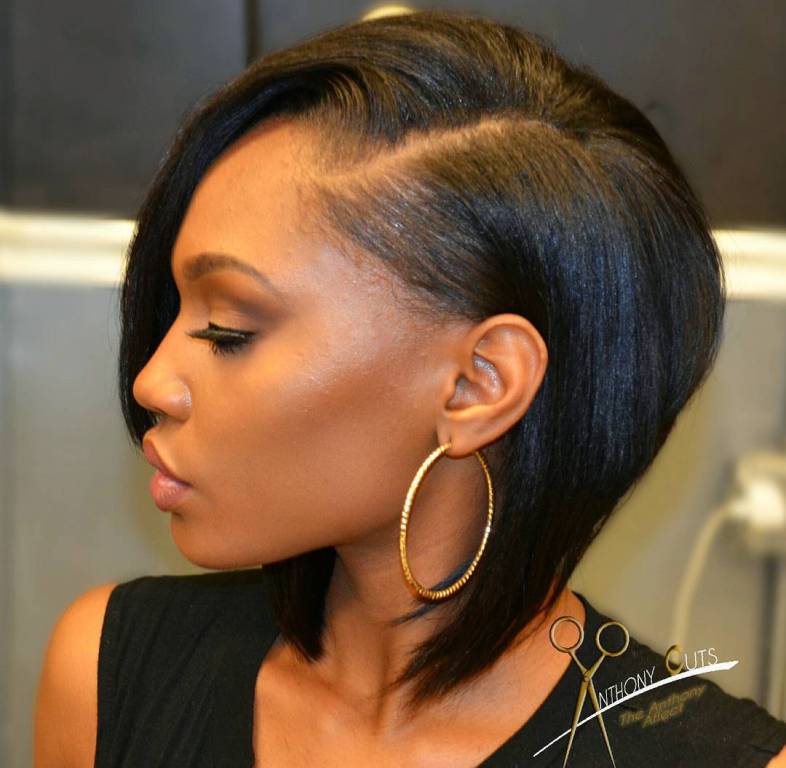 As much as the regular evenly cut bob is being phased out, giving the sides a relatively even length is important to balance the look. Nevertheless, you can position the fringes on different sides of the head to create some stylish asymmetry. This look has been emphasized by a distinguishing side part.
7. Radiant Coffee Bob Hairstyle
Black is a great color but it is too common when it comes to weaves. Go for a fresh shade of coffee brown and give it a glossy finish to cap off the classy look. This seductive layered bob makes use of fantastic asymmetry and lengthy fringe to give your face a very feminine frame.
8. Pixie Bob Haircut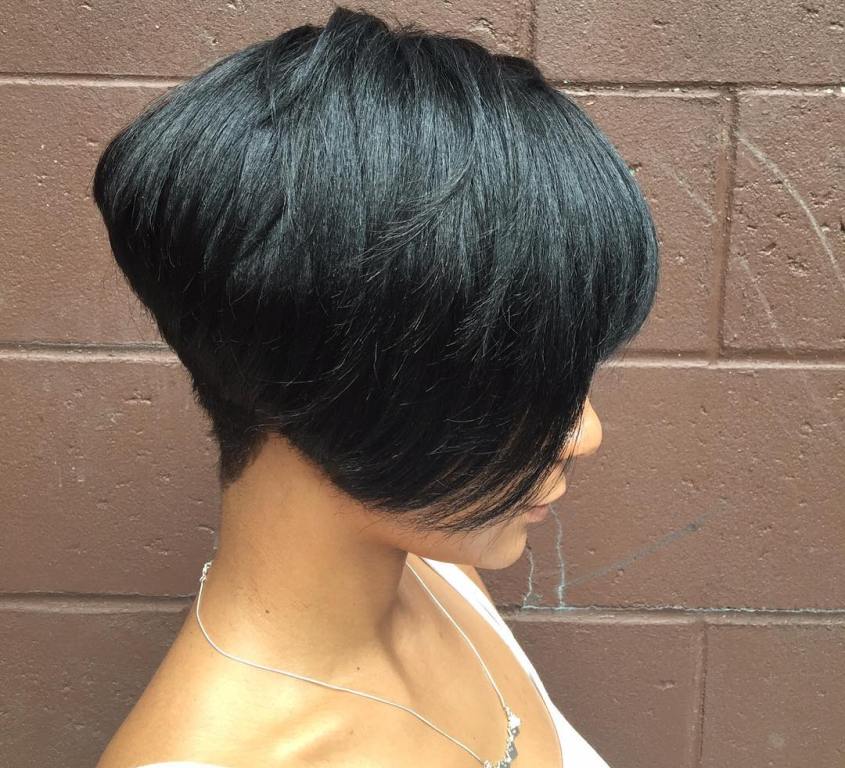 One superb combination you can try out is the androgynous pixie cut with the feminine bob cut. The weighted bangs combine well with the trimmed back to show off the shape of your head and face. Chin-length bangs are recommended in order to pull off this very chic look.
9. Mahogany and Auburn Bob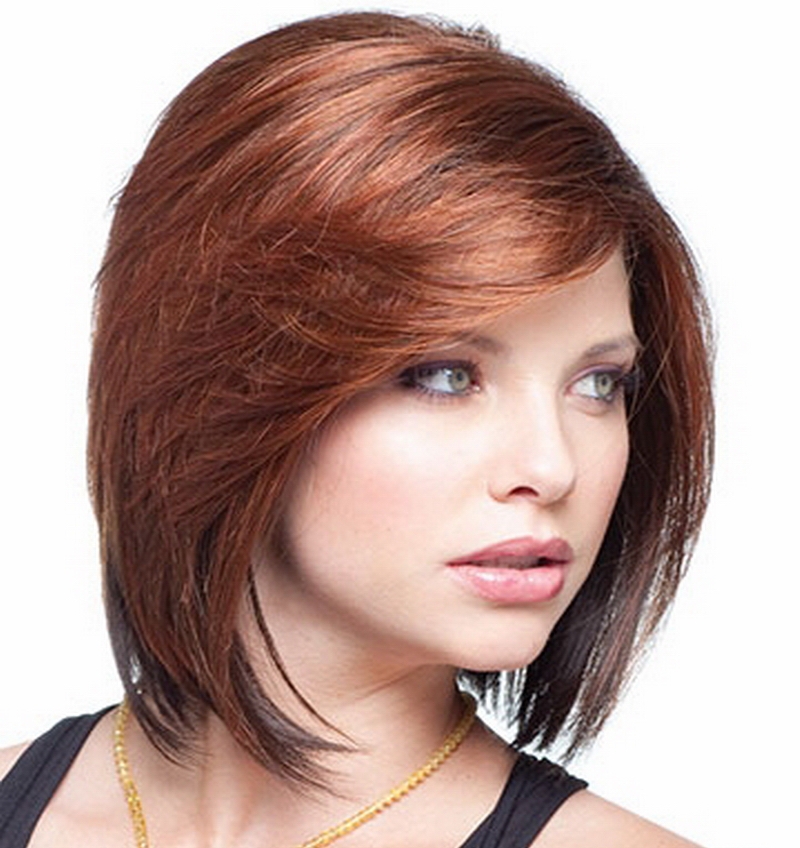 When pairing colors, you should always go for the supremely distinct colors if you are looking to create a wilder contrast. The dark mahogany looks magnificent when given warm auburn accents which leave the hair looking wonderfully Sun-kissed. A finely layered texture and a neat blunt cut finish off what is a spectacular bob.
10. Blue Ombre Bob Hairstyle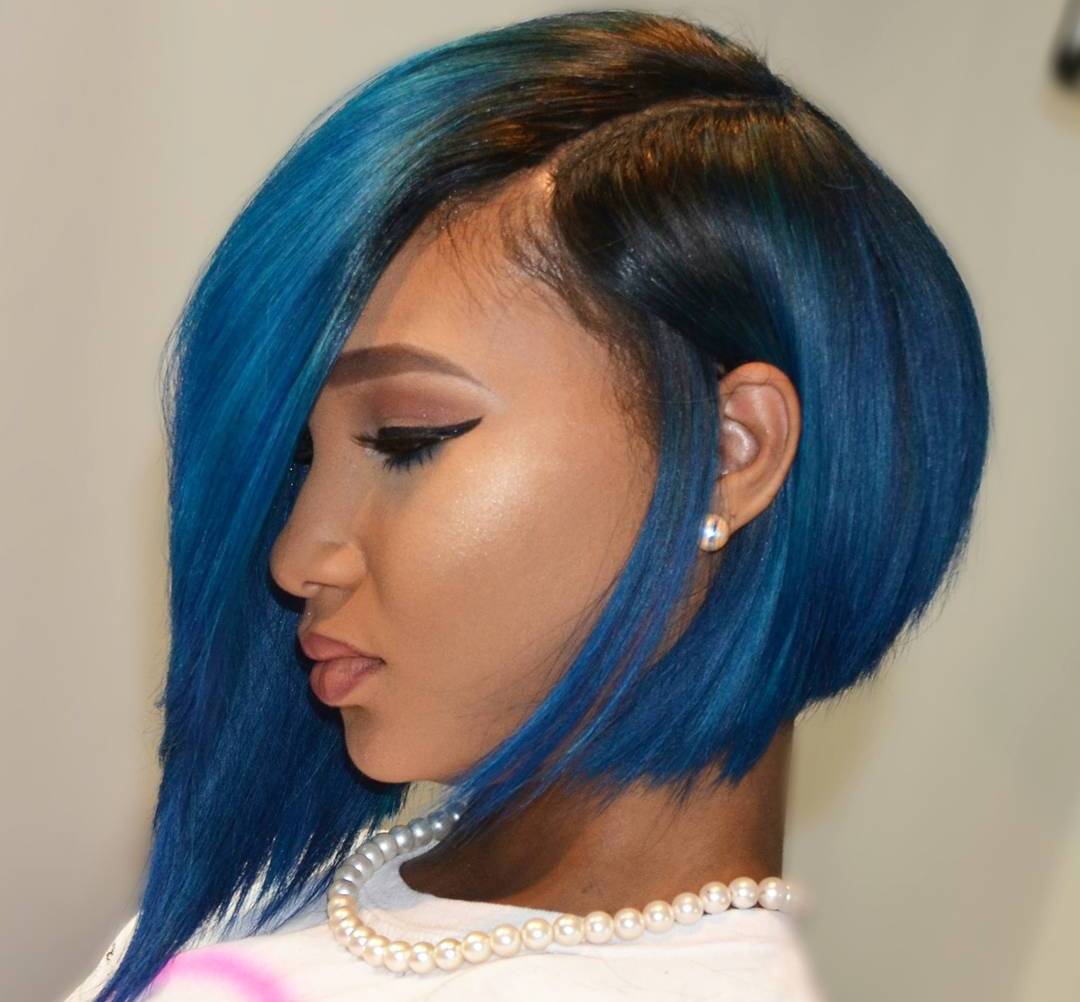 Nothing can spice up your look better than a shock of vibrant color. This amazing bob makes use of crisp edges and uneven lengths to create a stylishly crisp look. The cherry on top of this look is the shock of electric blue color which does wonders in terms of making the look wildly unique.
11. Honey Blonde Bob Hairstyle
Complement your beautiful skin tone with a mellow shade of honey blonde. This long bob haircut features deeper accents that border on light brown which blend superbly with the skin tone. Keeping the roots darker is a great way to hide growth and keep the look fresher for longer.
12. Black Bob with Copper Highlights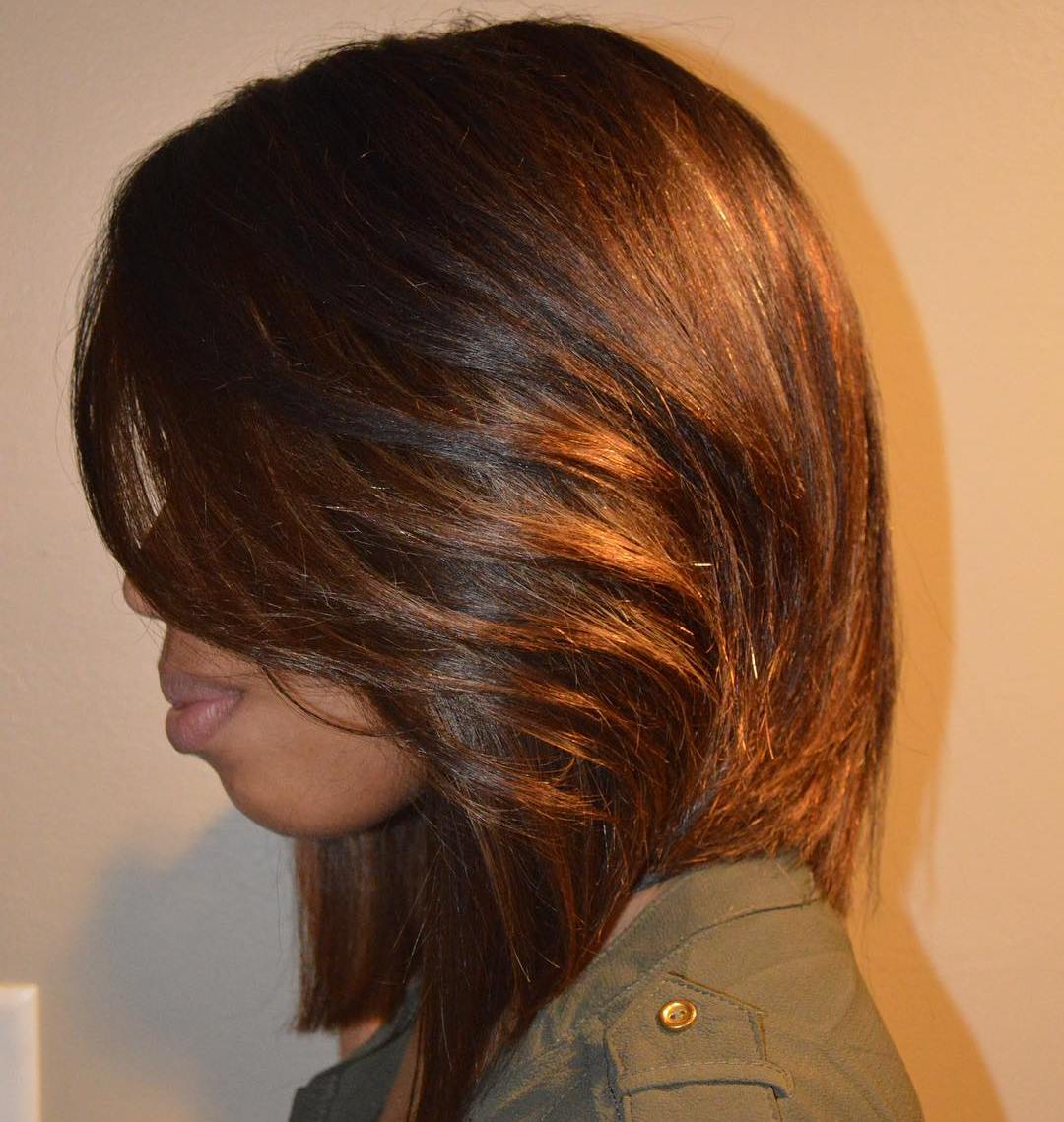 If you prefer to wear your bob slightly messy, ombre is not the best way to give it some color. Instead, some smooth balayage painting should create the radiant color gradient the look needs. This textured bob uses balayage to give it a stylish and very radiant copper red finish.