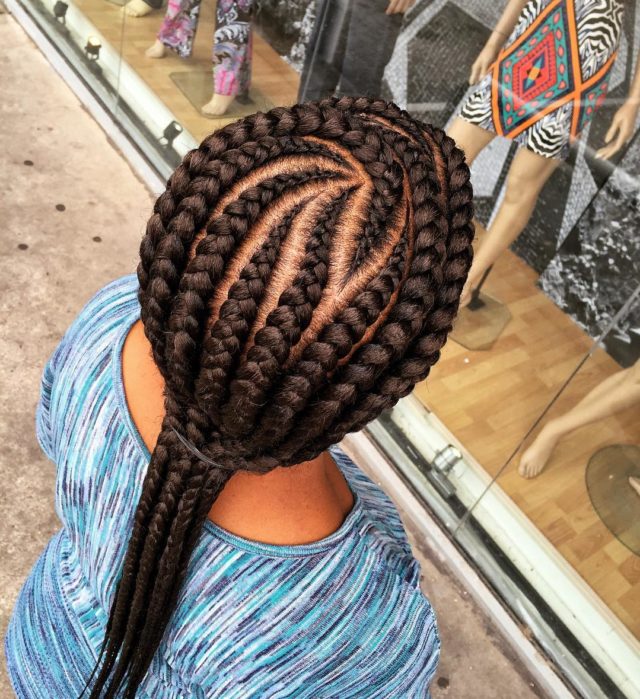 African braids are a go to for many people thanks to their incomparably versatile nature. If nothing else, braiding your hair opens up numerous avenues for creativity as there are many ways you can personalize your look. What's more, most braiding styles are easy to pull off and even easier to maintain.
Stunning African Braids 
There is no better way to inspire the growth of your naturally kinky African hair. Herein are some striking African braiding styles you can copy for your hair.
 1 Classic Cornrows African Braids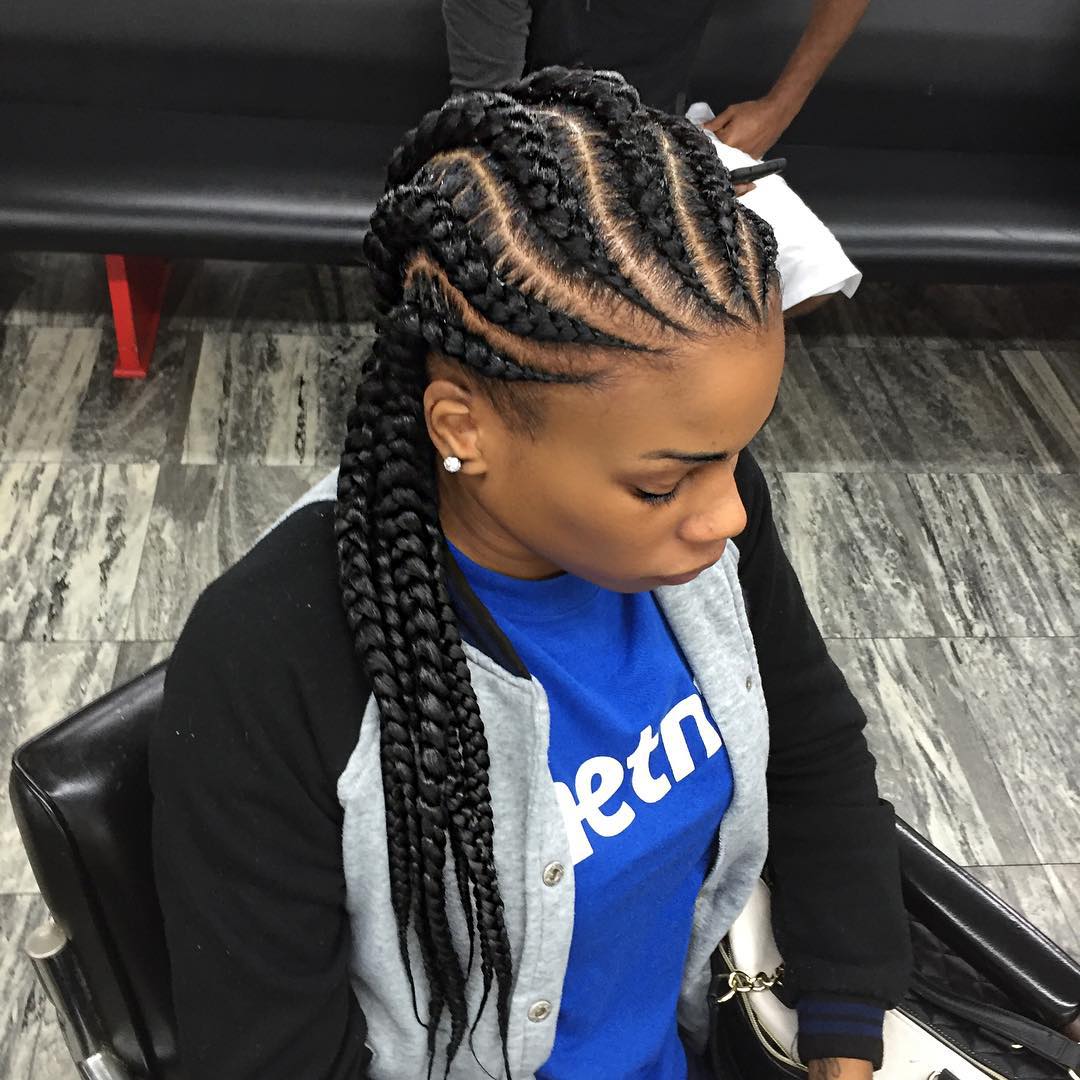 Cornrows have been around for a long time and they look to remain fashionable for a long period to come. This simplicity and ease of braiding of the straightforward yet incredibly stylish hairstyle is undeniably its main appeal. Featured in this example are cornrows that have been given a bit of a wavy finish to add more drama to the look. As usual, the chunky African braids have been held together at the back of the head and left to run down the shoulders.
2 Criss-Crossed African Braids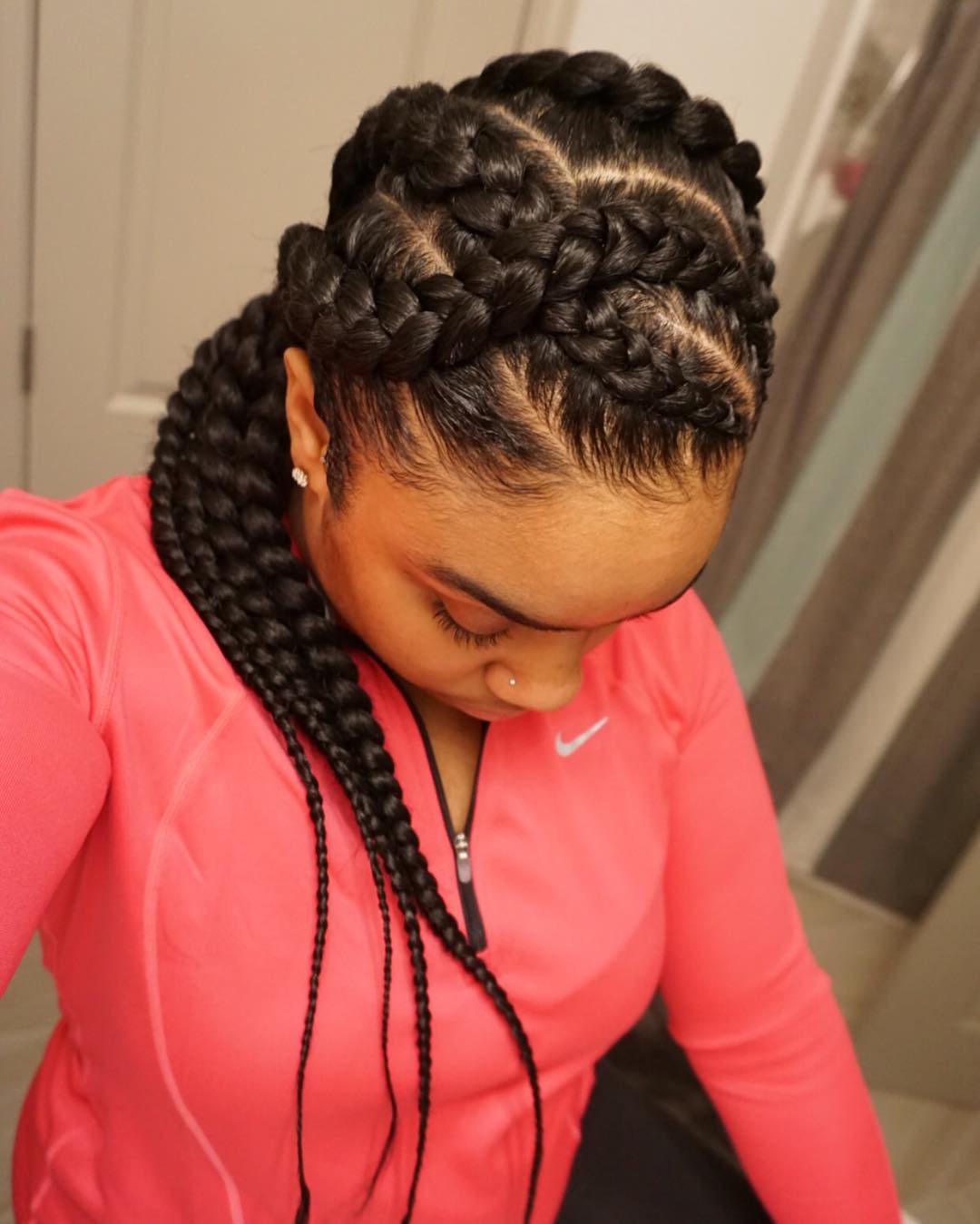 If you find the cornrows a bit too basic for your tastes, here is a spiced up variation of the braiding style. Instead of the chunky African braids being arranged in simple lines, they have been stylishly crossed-over one another across the head before being draped down the shoulders. You can try out different lengths to see which best suits your appearance.
3 Braided Mohawk Cornrows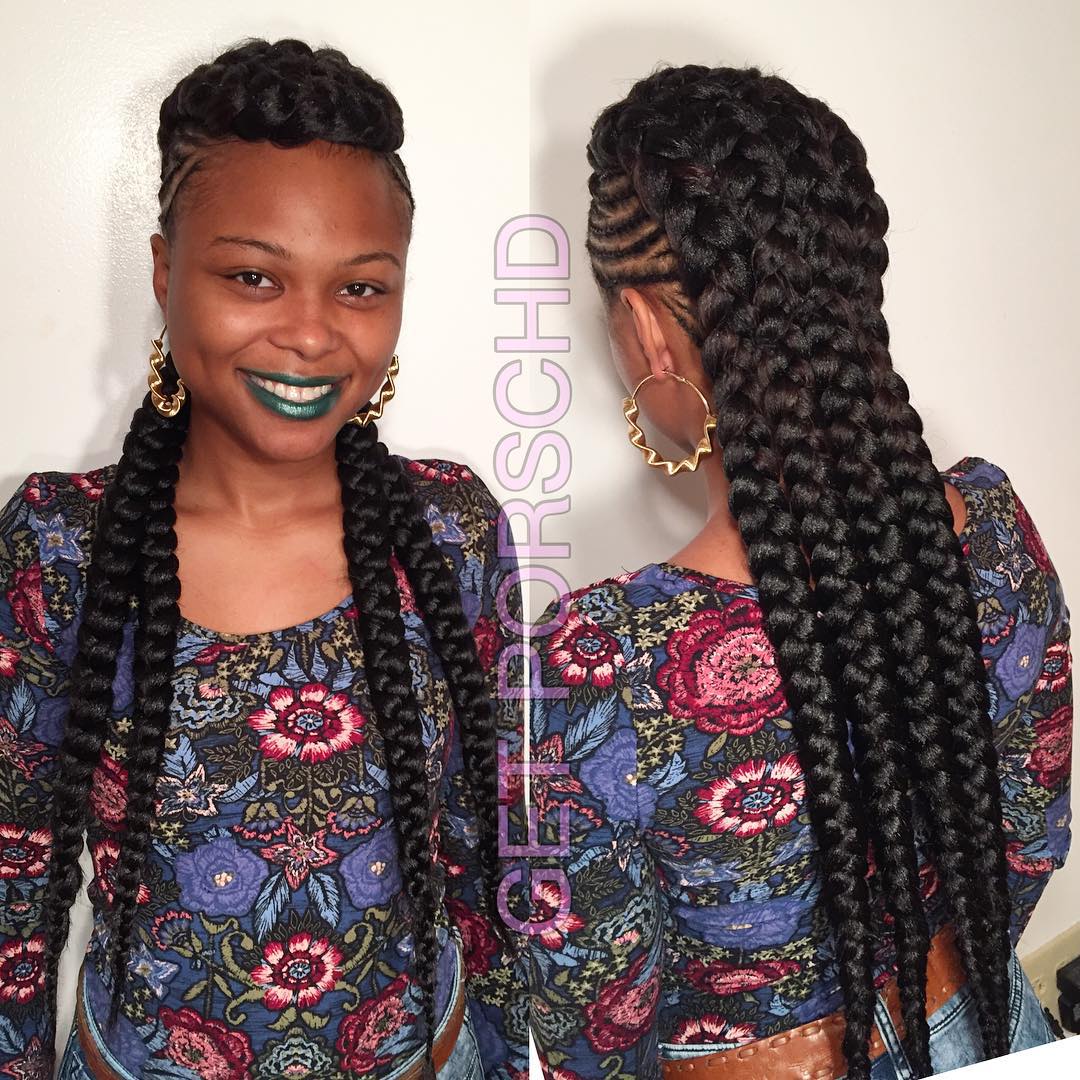 One of the most unique variations of the braided cornrows hairstyle is the african braided mohawk. It involves tweaking the customary cornrows hairstyle by braiding the top portion of your hair into a few thick and preferably long braids. Use thinner braids to create the impression of shorter sides in order to properly shape the braided mohawk look.
4 African Braided Updo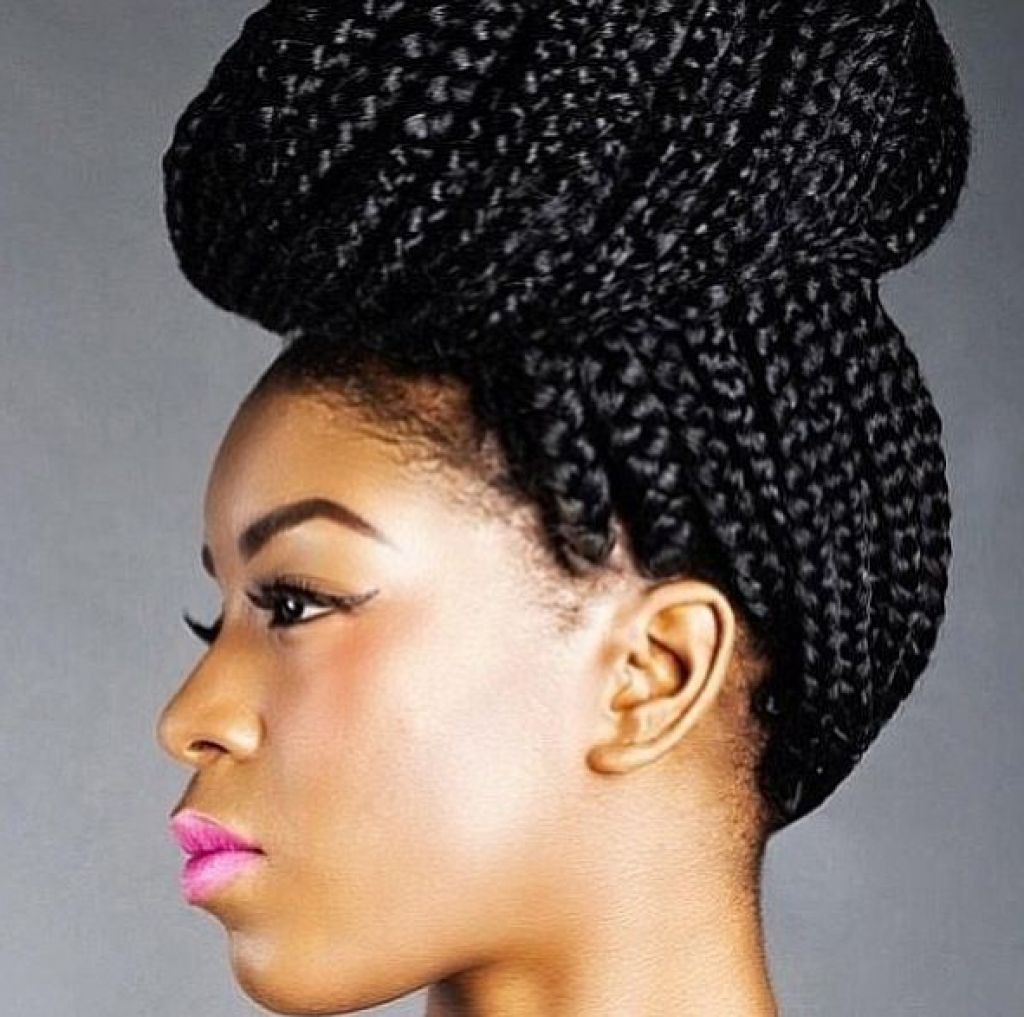 For a classy, formal look, go for a elegantly styled african braided updo. Despite its intricate appearance, the hairstyle is incredibly easy to pull off. The full portion of hair have been stylishly held up using a series of intricate braids and pinned sections of smoothly textured glossy black hair to result in an irresistibly sophisticated formal look.
5 Patterned Box Braids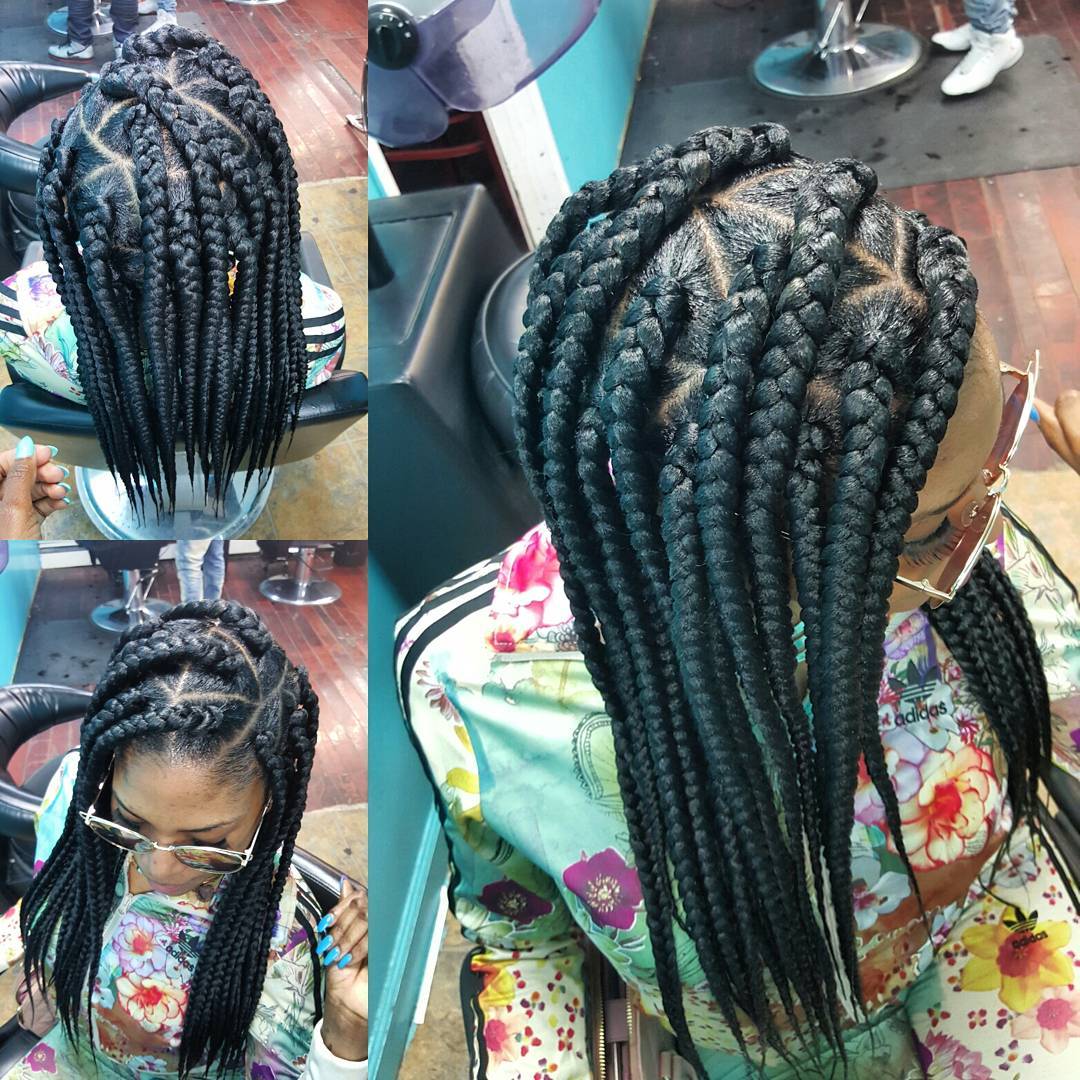 There are many ways you can give your cornrows a little more oomph in terms of styling. Box braids are stylishly bold and allow for a lot of customization. In this example, the bases of the braids have been styled into neat triangular patterns which give the look a revitalized finish.
6 Jumbo Coil African Braids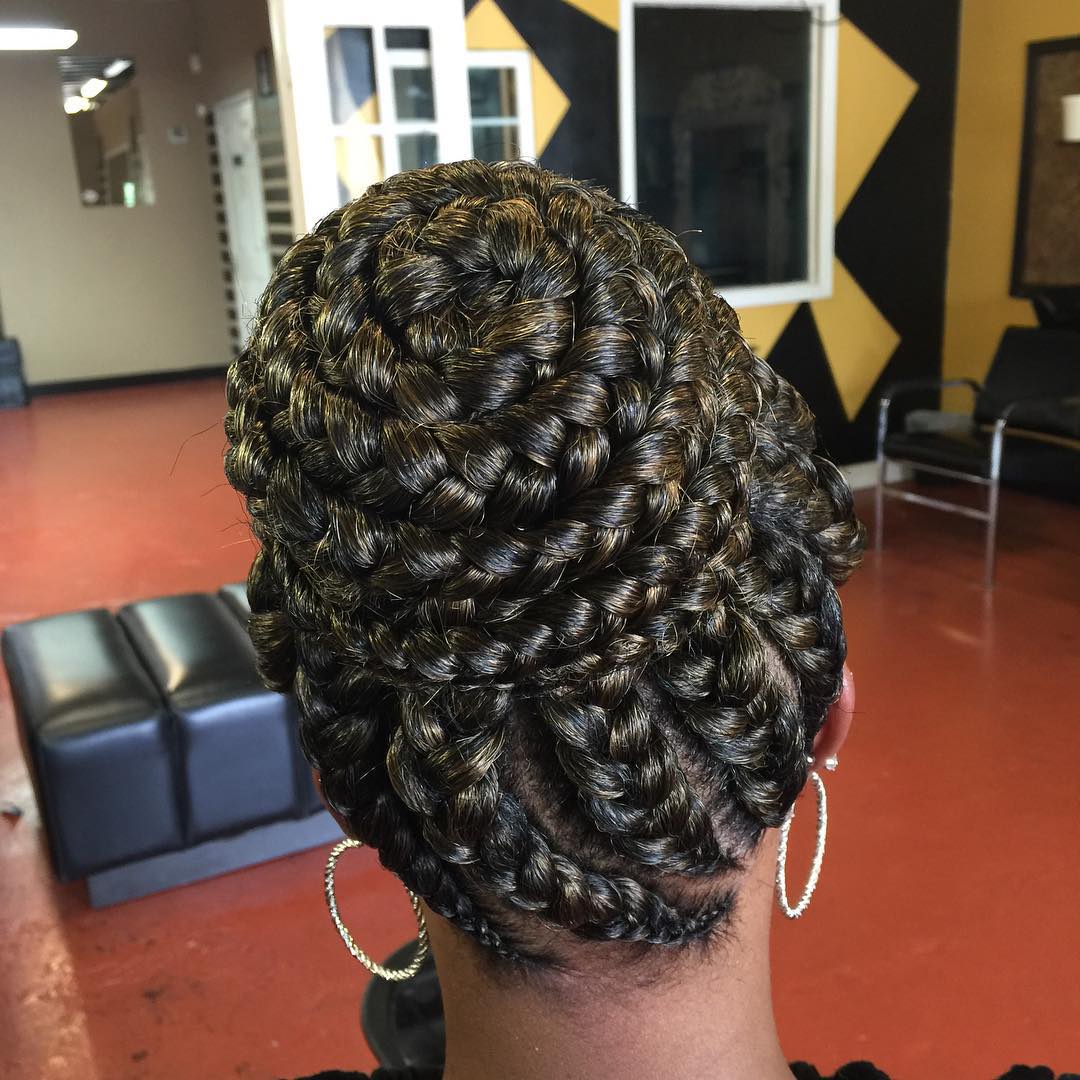 Some of us might find standard buns too basic and boring. Another way to stylishly hold your hair up for formal event is using a braided jumbo coil. Although a bit time consuming to pull it off, it is worth every minute. The look involves stacking up thick sections of african braided hair to create a large coiling bun placed at the center of the head.
7 The Janet Jackson African Braids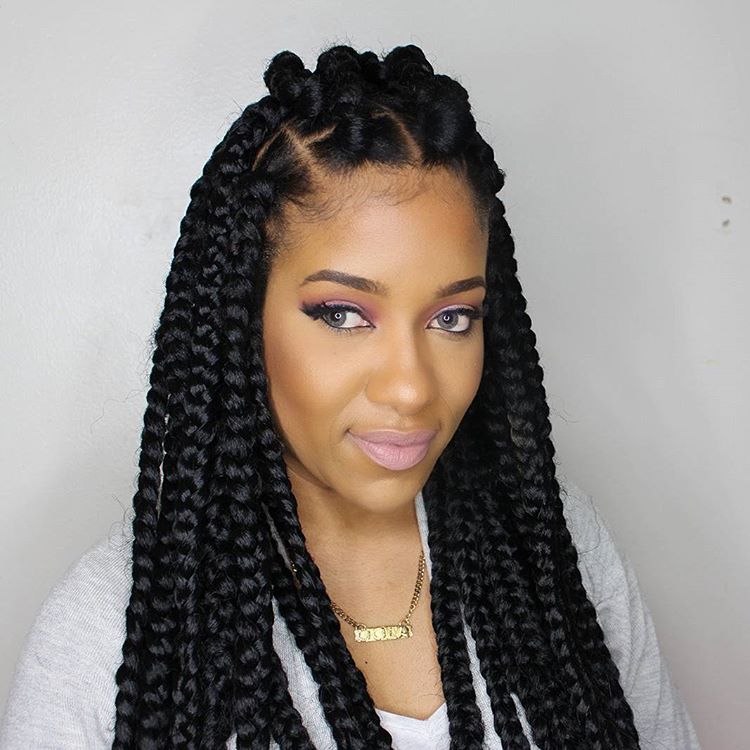 This classic african braided look is simple and it exudes a certain girlish appeal. It features thick braids running down either side of the face and down the back and a top that has been embellished using thick bantu knots. Perfect for showing off your facial features and makeup, this look rarely fails to attract attention.
8 Simple African Hair Braiding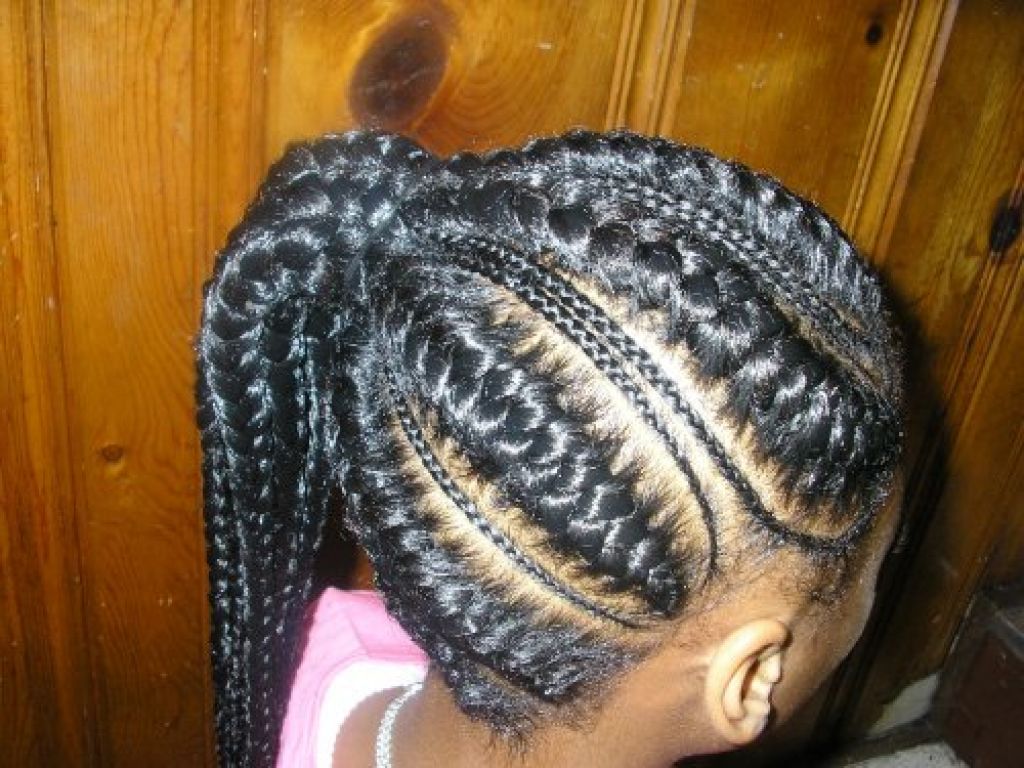 African braided updos are no longer considered severe or reserved to more mature ladies. With the numerous available styling variations there are, braided buns are often stylish, sassy and flamboyant affairs, especially when paired with bold accessories. Alternating thick and thin braids on the sides is one way to personalize your look.
9 Double Braided Crown with Fishtail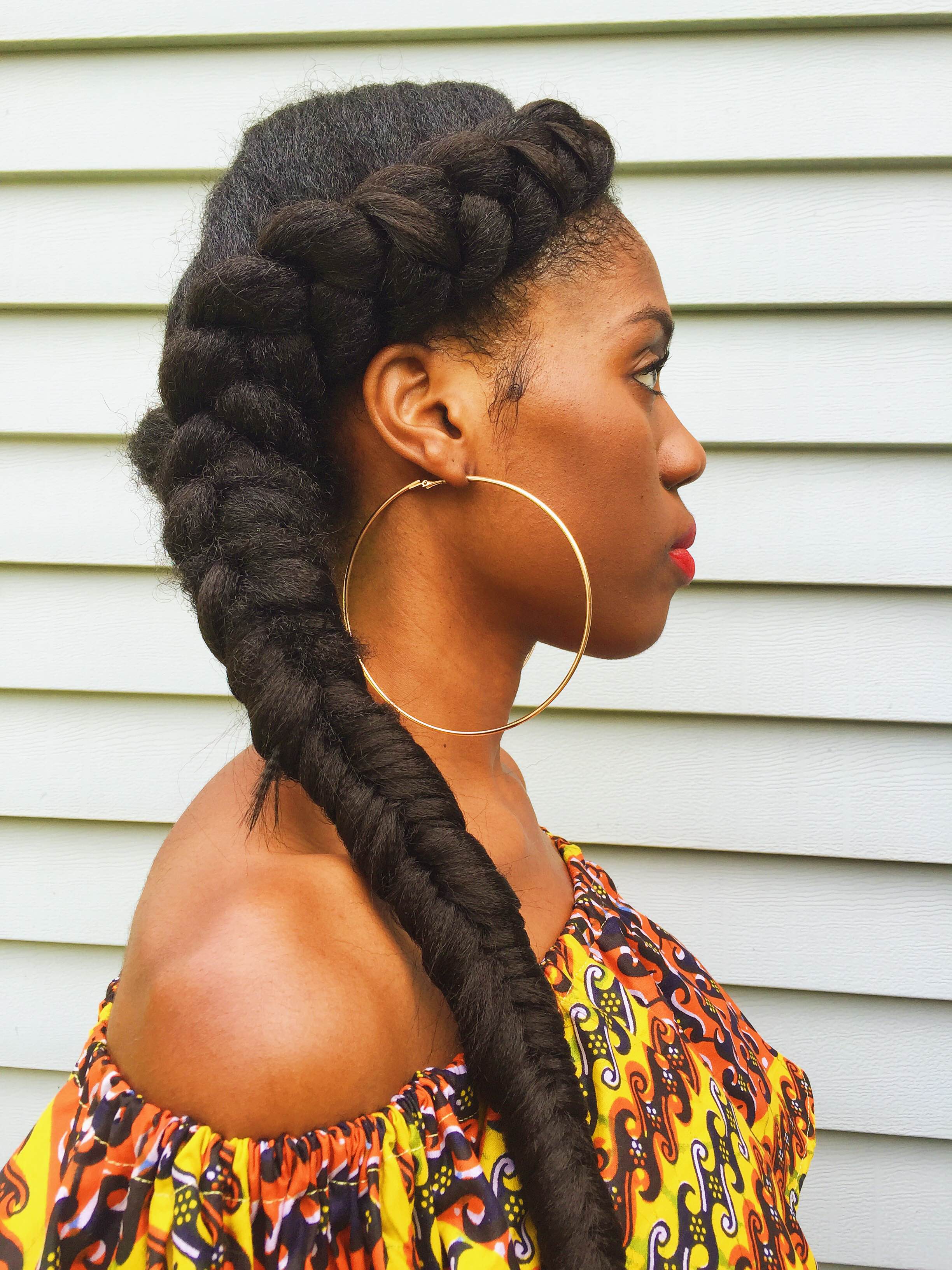 Double braiding your hair is a great alternative for those who want to stay away from dyes.  Here, we see how the boxer braids have been stylishly fashioned into a crown using two braids which are then joined at the back to form a fishtail braid. A distinct center part adds a bit more sophistication to the look.
10 Swirly Cornrows Hairstyle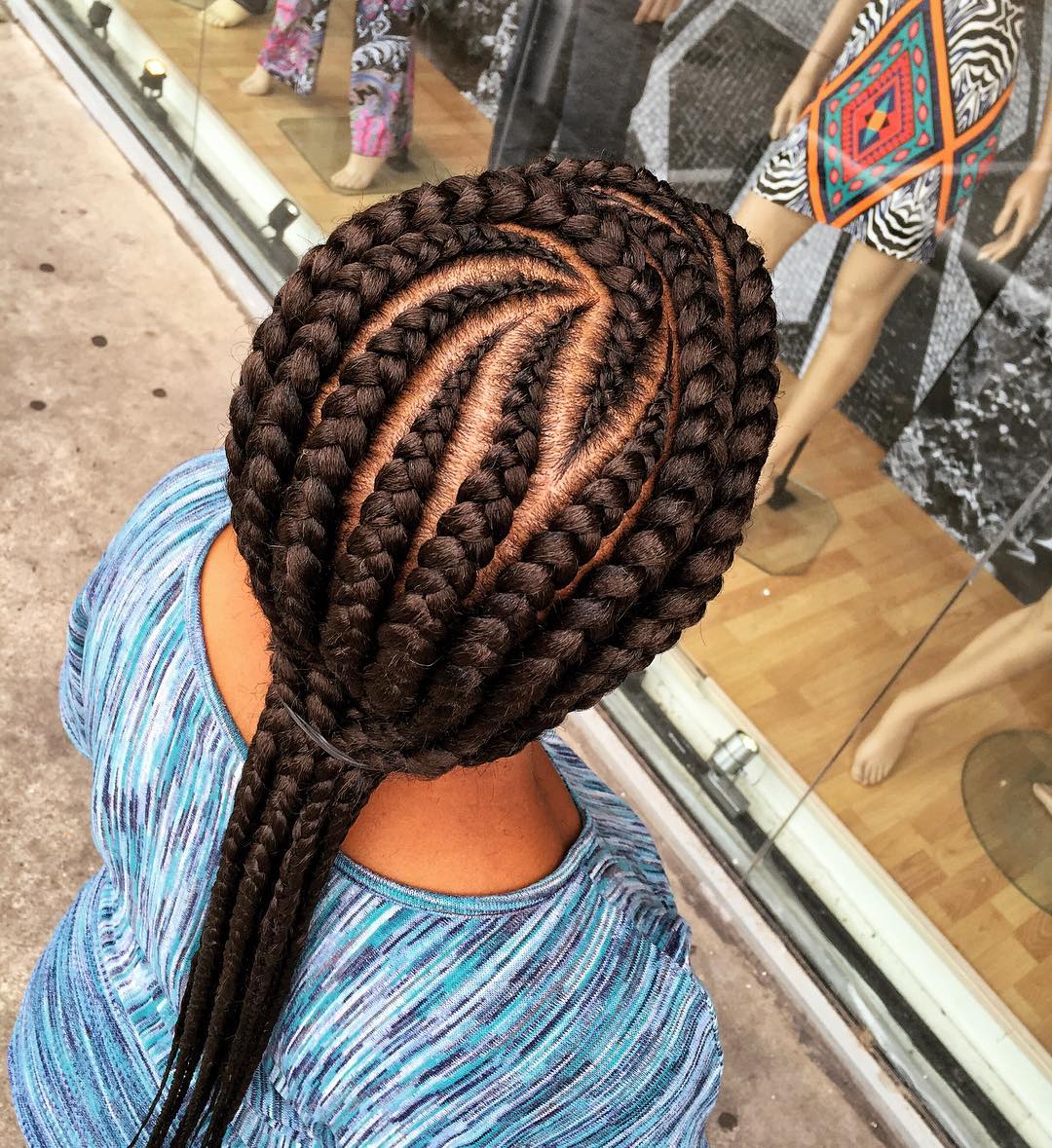 Another unique version of the cornrows hairstyle you can opt for is this simple swirly hairdo. Instead of finishing the braids at the hairline, your stylist can mix things up a little by swirling the braids to give it some intricately curvy details.
11 Thick and Thin African Hair Braiding Styles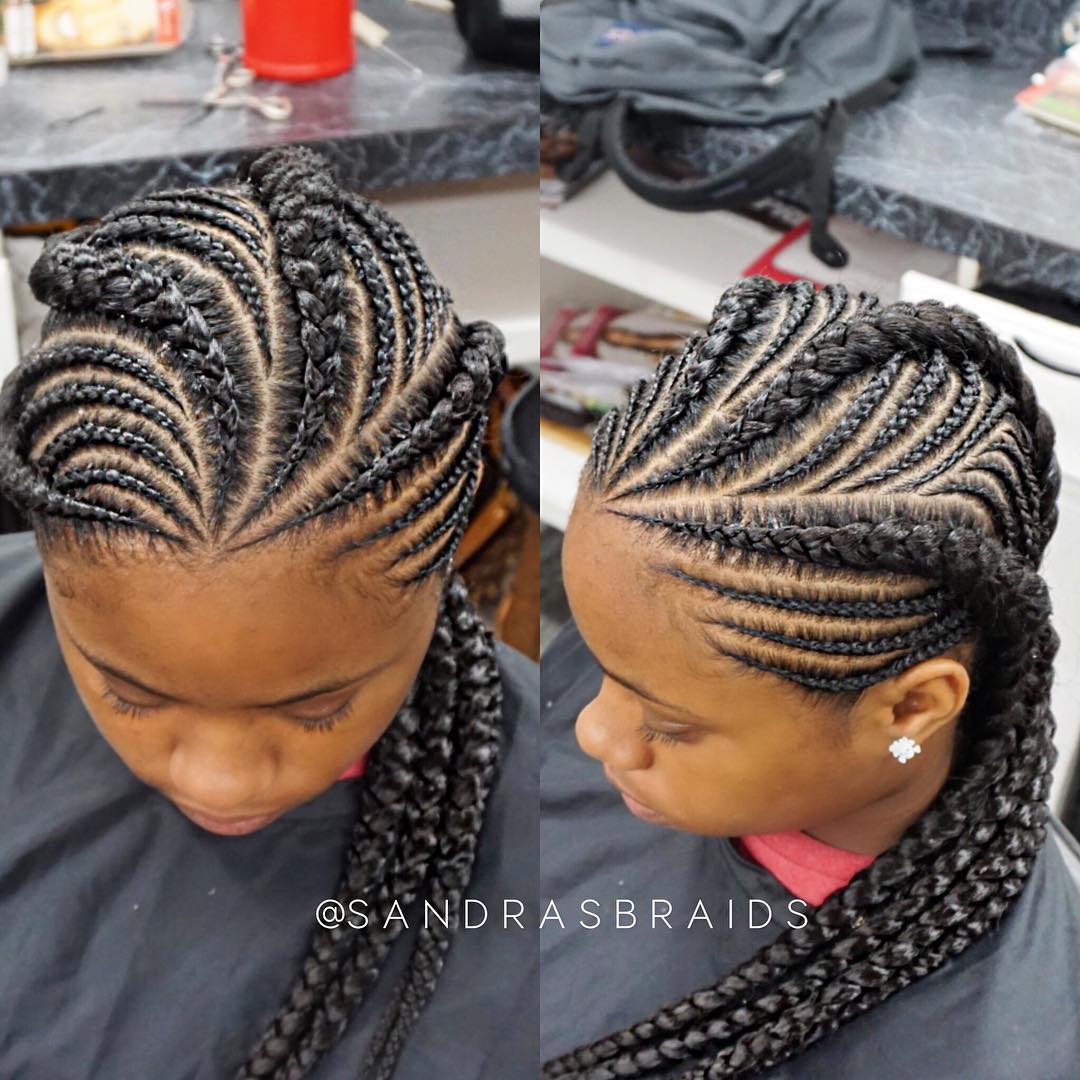 Using braids of different thickness is another way you can personalize your cornrows. The thick braids can mark different sections with smaller, more intricate braids in between them. Curling up the ends of the braids adds a dramatic twist to the look.
12 Multi-Toned Feed-in African Braids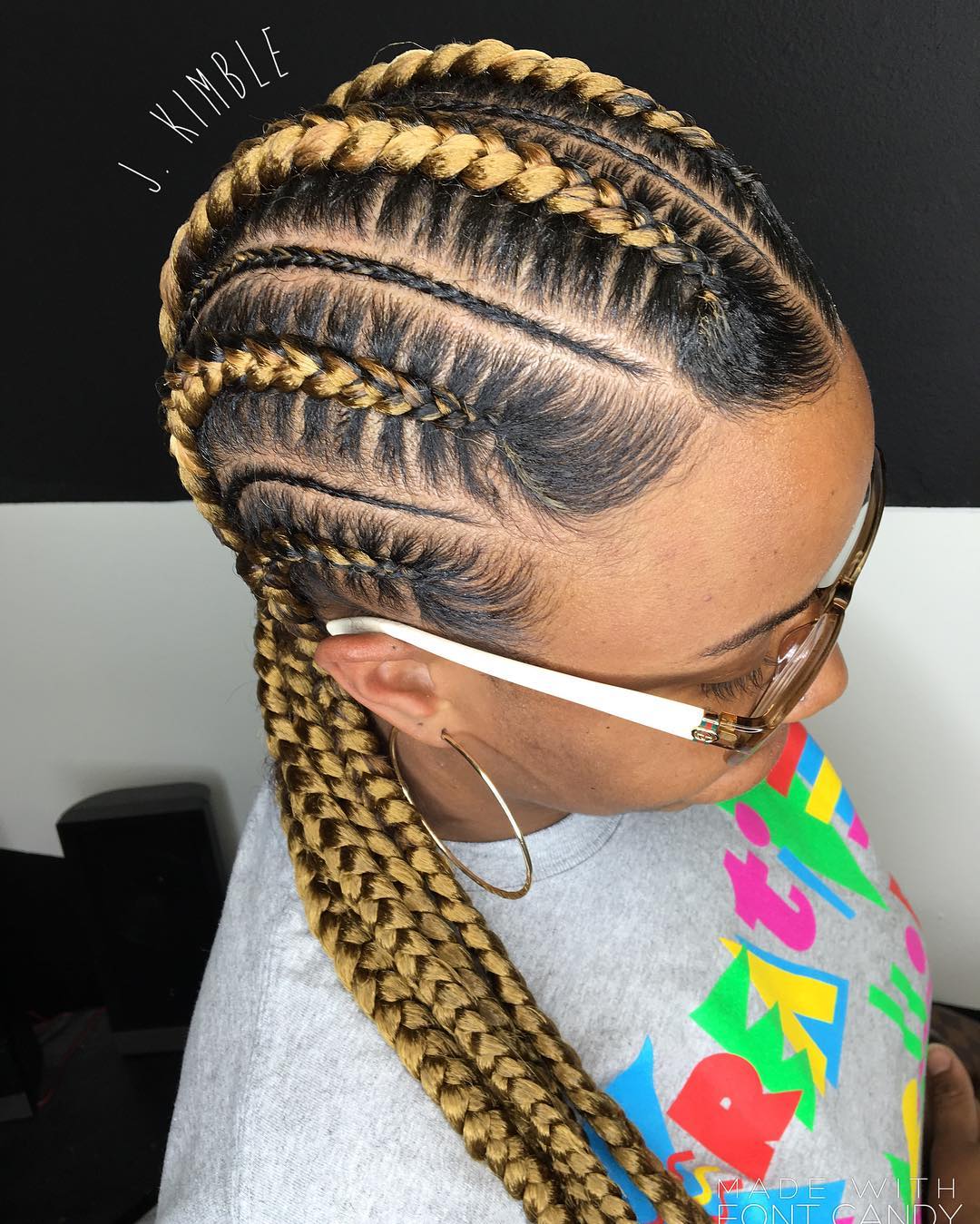 Other than protecting your edges by creating less tension, feed-in braiding styles are also more naturally spaced and less bulky than traditional cornrows. The hairstyle allows you to flatten your hairline towards the front. It also brings a welcome boost of color to spice up the tame cornrows hairstyle.
13 African Braided Ponytail
Not much can be said for this effortlessly stylish hairstyle except that it is simple and very unique. The look is perfect for allowing the growth of your hair as it rarely pulls at your edges or damages your hair. The braided ponytail is for those with a relaxed sense of fashion.
14 Thick Bun with Thick Braids
If you go for a thickly african braided updo, make sure you match the thickness of the surrounding braids to create an evenly balanced look. Despite being simple, this is a great, laid-back way to ensure that your hair grows in naturally while you look glamorous.
15 Double Crown with Purple Highlights
Regardless of the length of your hair, there is always a way you can tame it into a simple yet beautifully braided look. African braids on each side form a thick crown starting from the front and ending in an elaborately braided bun at the back. In addition to the crisp slant part, the hair also features some subtle touches of purple which spice up the look.