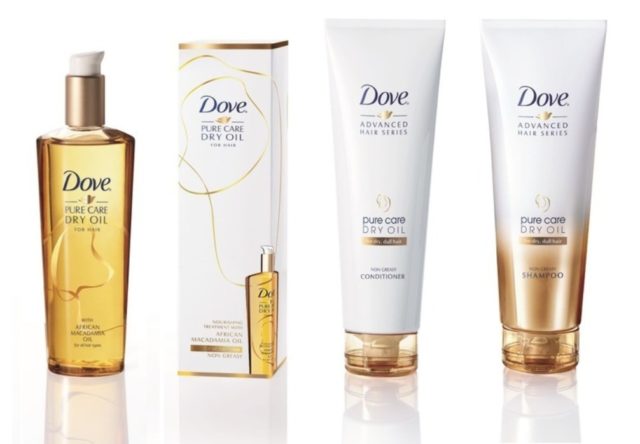 Dove Pure Care Dry Oil products are designed to make women feel beautiful by using rich technology that appeals to all of the senses.
I'll tell you what senses made me finish up these products – my sense of SMELL. My. Oh. MY. These Dove Pure Care Dry Oil stuffs smell so GOOD!. It's a unique fragrance that apparently evokes a summer day in the South of France and includes top notes of bergamot and lavender with intoxicating floral undertones. Like I've said before-I'm a bergamot addict, so throw that scent in anything and I'm addicted.
All of the products are infused with African Macadamia Oil too and are silicone-free which is AMAZING for drugstore! The Dove Pure Care Dry Oil Shampoo gently cleanses the hair and the conditioner leaves hair smooth and moisturized and smelling SO, so good.
Dove Pure Care Dry Oil has a dry oil technology, so it absorbs quickly into the hair leaving it 5x silkier, healthy-looking and never greasy. And again, it has that intoxicating fragrance that I can't get enough of!
Smells aside, as you know I have grey hair. And curly hair. And grey hair has challenges. As does curly hair. My hair has a coarser texture, and is dry so I need products that will moisturize and keep that wiry business from making me look…OLD. These three products did just that! And I air dry my hair too, and my curly, grey hair looked great whilst using them! AND I can't tell ya' how much I loved the smell! I MISS IT. So, I'm getting some more. This week. And I'll tell ya' this-there aren't a whole heck of a lot of beauty products that get sent to me for review that I actually repurchase. Hey-that would make a good year end post actually! I'll remember that. Promise.
Find Dove Pure Care Dry Oil products pretty much everywhere! And try them, you must!
Ever miss a product just because of the smell? Never thought I'd ever say that about Dove hair products haha, but it's true!