Is it just me, or does there tend to be a lot more BUZZ generated about makeup products lately? Everything seems to be NEW! INNOVATIVE!! BEST THING EVER!!! IF YOU DON'T GET IT YOU'LL BE MISSING OUT!!!!
I'm gonna tell you that you can safely SKIP on Benefit They're Real Push-Up Liner.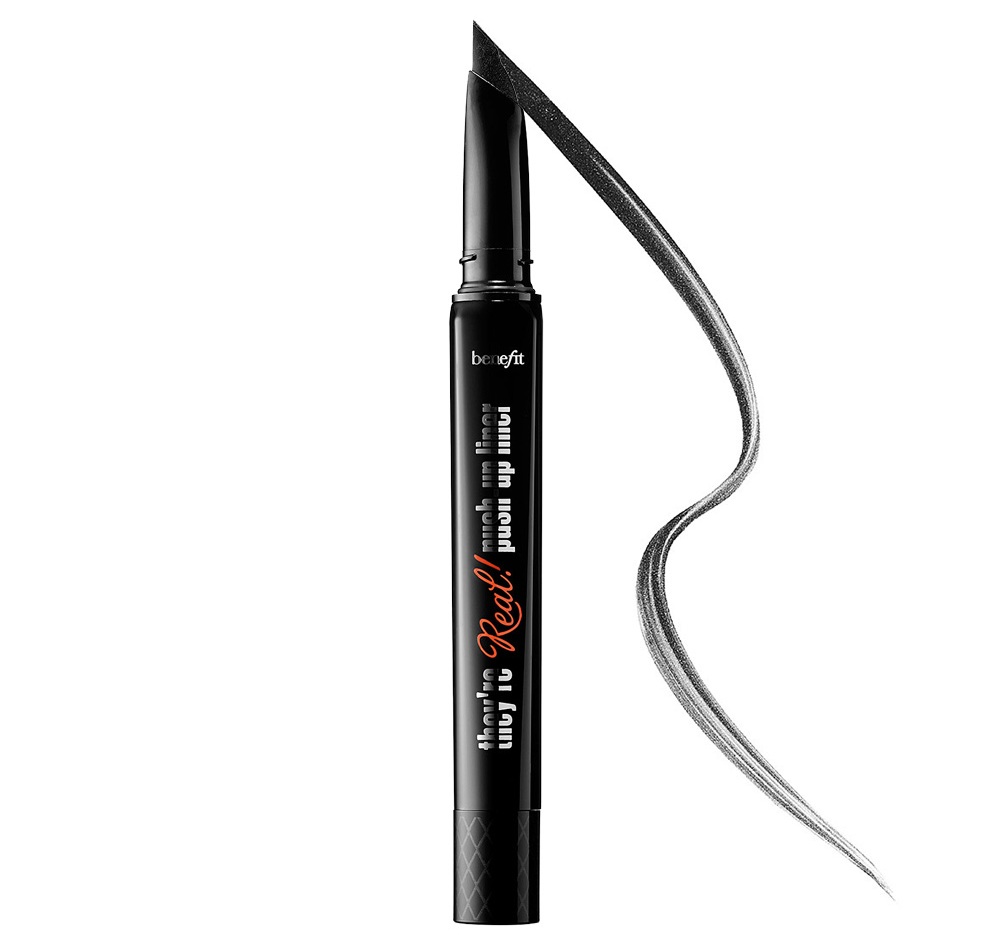 Benefit They're Real! Push-Up Liner($29) is supposed to be the first fool-proof and budge-proof gel liner in a pen. I mean, the idea is pretty cool, right? GEL liner in a pen! No pot of liner, no brush needed, just this.
The packaging is pretty darn cute. When you open it up, there's this orange plug on the end of the liner tip. If you DO decide to waste your money and get it, keep that tip. It'll help keep the liner from drying out.
So, to get the liner out from Benefit They're Real! Push-Up Liner, you twist the bottom and the gel liner gets released onto the tip. Be careful, too much twisting and you'll get this big glob of gel liner on the applicator. No good. One twist at a time I say.
The applicator is pretty cool too. It's a soft AccuFlex tip(it's rubbery-but probably silicone? Not sure about that) that's angled, much like an angled eyeliner or eyebrow brush. Its really flexible, so it's really easy to get the rubbery tip close to your lash line.
My problem isn't so much with the fancy rubbery tip on Benefit They're Real Push-Up Liner, but the gel liner formula itself.
It's a dry gel-liner. Too dry for my taste. And because it's dry, it's hard to get an even, smooth line. There's just not enough slip and it kind of skips.
It took me about 25 freakin' minutes to get a good look. MESSY minutes too. I had liner all over my hands because of big globs on the tip, and under my eyes too because if you use too much of the liner, it'll flake off onto your face. So much fiddling around to get even, precise edges I can't tell ya. And that's kind of the whole point when you wear a cat eye, no? You want precision. If you try and go back to fix uneven lines and apply more liner, let's just say the gel liner doesn't build up well. Again, the flaking off happens. And don't even think about using a Q-tip dipped in makeup remover to try and fix mistakes because SMEAR CITY. You can't. This is the best I could get my liner to look. You can see that the edges aren't very straight, and the flick part just isn't precise at all.
It' works well when you want to tightline upper lashes, because once the formula sets it doesn't budge. It's a great eyeliner for simple looks, but anything beyond that? Forget about it. I have hooded eyes, so if I want to wear a cat-eyeliner look, I need to go BIG so that you can see it. And I'm sorry, but Benefit They're Real Push-Up Liner is not good for that. Little tiny flicks are useless for me because you won't see them. I can get the big look I need with a brush and pot o'liner in about 5 minutes with less mess, less mistakes.
Whaddaya' think? Will you still try it out? I mean, why not I say. Sephora has such a great return policy so if you do want to experience some eyeliner frustration, go right ahead!