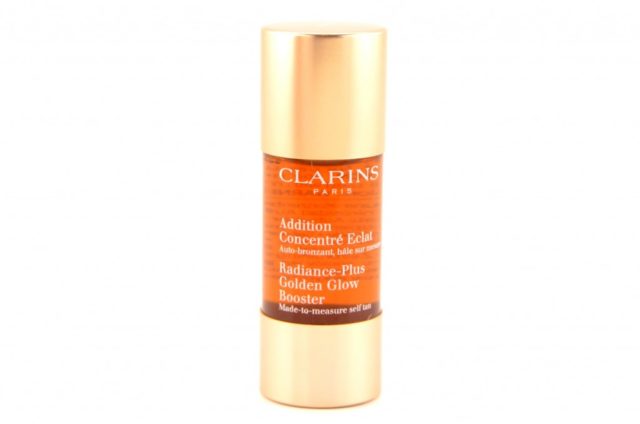 Clarins Radiance-Plus Golden Glow Booster is what I'm talking about today! And if you are a self-tanning lover, you might really like this product!
This is by no means a huge bottle. It's about as big as my 'the bird" finger. A little longer maybe, but not by much. My bird-she's LONG AND PROUD.
It's an oil. And what you do is push the end of this tiny bottle and COOL it disperses as many drops as you like into whatever moisturizer you like to make your own, customized self-tanner. Neat, hey?
Ok, so I really don't like self tanning things/products with a VENGEANCE. I can't STAND that self-tanning smell. You know what I mean. It's like warm, sweaty skin with a hint of burn? BLECHHHHHH. I avoid self tanners like I avoid…oysters. And most seafood actually. I like tuna and salmon in a can. CAN. I like scallops and shrimp. And tilapia in a taco. But that's it. FISH ARE FRIENDS NOT FOOD.
According to the directions, one drop of the Clarins Radiance-Plus Golden Glow Booster is recommended for fair skin. I put 3 drops in my moisturizer of choice, which lately happens to be the Clarins HydraQuench Cream. GOOD STUFF. And, what can I say, I like to live on the edge when it comes to testing beauty products. I'll take THE MAX please.
After a couple of hours, I can smell the "tan" developing on my face. I'm REALLY sensitive to that SMELL. So if anyone tells you that this Clarins Radiance-Plus Golden Glow Booster DOESN'T smell-they LIE. It's not strong, but it's there! Subtle, sweaty tan smell. Also, the tan takes a long time to develop.  Even though I can smell it, I don't see the colour until well into the next day.
But it sure does last well! The colour that Clarins Radiance-Plus Golden Glow Booster gives is quite believable and real, and lasts at least 4 days before fading. No orange tan! But like I said, I use 3 drops. If you use less, you'll probably get less colour, and less lasting power of course.
All in all, I kind of like Clarins Radiance-Plus Golden Glow Booster! Even though I can smell it, it's still not so strong as other self tanners I've tried in the past. I can deal with it. Some self tanners I can smell for DAYS and DAYS. This one isn't like that so YAY! And I like the whole idea of being able to customize your tan. It's quite innovative! To keep up my colour, I just add a drop or 2 of Clarins Radiance-Plus Golden Glow Booster every couple of days and I'm good to glow.
Get Clarins Radiance-Plus Golden Glow Booster wherever Clarins is sold! It's available pretty much everywhere right now, and I think it's worth trying for sure!
Do you self tan? Or do you actually TAN. You know what I notice? it doesn't take much time out in the sun to get a bit of colour now. Even when diligently wearing sunscreen. A couple of days spent at Disneyland in 35C weather, and I've got a tan now. And I wore sunscreen in EVERY product I used on my face. SIGH. And you know what else? The tan lasts SO MUCH LONGER as you age. The joys of aging NEVER END.