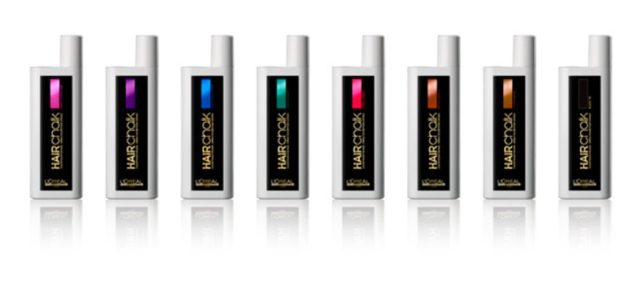 I love the pink and purples in my hair, but I realize it's not for everyone. It's a huge commitment to have crazy colours in your hair. I've shown you coloured hair chalks before, but to be honest they're kind of messy. And you have to wash them out before going to bed, otherwise your pillow and face will be covered in pink, purple, blue…it's not pretty.
But, things are about to change for the better!
Meet L'Oreal Professionnel Hairchalk – Unicorn Hair Without The Commitment! That should be their tagline, right? 
L'Oréal Professionnel Hairchalk comes in 5 bright fun shades, and 3 Natural shades.
When I saw these, I HAD to try one. I mean, who better to test them out than someone with crazy coloured hair? Garden Party, a green turquoise is what I got to try which is perfect! I actually want to put this colour in my hair permanently, but the company that makes the vegetable dyes that I use is having some shortages.
L'Oréal Professionnel Hairchalk in Garden Party is a great substitute for the time being!
You get 50ml of product, which is quite a bit I think, especially if you're using the shade as an accent colour. Don't go putting it on all of your hair, although I guess you could? But if you're that brave, then just go get a jar of Manic Panic already. Don't waste this precious elixir like that!
L'Oreal Professionnel Hairchalk's water ink is mixed with microfiber polymers to limit any transfer and help make it water resistant. You can get it to last an average of 2 shampoos, although I had no trouble getting mine out on first wash. I did keep it in for 2 days, and there was ZERO transfer. No green on my face or pillowcase so YAY!
Application is SUPER easy. Just shake the bottle really well and pour a few drops onto a makeup sponge. Use the sponge to apply the L'Oreal Professionnel Hairchalk right onto a section of hair, brush it through and blow-dry! That's it!
It's really pigmented-even scary looking actually! But don't be scared! The pearlescent pigments in the hairchalk are buildable in intensity. I used one stroke on sections of my hair and got a really pretty watercolour effect. A couple more strokes, and it would have been really bright! If you have dark hair, I promise the pigment will show up on your hair. There's no chalky residue at all either-hair feels normal.
SO much FUN. I want ALL the colours now haha! Well, maybe not the "natural" shades of bronze, coffee or black. But I do wish there was a silver! That would be really awesome! Please L'Oreal? I think the next one I'll try is Coral Sunset because then my hair will be the colours of an actual sunset. Who doesn't want that, hey? Ok, maybe just me then, but wouldn't that look cool too?
One word of advice-wear gloves during application! I had green fingers for a day. Silly Tracy.
You can find all of the L'Oreal Professionnel Hairchalk shades at salons. You gotta try it!