When MAC Heroine Lipstick was introduced, it very quickly became the perfect violet lipstick, sidelining several others in its color category. MAC Heroine Lipstick is a matte lipstick but goes on with a bit of sheen at first, however, as you wear it, it does become more matte looking on the lips.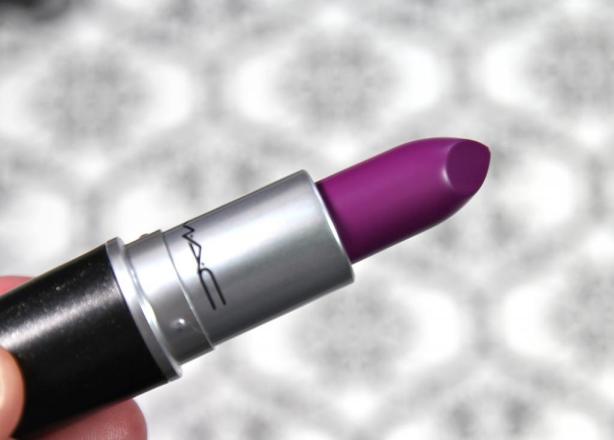 It is a great colour especially for people who are looking to experiment with new colours. The good thing is that it isn't totally out there like what you experience or imagine with a blue or black lipstick, but it is eye-catching, lively and different! To make it look even more lovely, you can combine it with this lip liner.
The lipstick comes in a lovely bullet shaped casing. It is truly a matte shade that is smooth to apply, however, it appears at first with a bit of shine but and it goes opaque in no time. The pigmentation is amazing, you get full color in one go.
MAC Heroine Lipstick Swatches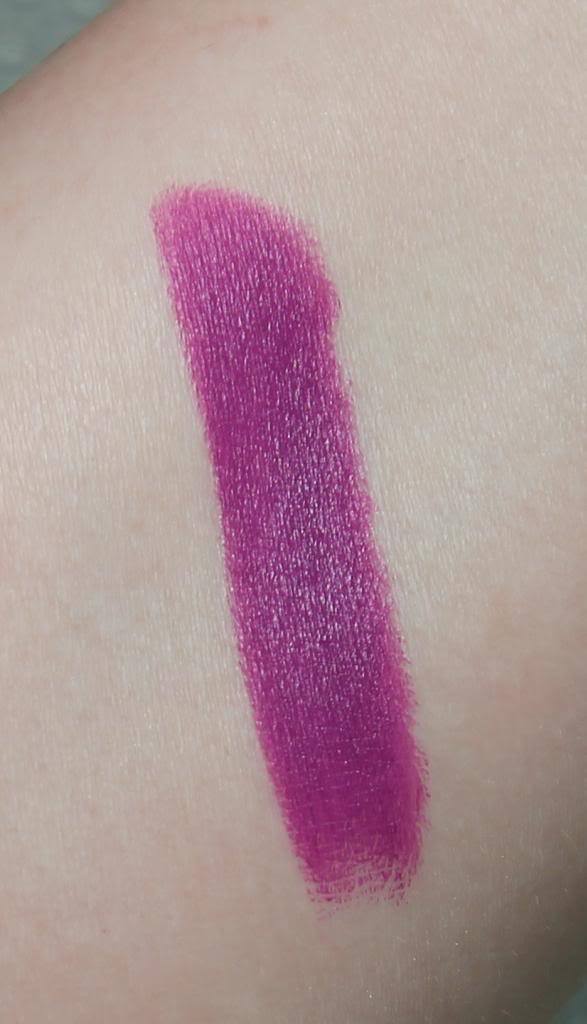 MAC Heroine Lipstick is not drying at all and is really comfortable to wear! I love MAC's matte lipstick formulas actually and this Heroine lasts FOREVER, even on my moderately dry lips. I get a good 6 hours of wear time, probably longer if I didn't get hungry and have to eat.
It wears down beautifully and uniformly, leaving a uniform reddish purple stain on the lips and even when I finally do eat, there is a bit of transfer but it stays on, maintaining its boundaries and doesn't migrate all over my lip – something I really don't appreciate on lipsticks, as it makes you too conscious and checking every now and then.
Having used it several times, I have noticed that it doesn't dry out my lips like typical matte formula usually does irrespective of the weather condition but if you have fears of lipsticks drying out, you can always apply a lip balm as the base before applying the lipstick.
What MAC Heroine Lipstick looks like Wearing it
I am able to cover the lips at full opacity with only one swipe and it is actually quite weightless and comfortable and part of what I love the most about this lipstick is that it also looks so beautiful when it is wearing out as it leaves a leaves a nice flattering uniform stain.
It is simply a beautiful cool toned purple that is not too dark to make you think "gothic" but surprisingly has the same effect as a red lipstick; so this is a very good alternative for those who don't like red lipsticks. It is very versatile, punk, elegant and even looks cooler on a dark skin. If you want a perfect blend with this, you may introduce a bit of pink tones to your base makeup.
MAC Heroine Lipstick is not for the faint of heart. It's in your face, lovely bright purple lipstick! For me it's my new "red" lipstick. Reds look HORRIBLE on me right now, so this will be the lipstick I reach for when I want some drama! To be honest, I'll be wearing it all the time because I love it that much. In fact, I wore it to go grocery shopping the day I got it. If you love all things violet like I do, then get MAC Heroine Lipstick and I promise you won't be sorry!