It takes a lot for me to get excited about a new lipstick these days. I've pretty much seen everything by now. Been there, done that. Oh sure, there's always a new formula to get happy about, but design wise? A lipstick is a lipstick and looks like…a lipstick.
But leave it to Avon to come up with something really cool! Take a look at these Avon lipsticks!
Avon Color Precise Lipsticks are SQUARE! SQUARE! SQUARE IS COOL! I'm pretty sure I've never seen a square lipstick yet, just like I've never seen an elephant fly. Except for Dumbo. But he's not real, right?
They are kind of a big lipstick actually. I have pretty big paws for a girl(octave+3 big) and most lipsticks are about the length of my middle finger. These are longer! I like the sleek black packaging too.
There are 12 luscious square shades of Avon Color Precise Lipsticks, and I have four of them to show you:
Avon Color Precise Lipstick Swatches
Swatches, which are kind of the straightest swatches I've ever done thanks to the square shapes: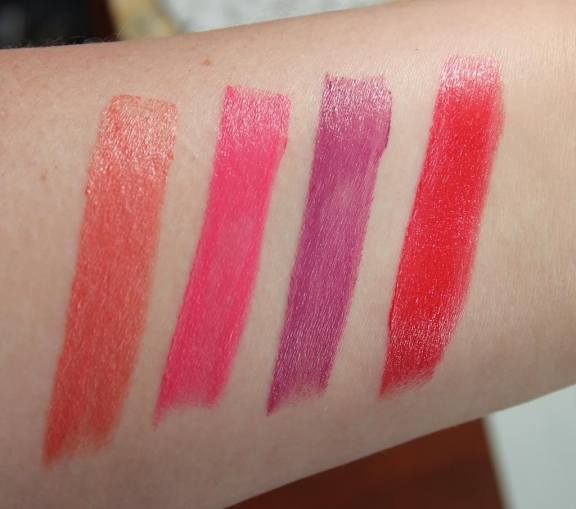 So you're probably wondering: Why a square lipstick? What purpose would it serve? Well, look right here:
This is where the phrase a picture is worth a thousand words comes to mind. See how the diamond-shape tip fits my twin peaks perfectly? And it also makes it really easy to keep a nice even line when filling in the rest of your lips. IT'S GENIUS.
Avon Color Precise Lipsticks are buildable and opaque in a couple of swipes and leave a nice glossy finish.
Mauve Infallible is a violet pink:
Fuchsia Finish isn't very fuchsia looking to me though. It's a warm, bright hot pink with a hint of coral to it. It's such a fun summer shade! This one is more on the sheer side.
Definite Peach is a frosty apricot peach shade. It's almost metallic which is pretty on trend so I hear.
And Really Red is well…really red! It's warmed up by some gold sparkle in it, which you can't feel but it sure makes the red appear more summery, hey?
No feathering, no bleeding, moisturizing, and last about 4 hours is precisely what you'll get with Avon Color Precise Lipsticks. I highly recommend them! Even though they're square, they're really cool.
What's the coolest lipstick shape you've ever seen?