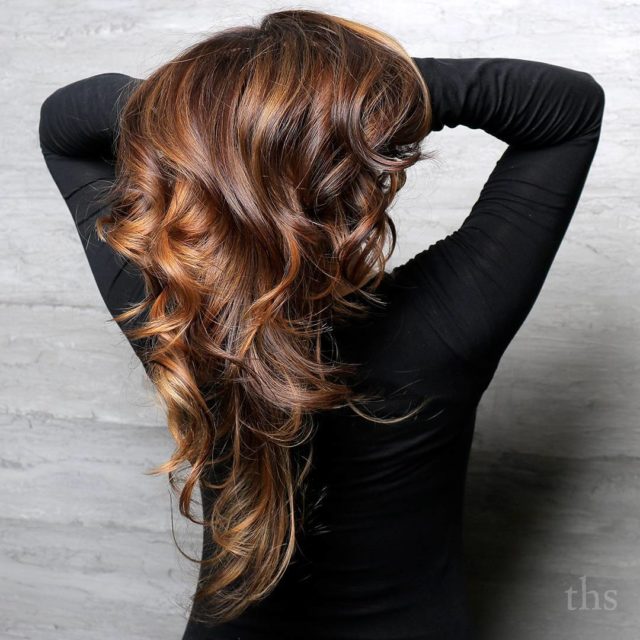 Brown hair with blonde highlights wow. Brown hair combines incredibly well with a variety of blonde hues. Whether your hair is dark or playfully light, if you're looking for a way to escape boring brown hair without going over the thin line between fashionable looks and bizarre hairstyles, you will never go wrong with blonde highlights.
Brown Hair with Blonde Highlights
Take a look at how well different shades of brown combine with enticing tangerine hues, creamy caramel highlights and a variety of other tasteful shades of blonde.
1. Ash Brown Hair with Honeyed Strips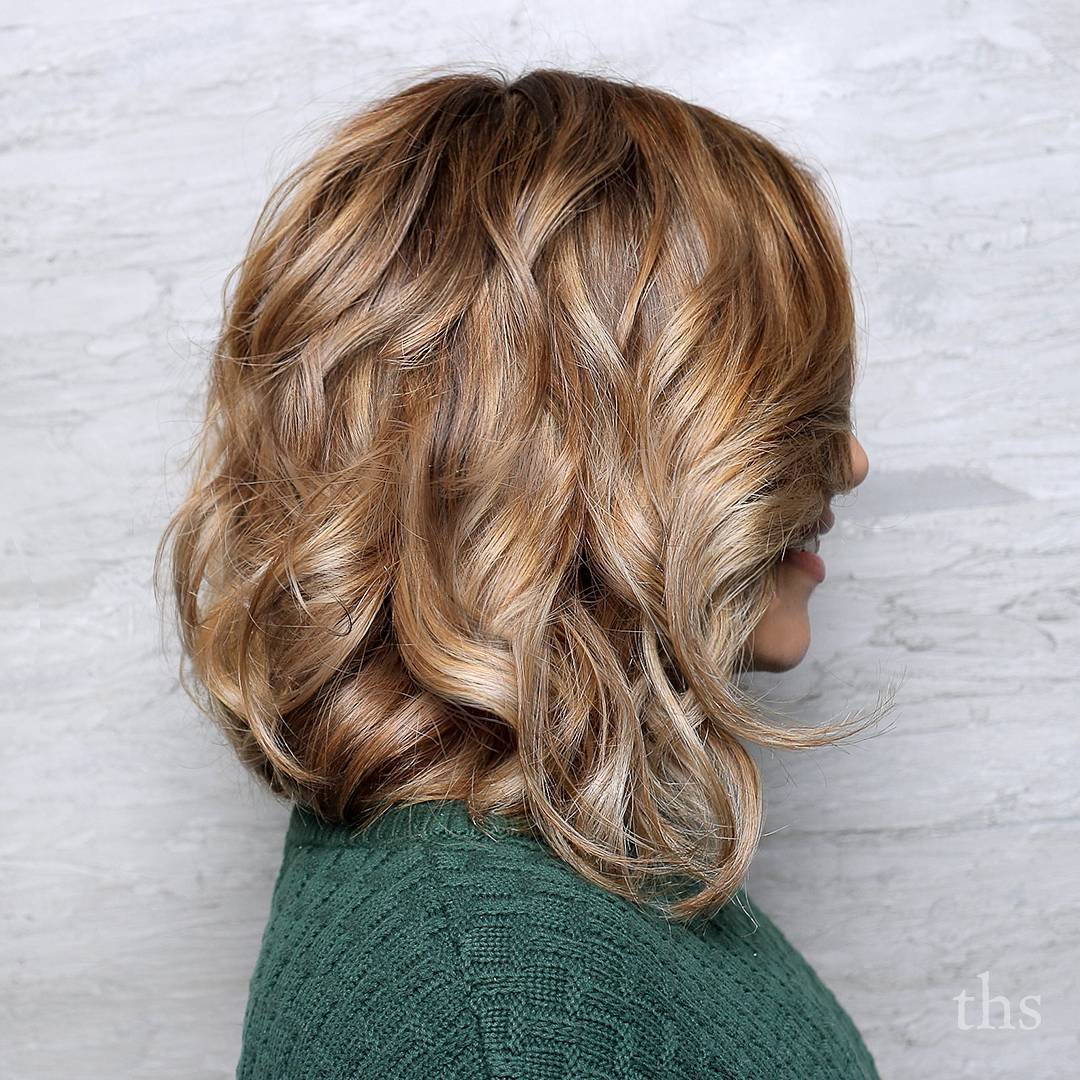 On its own, ash brown hair is not the most eye-catching hair you can have. However, throwing in a few bright honey blonde highlights can dramatically improve the appearance of your hair. This brown and blonde combination works flawlessly to make the glossy blowout curls look effortlessly radiant, fuller and perfectly dimensioned.
 2 Crisp Baby Lights on Soft Brown Hair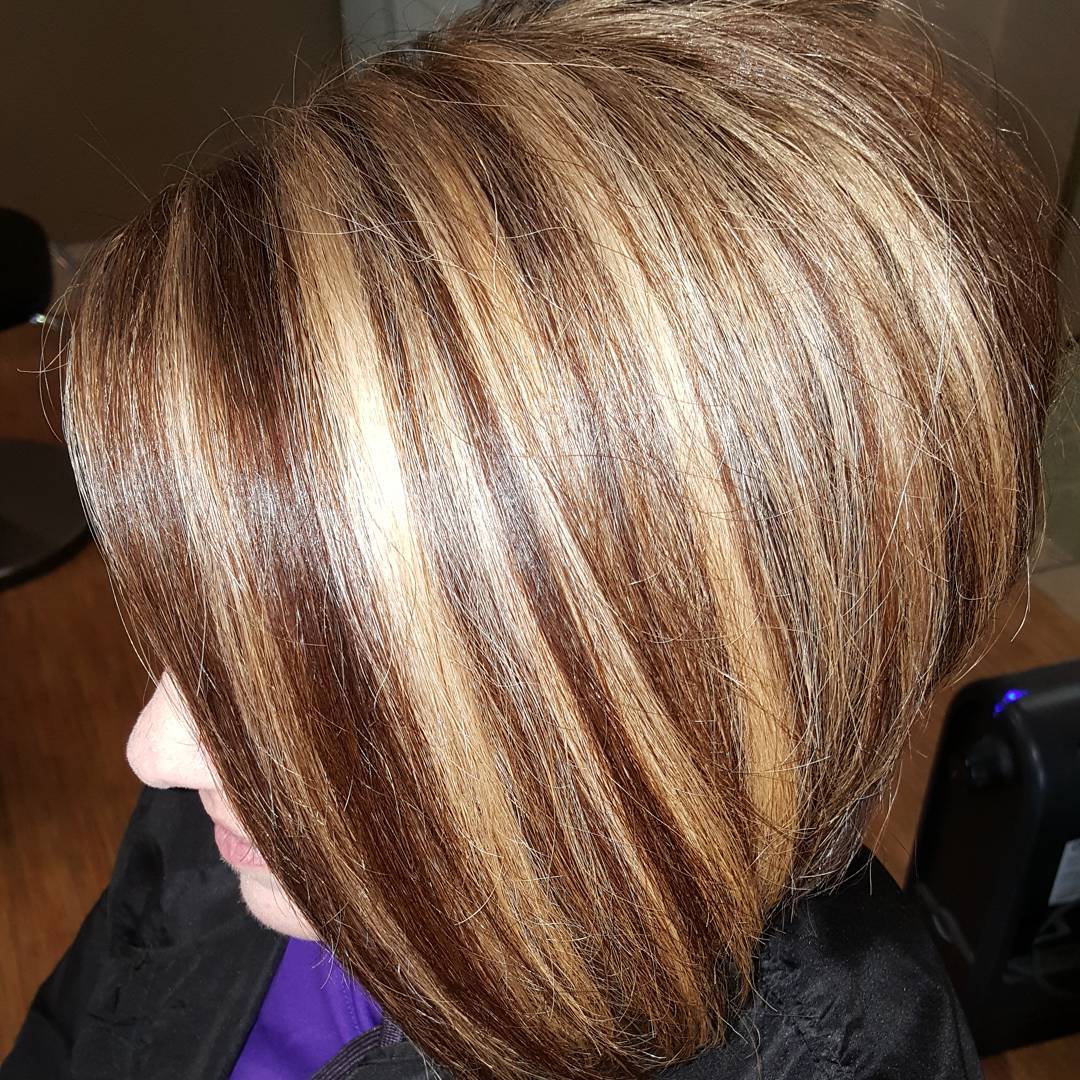 Straight textures benefit more from bold colors. This smoothly styled bob with a glossy finish boasts of thick, bright streaks of dark brown, warm chestnut and cheery blonde highlights. The three tones combine perfectly and go a long way to make boring brown hair tasteful.
3 Soft Flowing Brown Hair and Caramel Locks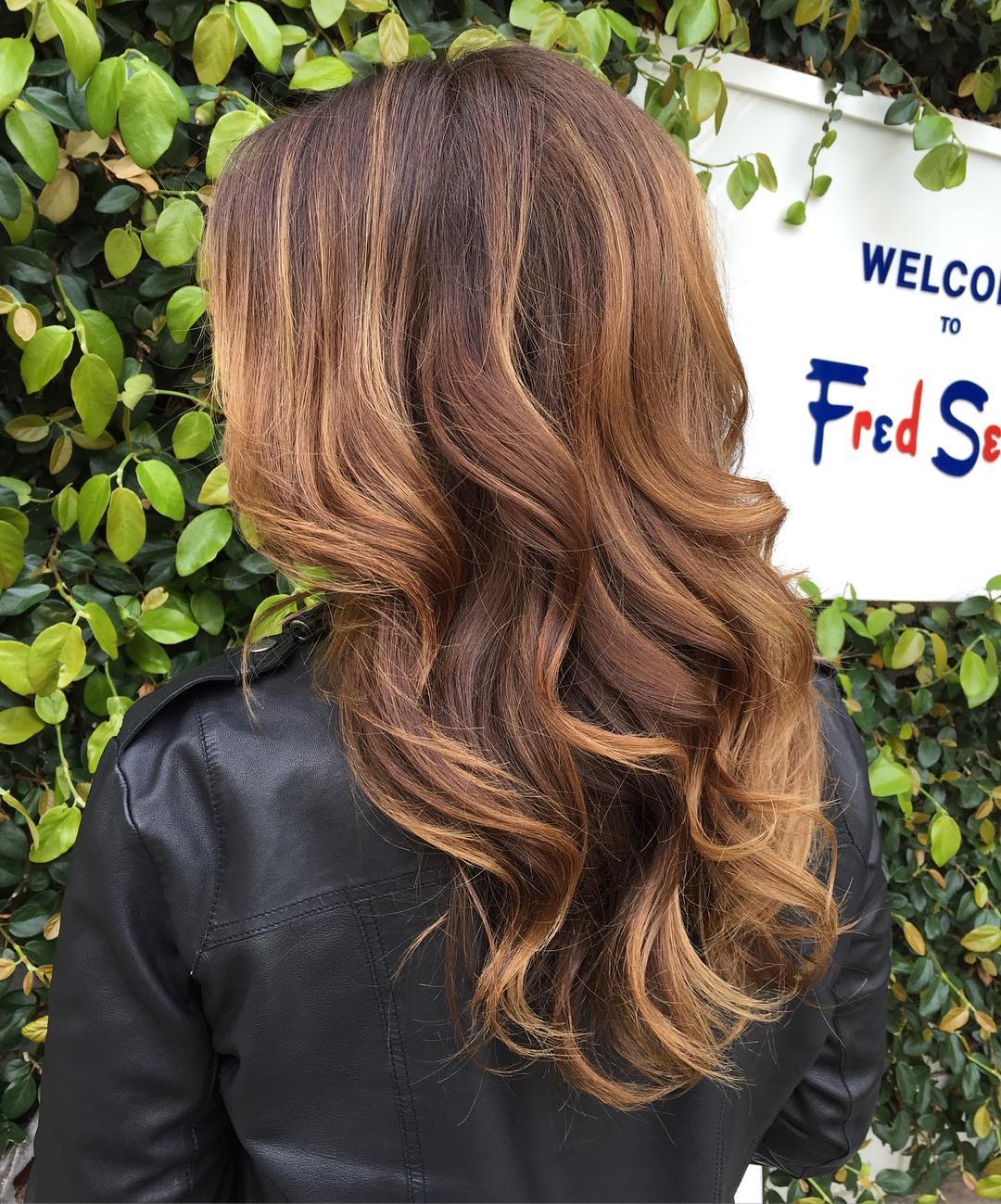 As chunky highlights slowly fade out of the fashion scene, smoother color transitions make their entrance. If a naturally faded look is what you're gunning for, infuse your dark brown hair with creamy streaks of caramel using the gentle balayage dyeing technique. The color transition is seamless and the brighter touches of color accentuate the flowing curls dramatically.
4 Glossy Brown and Auburn Hair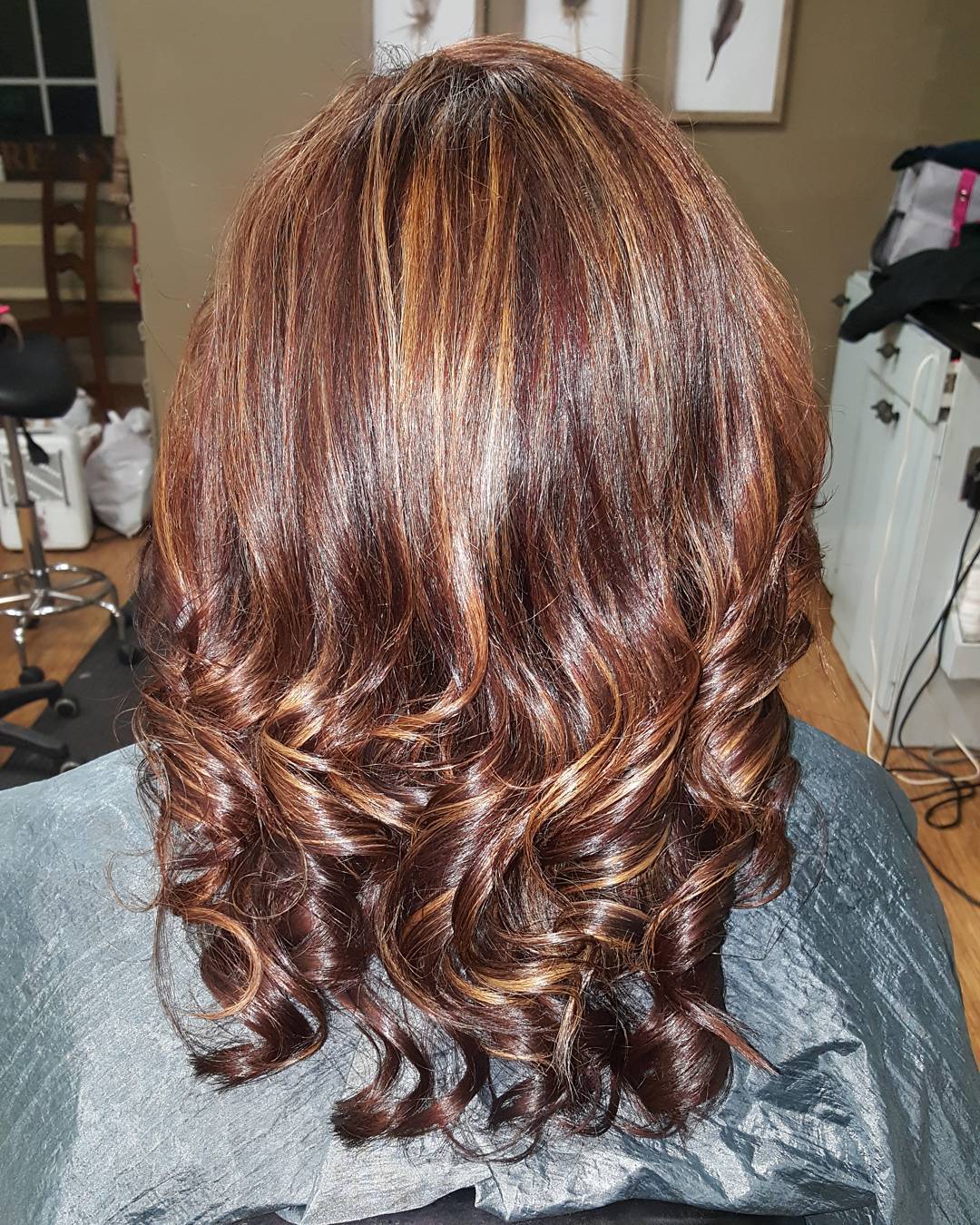 For a more naturally colored finish, layering the highlights is recommended as it creates a kind of random color infusion that is very smooth. This glossy brown hair features cheery yet subtle streaks of auburn running through it, injecting some light into the bouncy curls at the ends.
5 Bright Caramel Blonde Hair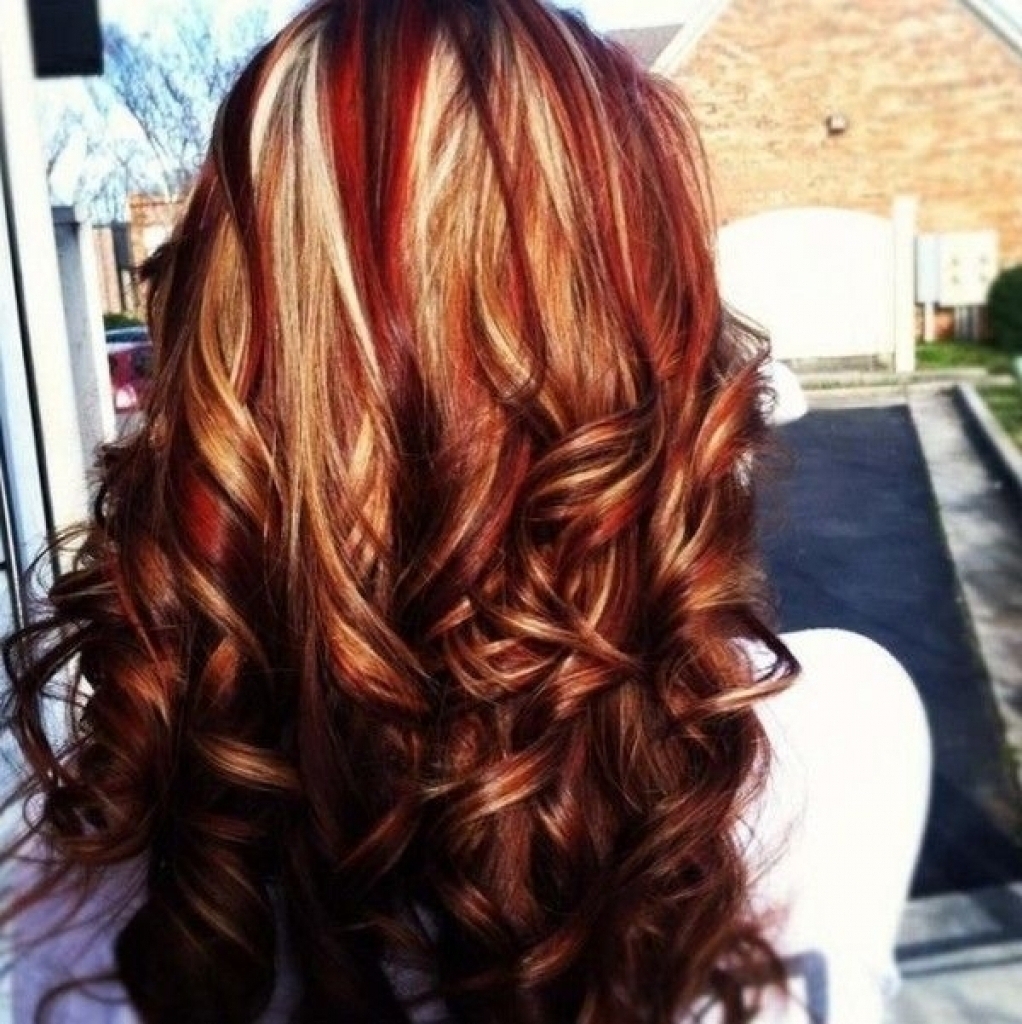 While the main idea is to go for a shade that blends best with your natural hair color, wild contrasts are usually allowed every now and then. To avoid looking tacky, smooth color transitions are recommended when opting for highlights that are a shade too bright. Better yet, you can transition the color using a deeper shade as in this example where the dark brown hair features randomly placed touches of auburn with radiant caramel tips.
6 Brown Hair with Blonde Highlights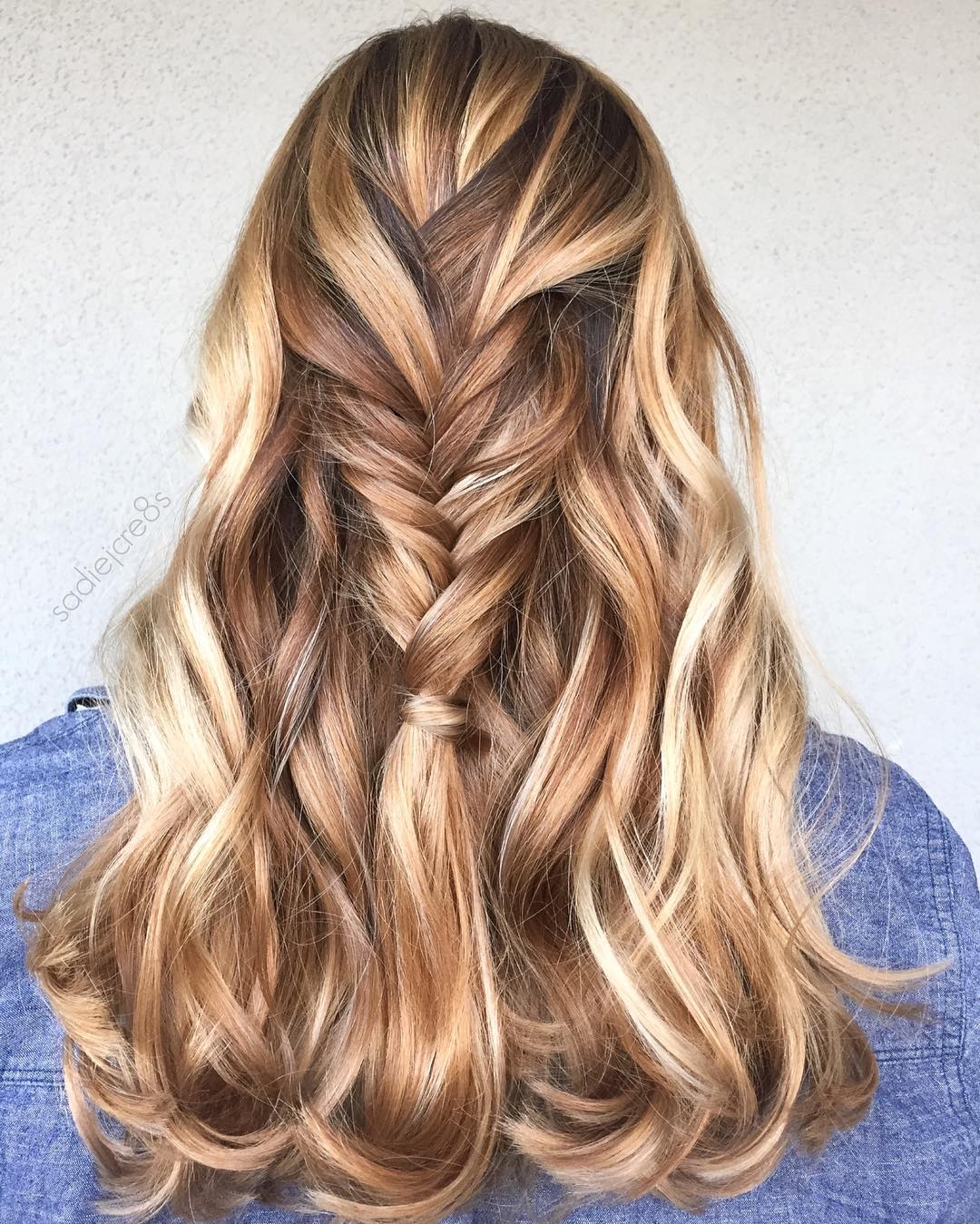 Multi-hued finishes are incredibly hard to pull off on your own. However, if you find the right stylist, tastefully highlighted hairstyles like these are absolutely vibrant head-turners that will never disappoint. The intricately blended shades of brown, and blonde with slight touches of caramel blend together perfectly to create a marvelously radiant look.
7 Deep Brown Hair with Delicious Auburn Touches
Dark brown hair is always at the risk of looking too boring or too basic. To avoid sinking into mediocrity, just a few slight touches of auburn added faintly to small sections of the hair will spectacularly change your look. The result is glamorously radiant hair with beautiful flecks of color that you just can't look away from.
8 Brown Hair with Blonde Highlights and Muted Auburn
If you are not really into bright blonde colors that create powerful contrasts, go for muted matte shades instead. The deep brown hair blends just as well with the deep auburn touches that ribbon through its curly locks. For those looking for tasteful yet low-key finishes, dull highlights on darker hair will always have an appealing effect.
9 Sculpted Brown Locks with Faint Blonde Accents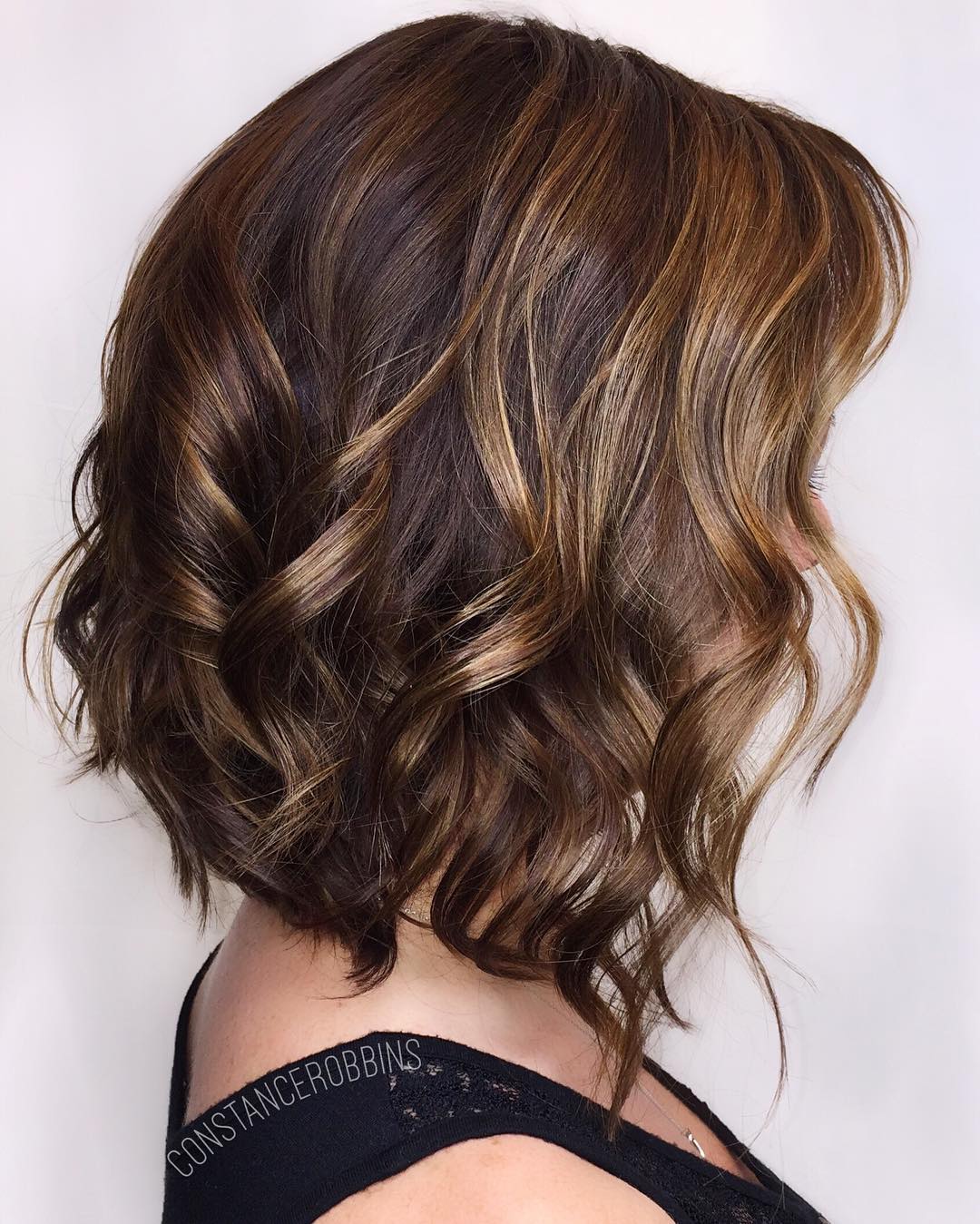 When going for a color boost, sometimes the fainter the highlights, the better your hair looks. While only slightly noticeable, the caramel touches in this example only serve to make the exquisitely sculpted locks more defined and giving the hair a tasteful color gradient that really flatters the skin tone. This is a true reflection of a beautiful brown hair with blonde highlights.
10 Copper and Auburn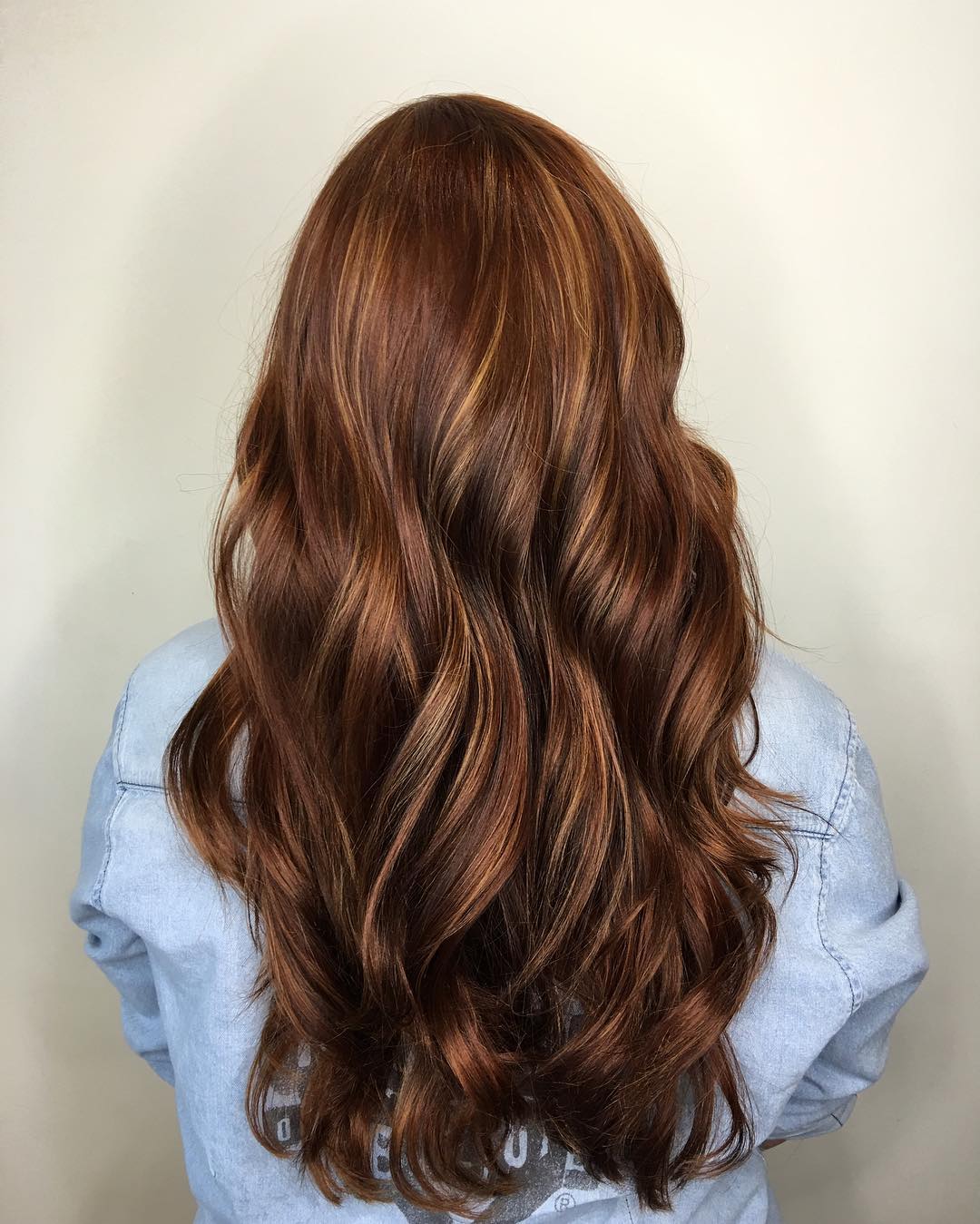 Copper and auburn is another color combination that will never fail to make your hair look effortlessly stylish. This is yet another pretty brown hair with blonde highlights. As seen in this example, the languorously flowing waves get a tastefully radiant sheen from intricately placed touches of auburn and caramel on the copper hair. As a result, the body of the hair looks marvelously full, deeper and with more dimensions.
11 Dark Brown Hair with Caramel Streaks
Go for the subtle balayage technique if you want to seamlessly blend that brown hair with blonde highlights into your natural looks. In addition to the color boost, the caramel highlights make the hair superbly radiant and give it a fuller body and a more dimensioned look.
12 Choppy Auburn Locks: Brown Hair with Blonde Highlights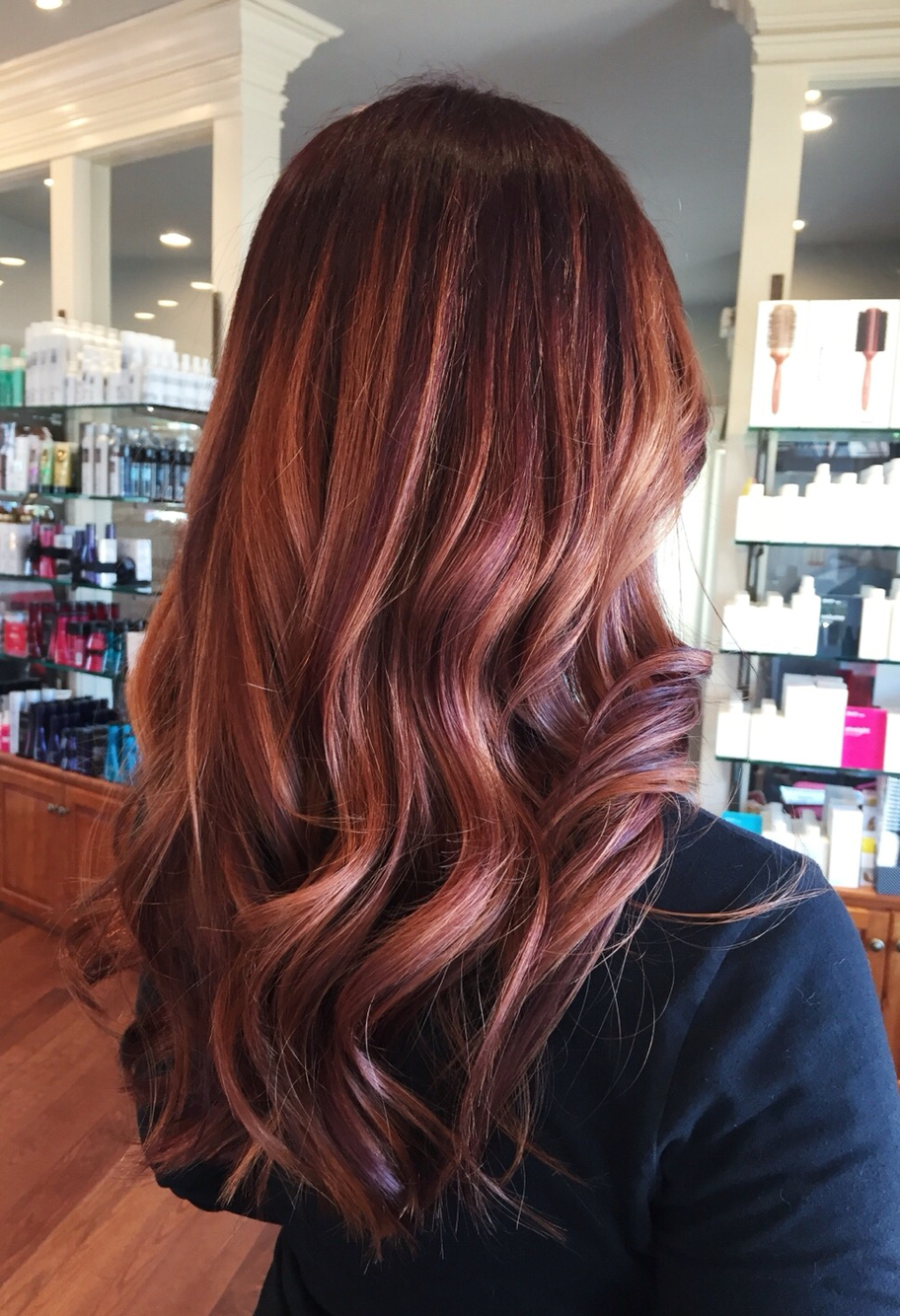 To pull off this look, the shade of auburn to be used should be closer to rose gold than to red. This is because the gentle radiance of the blonde highlights that have been cleverly infused into the dark brown hair creates a tasteful sheen that gives your hair a glowing finish.
13 Mellow Brown Hair with Blonde Highlights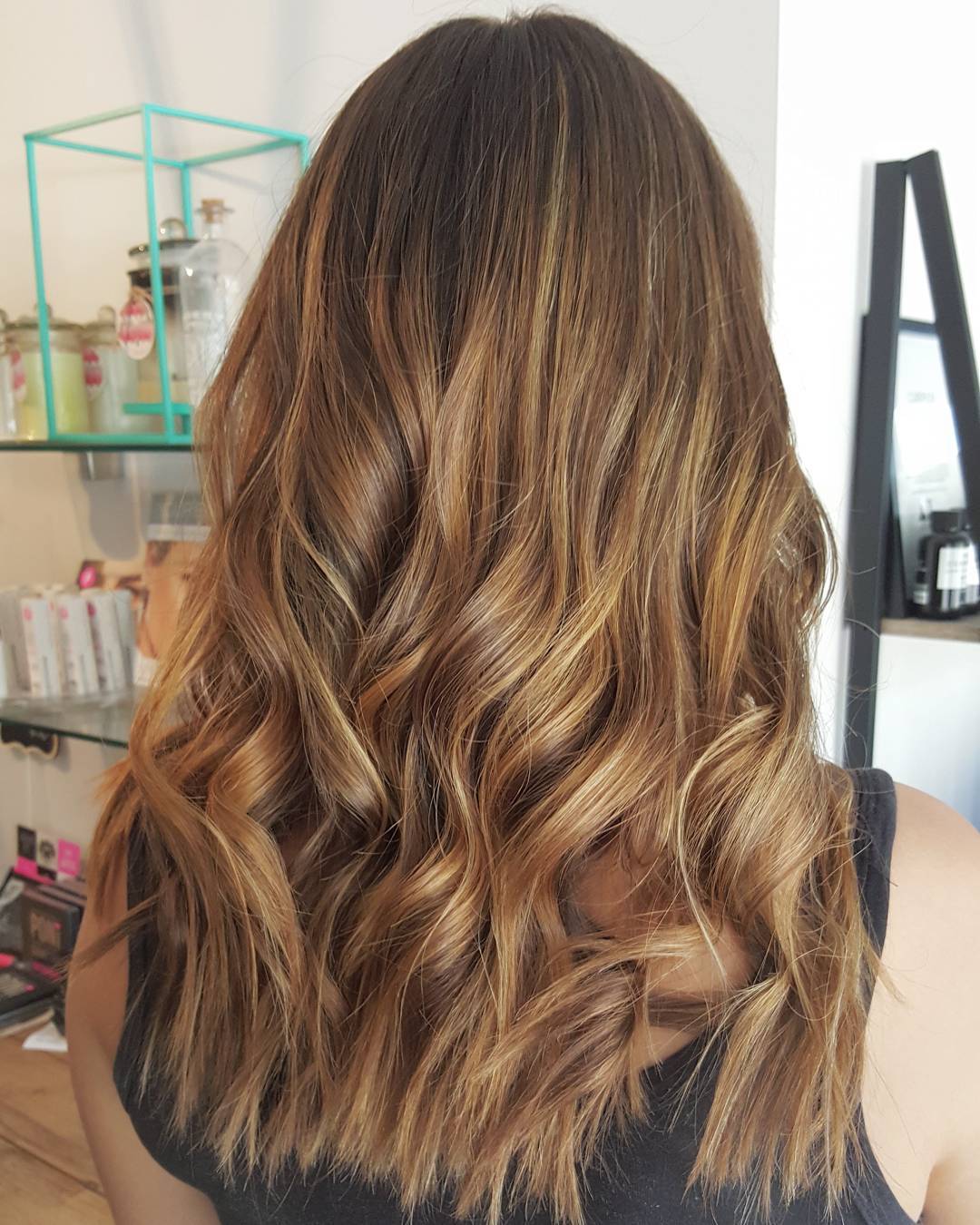 The roots should always remain darker for obvious reasons and also to act as the starting point for the color gradient if you are aiming for a smooth color transition. Touches of rose gold, auburn, caramel and finally golden blonde have been tastefully mixed with the naturally brown hair, resulting in a mess of beautiful and radiantly flowing golden curls.
Watch: Brown Hair with Blonde Highlights Video Tutorial