I'm one of those people that tends to think of September as a time to make resolutions, not January. Guess I never outgrew the whole Back To School  feeling. I mean, how could I? I was a lab tech in high schools so, yeah-I was ALWAYS in school! 😛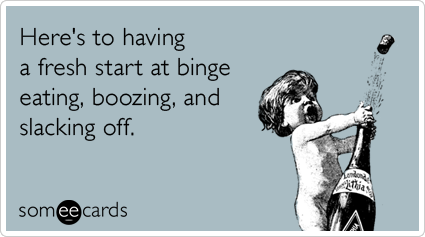 So, I thought I'd share my September Resolutions! Maybe you'd like to join me in some of them?
1. Simplify my makeup stash and life.
I've been slowly going through my makeup and have gotten rid of A LOT of stuff. But now, I want to be more ruthless. I'm kind of tired of STUFF. I don't know, maybe it's an age thing? But lately it just seems like too much stuff just slows me down and stresses me out. I hate feeling anxious about makeup and skincare. I miss the days of LOVING my makeup. Right now I look at it and go UGGGH, why? So everyday I'm going to start decluttering a part of my life-be it makeup, skincare, clothes-all of it needs a reduction. How many spatulas does a person need?!! I might even share my progress with you all, if you'd like to see. Just let me know!
2. Learn to meditate
I have a good friend that's a Buddhist and she's been trying to get me to learn how to meditate. So I'm finally going to do it! I need something to quiet the inner demons that clutter my thoughts. I've always been an extremely anxious person, so I think meditating will help me CALM. THE. F$$K. DOWN. And I want to feel more grateful for everything, like my friend Tanya does. She's such an inspiration and I want to be more thankful for what I have.
 3. Read more
I've been seriously slacking on the reading front lately. I've downloaded a bunch of awesome books that sounded really good, so I'm going to start relaxing with a good book every day.
4. Eat more veggies.
More veggies, less bread, less CHEESE. I love cheese. Sometimes I think I was a mouse in a past life since I love cheese so much. I've decided I'm going to have to go cold turkey and lay off the cheese for a bit. Once the last Babybel in my fridge has been eaten I promise to not buy anymore cheese… for awhile. And I LOVE roasted/grilled veggies like you wouldn't believe! So, my plate will by veggie-full from now on. And cheese-less too.  😛
5. Try Yoga…again.
I've tried yoga, and hated it to be honest. I'm not very flexible and the poses are just painful and stressful for me. But my gym actually has a more healing type of yoga that I actually enjoyed trying. It wasn't about all the weird poses so much- more mindful healing poses and breathing techniques. It was kind of cool. So, I'm going to start trying to make it to those classes again. These old bones could use it.
6. Drink More Smoothies
I think I've told you before that I'm not a very good fruit eater-if someone cuts it up for me I'm all over it and will eat it all. But on my own? I just don't eat fruit for some reason? And I have a Vitamix Blender that sits on my counter, so it's time to use the damn thing! I've already started replacing lunch with a protein smoothie the last couple of days and I swear I feel better already. I think I'll even share the better tasting ones I've tried with you all if that's ok!
7. Try and go for daily walks, weather permitting…even if it's by myself.
When Terry is home, we always go for a walk. I really love going for long walks with my hubby, because we get to talk about stuff. Walking is very cathartic for us. But for some reason when I'm alone, I tend not to go. That's gonna change. I'm going to learn to love going on walks all by myself, until it gets impossible to walk because of the cold and snow. Honestly, it's not the cold and snow that would stop me, it's the fact that people around here aren't very good at shovelling the sidewalks. Walking in the winter in Edmonton is dicey and dangerous, and I'm getting close to that age where a fall could mean a broken hip HAHAHA. Seriously, not kidding. Then again, maybe I'll get some walking poles for the winter-that might help, hey? Hmmm….will have to look into it! If not, maybe I'll take up snowshoeing-I have done it in the past and it's great fun and an amazing winter workout!
8. Get a good telescope and start stargazing
Looking at the stars has been an on and off again hobby for me and Terry, but this year we want to really get back into it. We're looking at getting a decent telescope soon and having some fun together! It's an interest we both share and love which is cool when that happens. It's not like I can take him to Zumba with me HAHAHAHA, although I sometimes wonder if he'd like it….  😀 😀
I think that's it…for now at least! I can't think of anything else, but maybe you've got some September resolutions to share? I might like one of them and add it to mine!