Lately, I've been using less makeup. Yes you read that right LESS makeup. As a beauty blogger, those words are almost blasphemous, right?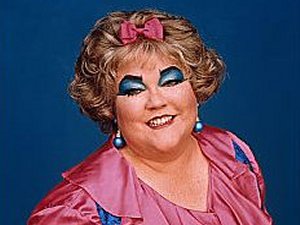 wikipedia
wearing: MAC Mineralize Satin Finish Foundation,
YSL Voile De Blush, lip balm, and see the
bit of purple dark circles under my eyes there? I don't
seem to care about them so much today.
There are many reasons why I've been using less makeup. I'm not working at the moment, so I don't feel the need to look "perfect" when I leave the house. Don't get me wrong, I like to look my best always, but the whole idea of using three or four eyeshadows and blending them all and using eyeliner and contour and yadda yadda yadda is slighltly less appealing when you're just going to Superstore to get some milk, ya' know?
Another reason? I think I look younger and better with less makeup. I can tell from the comments I get when I post a FOTD. When I am wearing less makeup, I get more wows (btw, I LOVE YOU ALL!). There's something to be said for that. I think as I get older, (and remember I am 45!) I look better and younger with less makeup. More carefully thought out, yet simple makeup if you will. It's all about playing with light I've discovered and GLOWY is a big part of that equation. I think when I have a bit of a glow to my face, I look healthier and younger.
Case in point: I actually let the Chanel counter talk me into letting their makeup artist do my makeup the other day when I went to pick up my Spring 2012 selections they had on hold for me. You all know how I feel about letting people do my makeup, but I thought this was a good chance to see if my recent thoughts were true. She put on every product she could on my face. Granted, they do that to try to get you to buy more things, but that ploy failed on this chickerooni. I left there looking older than my 45 years. It's a good thing I didn't have to go any place after that, and I couldn't wait to get home to wash off all that excess.
So you know what? I think I'll be buying less makeup. Well, not so much as less, but not wasting money on things I'm realizing now that just don't work on me and age me. Being more careful when I purchase something. Those are my more recent conclusions, and I do realize that the same won't apply for everyone. It's what works for me. I think.
Is less more? What are your thoughts?